Following his admission of child sex offenses, a doctor was sentenced to more than two years in prison.
After setting up a meeting with a person he believed to be a 14-year-old boy on the premises of the Kent hospital where he worked, Salman Siddiqi, 44, was detained.
He sent graphic images of himself before the meeting, according to police investigations.
The East Kent NHS Hospitals Trust acknowledged there were "missed opportunities" after Siddiqi previously received a warning for indecent exposure.
Siddiqi, of Hornchurch, east London, struck up a conversation with an online user in January whose profile was a part of a made-up account.
According to Kent Police, the conversations were "clearly sexual in nature" and contained mentions of the subject's desire to harm children.
When he planned to meet them on the grounds of the Queen Elizabeth the Queen Mother hospital in Margate in the wee hours of January 8th, Siddiqi was aware of the child's age, according to police. On-site police detained him.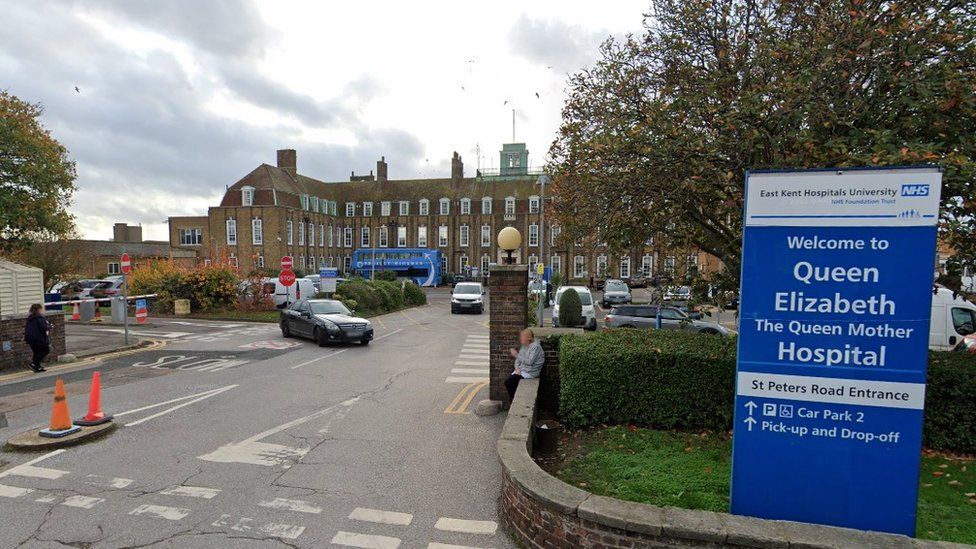 The next day, Siddiqi entered a guilty plea in Folkestone Magistrates Court to trying to have sex with a child and trying to set up or facilitate having a child commit a sexual offense.
At Canterbury Crown Court on Friday, he was given a two-year, four-month sentence. Additionally, he was subject to a sexual harm prevention order and added to the list of sexual offenders.
Following the incident, Siddiqi was immediately reported to the General Medical Council, according to Rebecca Martin, chief medical officer at East Kent Hospitals University NHS Foundation Trust.
"Our review did not identify any patient involvement or failures in our processes that would have immediately stopped this criminal offence," Ms. Martin said.
She continued, "There were opportunities missed to recognize his prior caution, and we have taken steps to make sure it won't happen again. ".
The "previous caution" regarding Siddiqi's detention for indecent exposure in a London park in June 2019 was confirmed by an NHS representative.
The graphic detail Siddiqi included in his messages was extremely concerning, according to DC Deniz Aslan of Kent Police's paedophile online investigation team. Siddiqi made it clear in his messages that he intended to commit very serious sexual offenses involving a young child.
"It is evident that Siddiqi poses a risk to the public, and he is currently suffering the results of his reprehensible desires.
. "