From five potential locations, only three remain for the hospital that would be a component of a £1.03 billion health overhaul.
The Hywel Dda health board began a consultation on the locations on Thursday and it will last until May 19.
Despite the facility not being expected to be built until at least 2029, plans have been sent to the Welsh government.
Two of the potential sites are close to Whitland and one is close to St Clears, both in the Carmarthenshire region.
The intention, according to Hywel Dda, was to bring care closer to people's homes.
It claimed that the plans called for a network of integrated health and care facilities to be built throughout Carmarthenshire, Ceredigion, and Pembrokeshire.
At Withybush and Glangwili hospitals in Pembrokeshire and Carmarthenshire, respectively, emergency care would eventually come to an end.
A protest against the plans to downgrade Withybush was organized in February by about 200 people. Protesters worry that lives may be lost due to the longer travel distance from some areas of Pembrokeshire to a new hospital in Carmarthenshire.
The board wanted to develop a "sustainable hospital model fit for future generations," chairwoman Maria Battle said in kicking off the consultation.
According to her, "this will enhance and expand the specialist care services that can be offered in Hywel Dda and address some long-standing challenges, including old hospitals, issues with maintaining medical rotas across several hospitals, and staff recruitment.".
Steve Moore, the chief executive, stated: "We don't have a preferred site, and we haven't purchased any sites or land for this development.
"The Welsh government's funding, which has not yet been confirmed, will determine where the new urgent and planned care hospital will be built. ".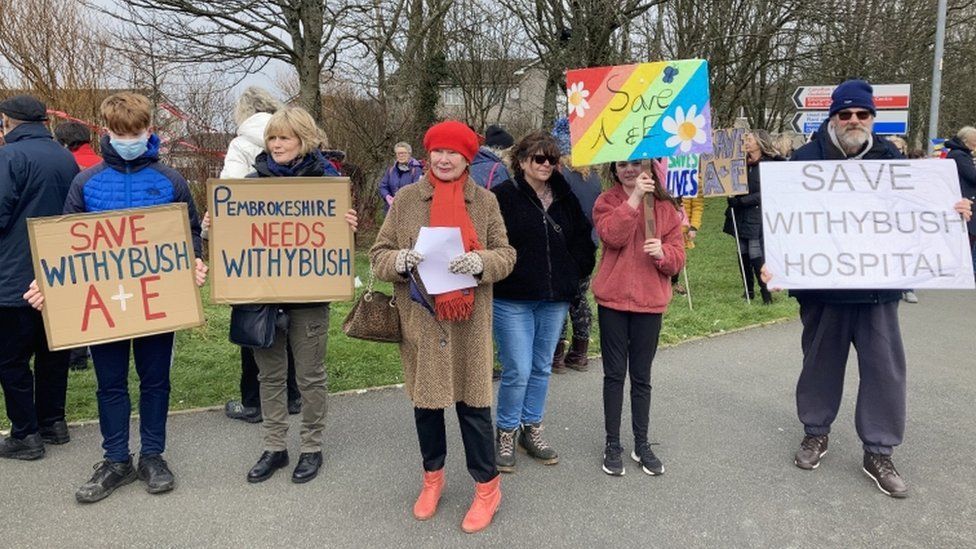 There will be a number of drop-in events taking place all over the health board's service area, according to Lee Davies, director of strategy and planning.
Because of concerns that services were being too thinly distributed and might fail due to escalating demand and a lack of staff, a new hospital was proposed as part of an NHS restructuring in west Wales.