The gap in the way the international community views the US and China's high-stakes dispute has grown as their disagreement over the balloon saga deepens.
The latest tense exchange occurred on Saturday when US Secretary of State Antony Blinken met Wang Yi, China's top diplomat, outside of a security conference in Munich. This was the first high-level meeting between the two since the dispute started.
According to Mr. Blinken, "this irresponsible act must never again occur" and they "won't stand for any violation of our sovereignty.". Meanwhile, Mr. Wang referred to the incident as a "political farce manufactured by the US" and charged that they were "using all means to block and suppress China.".
Even as the US keeps providing more information about the object to support its claim, China continues to refute the idea that it sent a spy balloon.
Beyond the dispute, however, the world's response to Beijing and Washington's exchanges has been closely scrutinized as it considers the incident's implications for geopolitical stability and national security.
The overall effect, according to observers, has been to harden positions, deepen mistrust among people who are wary of China or the US, and make it much more difficult for Washington and Beijing to close the gap between them.
As governments rush to reevaluate what they know about China's surveillance capabilities, the incident has increased concerns for some about the scope of Chinese espionage. According to the US, Chinese military balloons have entered the airspace of more than 40 nations on five different continents.
This week, Japan, a crucial ally of the United States, declared that they "strongly suspect" China has flown at least three spy balloons over their territory since 2019. China has been a frequent violator of international airspace.
Unnamed Taiwanese officials were quoted by the Financial Times as saying that dozens of Chinese military balloons had spied on the island, which is a claimed by China and another US ally.
Later, Taiwan's defense ministry explained that it had only seen Chinese weather balloons; on Friday, it discovered the remnants of one such object. However, the ministry also issued a warning, saying they would not hesitate to shoot down any suspected military objects in their airspace.
"For other states, they weren't sure what to make of it before, but they are now. Therefore, it demonstrates a knowledge gap on the part of other states, and it is not surprising that China has tried to fill the gap, according to Dr. Ian Chong, a non-resident scholar at Carnegie China.
For those who are persuaded by the US allegations, the incident has revealed a lack of understanding of China's surveillance capabilities and the lengths Beijing will go to demonstrate them.
According to Mr. Drew Thompson, a former representative of the US Department of Defense and current senior research fellow at the National University of Singapore, "it certainly indicates the People's Liberation Army feels they can justify absolutely any technology and any mission, that they can do anything to increase China's ability to project power, conduct surveillance, and hold the US at risk.".
Mr. Thompson stated that this was done "regardless of the consequences to China's reputation, its duty and adherence to international law, and without considering the benefits of acting with restraint.".
Mr. Thompson noted that there hasn't been a coordinated outcry and pushback from the international community, saying that this showed "a fragility of international law" and was "a test of China's ability to deter other countries from criticizing them" and could result in a more dangerous world.
Some observers believe Beijing's actions in the saga have undermined its own efforts to gain confidence and present itself as a superpower that takes responsibility seriously.
China has not yet provided information proving that the balloon was a civilian meteorological airship, such as the name of the company that ran it. The lack of transparency, according to Dr. Chong, "has only raised more questions and made those who were already doubtful even more so.".
The subsequent assertion by Beijing that the US had previously dropped more than ten spy balloons into China, which Washington has refuted, was also "confusing," he continued.
Dr. Chong questioned, "Is China suggesting that floating many balloons over each other's territory has been a practice that has been accepted?" He noted that if this were the case, it would go against Beijing's long-standing insistence on the respect for sovereignty.
According to Mr. Thompson, the assertion could be interpreted as China trying to avoid responsibility and engaging in "whataboutism," which is a strategy used to refute an accusation.
However, the way the US has responded has also alarmed some, especially those who support China.
US authorities acknowledged this week that three additional objects they shot out of the sky in North America were not likely foreign spy planes. The decision, according to US Vice President Joe Biden, was required to protect commercial air traffic and was also made because at the time, they "could not rule out the surveillance risk of sensitive facilities.".
The shootings were described as an "overreaction" that could be interpreted as the US "acting increasingly hysterical" by Victor Gao, vice president of the Beijing-based think tank Center for China and Globalization.
"China has acted very professionally and responsibly, explaining the situation to the US and the rest of the world and requesting cooperation rather than confrontation. This is in contrast to the jingoism of the US; they should remember that they are shooting down a Chinese object, not buffalo in the Wild West, he said.
Other people have praised how the US handled the incident, with Australia's deputy prime minister Richard Marles describing the shooting down of the Chinese balloon as "a very measured way" to handle the intrusion.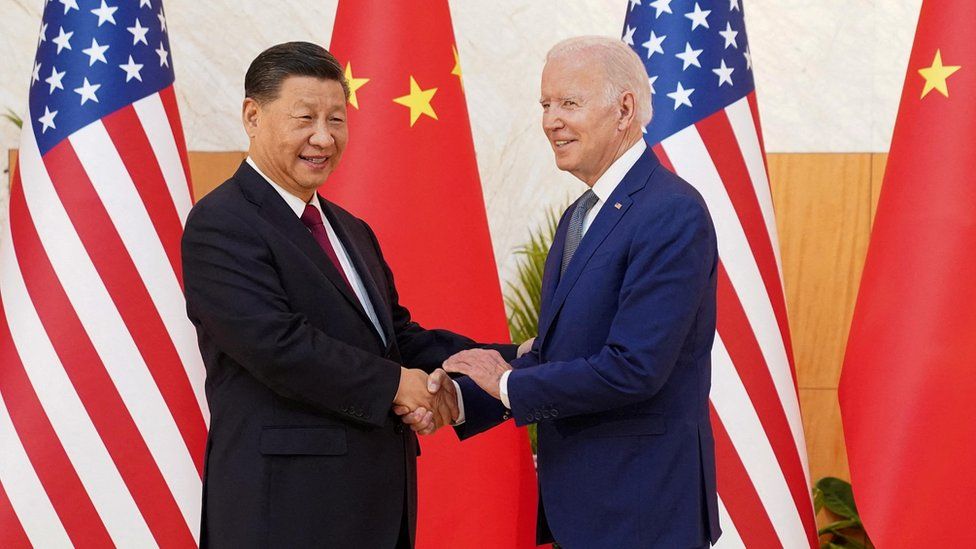 The balloon blow-up has made reconciliation even more difficult, as both sides have doubled down.
Mr. Gao cautioned that the shootdown and Mr. Biden's refusal to apologize have set a precedent for the Chinese.
"They would need to be ready for similar acts of retaliation against similar objects in Chinese space," he said. "Don't complain that China doesn't apologize, if such an unfortunate incident happens again.".
He emphasized that it might even encourage China to take a more aggressive stance against US aircraft and ships in airspace and waters that China regards as its own, such as Taiwan.
By sailing its military ships through the Taiwan Strait, the US Navy regularly carries out what it refers to as "freedom of navigation" exercises.
But there are indications that people are willing to interact. Mr. Biden stated that he intends to speak with Chinese President Xi Jinping about the incident shortly.
Both leaders must avoid appearing to yield under domestic pressure. The question at hand as the balloon saga continues is how much political capital both leaders would be willing to commit to easing tensions.