In the wake of a devastating earthquake and more than a decade of incapacitating war, Syria is currently experiencing a crisis within a crisis within a crisis.
The country's earthquake hasn't resolved long-standing disputes or barriers that have long stood in the way of the urgent humanitarian action needed in a war-torn nation.
But four days after a deadly earthquake, there appears to be a tiny crack that could open up more room for immediate humanitarian action.
After Syrian state media reported that the Syrian cabinet had given the go-ahead for the delivery of humanitarian aid to all areas of the country, Martin Griffiths, the UN's humanitarian chief, told the BBC, "It's a good step forward but many more are needed.".
The Sana News Agency stated that would encompass both state-controlled and areas under the control of other organizations.
According to the statement, the United Nations, the Syrian Arab Red Crescent, and the International Committee of the Red Cross would coordinate the relief effort.
But there is also a cautious approach to the news.
Mr. Griffiths emphasized that the announcement only allowed for the delivery of aid inside Syria itself, not across the border into neighboring nations. "To meet the needs of the populace and secure additional crossing points, we are urgently requesting approval.
Idlib, the final rebel-held enclave in northern Syria, can only currently be reached through the Bab al-Hawa crossing over the Turkish border.
The UN Security Council must approve crucial lifelines like this. Russia and China both frequently used their veto power to support the Syrian government's unyielding stance that mechanisms like these infringe upon its sovereignty.
Along with others, the UN has repeatedly urged Syria and its allies to permit aid to enter northern Syria through a different route via Bab al-Salameh on the Turkish border as well as a crossing from Iraq into the predominantly Kurdish areas of north-eastern Syria.
For the first time in years, Ankara's approval to use the corridors at Bab al-Salameh and another at al-Rai was obtained this week, according to Syrian opposition groups. Other non-governmental aid organizations, unlike the UN, do not need the consent of the UN Security Council.
The first UN relief convoy carrying blankets and other supplies finally passed through Bab al-Hawa on Thursday, and the reaction was mixed.
Syrian journalist Ibrahim Zeidan, who spoke to us from a town close to the border crossing, bemoaned the fact that aid was supposed to arrive before the earthquake struck.
More than four million Syrians, the majority of whom depend on aid to survive, have relied on this route for years, which was severely damaged by the tremors on Monday.
In the early years of this conflict, the majority was repeatedly relocated from one province to the next. Today, those who once survived on almost nothing have lost even that.
Jan Egeland, secretary general of the Norwegian Refugee Council, emphasized that Syria's northwest was the region most affected by earthquakes. Both full and unrestricted distribution and access are required on the front lines.
According to aid sources, in the past, some humanitarian aid that was delivered to opposition-held regions via provinces under government control was turned away. The possibility of aid being diverted while in transit has also been a worry.
In an interview with the BBC, Mr. Egeland emphasized that both the armed opposition and the government should put aside politics and that what was now really needed was a humanitarian ceasefire.
In addition, he expressed skepticism about the Syrian government's apparent concession, noting that previous similar declarations had not been followed up on.
As concern grows over the extent of suffering and millions seek shelter in tents or on open ground during the bitter winter, the UN is under increasing pressure to find new approaches that can overcome politics and establish new paths.
In order to "show solidarity with the people of both countries," Mr. Griffiths will visit both Turkey and Syria this weekend.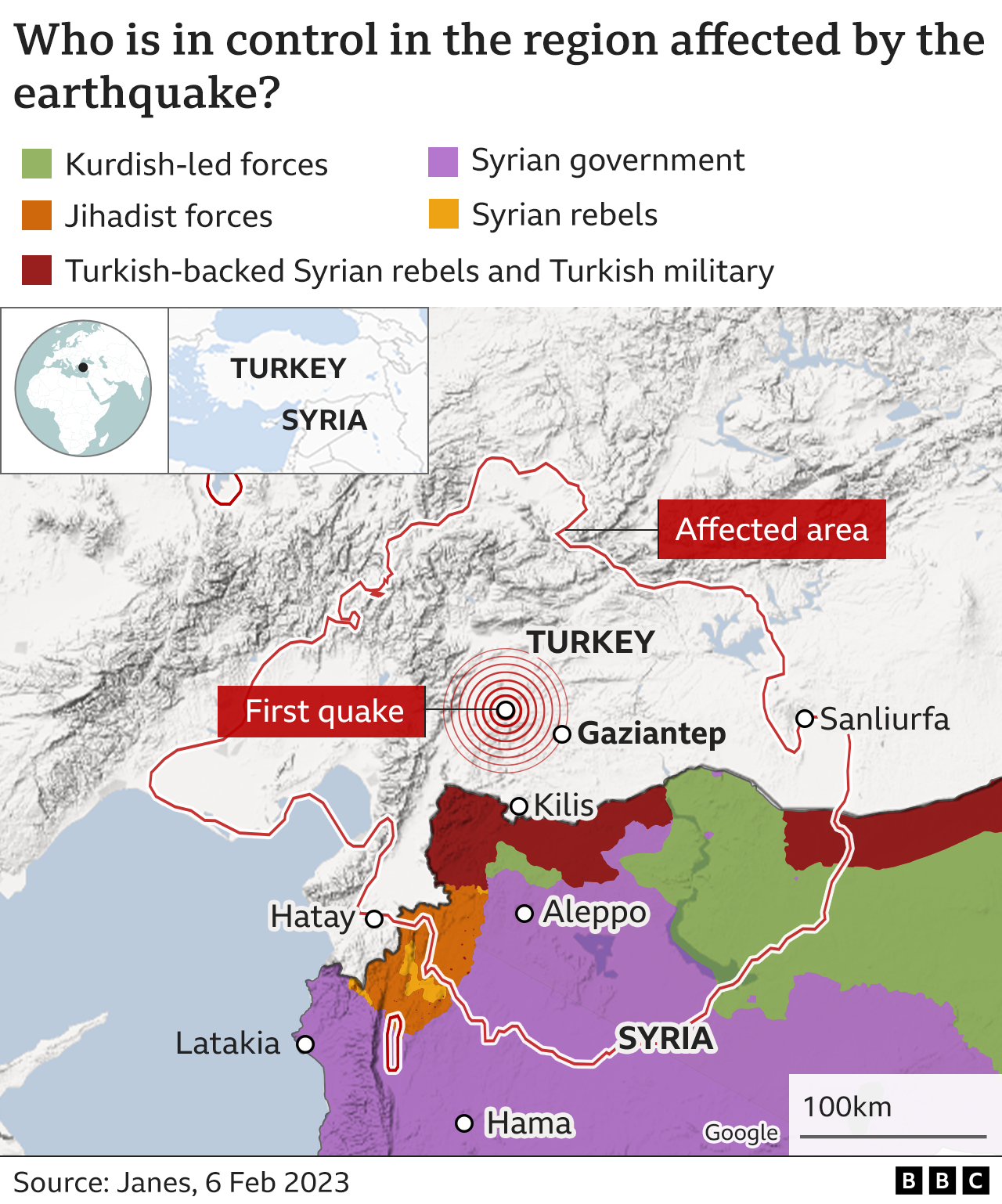 But in Damascus, sovereignty will also be a topic of discussion once more, particularly in light of the fact that areas of Syria that are under government control, such as the northern city of Aleppo, were also affected by earthquakes that did not support any side in the conflict.
Regardless of where they reside, Syrians have been crushed by deprivations and years of grinding poverty.
Dr. Bouthaina Shaaban, a special advisor to Syrian President Bashar al-Assad, questioned on the BBC Newshour program this week, "Why don't [Western nations] treat countries the same way?".
She urged Western nations to lift the sanctions that she claimed were preventing Syrians living abroad from organizing to help, saying "It's not humanity, it's politics.".
For Syria, which is suffering from earthquakes, Washington has granted permission to lift sanctions.
However, it was just as savage in its language as Damascus. According to state department spokesman Ned Price, "this is a regime that has never shown any tendency to put the welfare, the well-being, or the interests of its people first.".
Syria has a history of turning aid into weapons. The brutal "surrender or starve" tactic was repeatedly used, primarily by government forces as they cut off entire communities they believed were supporting their rivals, as we witnessed firsthand during our regular reporting from Syria during the most intense years of fighting.
Syrian officials emphasize that they must be the conduit for aid, not groups like the White Helmets.
Volunteer teams that have been trained to recover survivors from the wreckage of Syrian or Russian airstrikes are currently pulling people from the rubble in Idlib.
A large portion of northwestern Syria is governed by Hayat Tahrir al-Sham, an Islamist movement that tries to dissociate itself from previous ties to al-Qaeda and has been labeled a terrorist organization by Washington and Ankara.
For humanitarian work, Syria's political landscape is a minefield. Large areas of land are under the control of Syrian Kurdish forces in the country's northwest, who frequently oppose Damascus but also occasionally form opportunistic alliances.
Any relief operation is risky because there are areas that Islamic State fighters control.
Aid for earthquakes also reflects a new regional political map that has recently emerged, as some Arab states that once closely partnered with Western capitals to support the Syrian opposition have adopted a different strategy.
The United Arab Emirates, who were among the first Gulf Arab nations to make attempts to reassert Arab dominance in Damascus, swiftly established a humanitarian air bridge to both Syria and Turkey in an effort to break Damascus' close ties to Iran.
Other Arab nations have followed Saudi Arabia's lead in aiding either Syria or Turkey, or both.
There were also indications of a cautious warming of relations between Damascus and Ankara, which have been at loggerheads throughout Syria's protracted war, in recent months, prior to this most recent crisis.
Russian nudges led Turkish President Recep Tayyip Erdogan to mention "pouring oil on troubled waters" in December.
However, it annoys me greatly that Turkish troops are stationed in northern Syria. They have served as a barrier for President Erdogan against the advance of Syrian military forces in the north-east and Syrian Kurdish forces in the north-west that are thought to be affiliated with the PKK, his sworn enemy.
Syria is a number of wars rolled into one, like a regional variation of the old Russian nesting dolls. Israeli warplanes are frequently in the air attacking suspected Iranian or Lebanese Hezbollah targets. Turkey, the US, Russia, and Iran all have forces somewhere on the ground.
Mr. Egeland emphasized that aid should not pass through "any of the political actors in Syria, neither in the government-controlled areas nor in the opposition-controlled areas.".
In areas that have now been flattened by nature's force, his call to "put people first" is being desperately echoed.