In light of growing dissatisfaction with the government's response, President Recep Tayyip Erdogan has asked residents of a severely earthquake-affected region of Turkey for patience regarding rescue delays.
During a visit to Adiyaman, Mr. Erdogan claimed that the tremors and unfavorable weather prevented "us from working as we would have liked.". He said, "For this, I beg your pardon.
According to reports, after significant earthquakes on February 6, more than 50,000 people died in Turkey and Syria.
A new, more minor earthquake has struck Turkey.
In Malatya province, north of Adiyaman, it resulted in at least one fatality and more than 100 injuries. Several people believed to be trapped under collapsed buildings were the focus of search and rescue efforts.
According to Turkey's Disaster and Emergency Management Authority (AFAD), there have been 45 aftershocks of magnitudes 5-6 and four additional earthquakes with magnitudes of 5.6 and 5.7 since the two extremely strong quakes on February 6.
It was "very extraordinary activity," according to AFAD chief Orhan Tatar.
The World Bank estimates that the earthquakes on February 6 in Turkey caused about $34 billion (£28 billion) in direct damage, but the cost of reconstruction may be about twice that amount. Official with the World Bank Anna Bjerde said the Syrian situation was "really catastrophic" in the meantime.
Touring some of the worst-affected areas, Mr. Erdogan is running for re-election as president in elections scheduled for June. After the locals there harshly criticized the emergency response, he visited Adiyaman.
Mehmet Yildirim, an Adiyaman resident, said to AFP earlier this month, "I did not see anyone until 2:00 pm on the second day of the earthquake.
There is no state, no government, no police, and no military. You abandoned us, shame on you. ".
One and a half million people are still without a place to live or access to sanitation as a result of the catastrophe. Tents are in short supply for the survivors.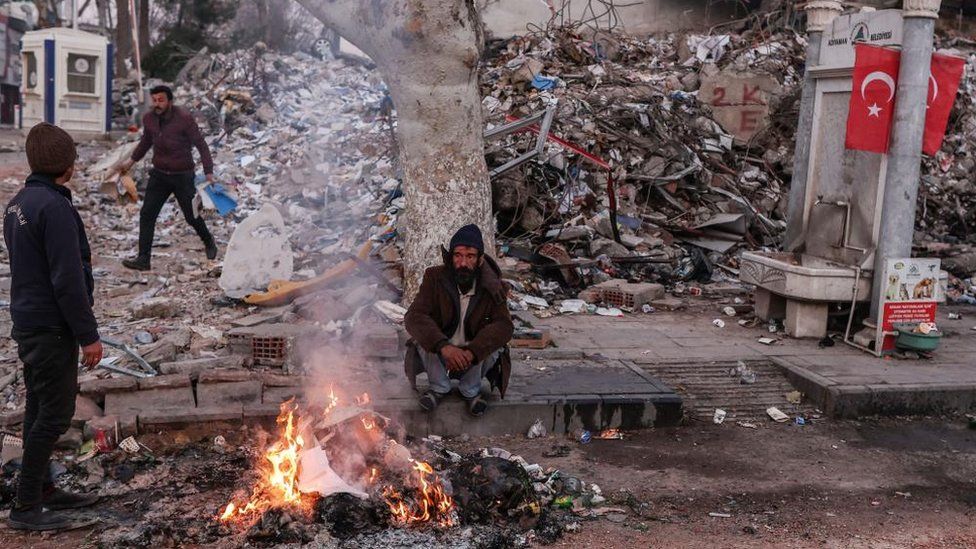 Football fans are voicing their displeasure by chanting "government resign" at this weekend's games across the nation.
Thousands of soft toys were thrown onto the field by Besiktas supporters in Istanbul, the largest city in Turkey, to be given to children who had been impacted by the earthquake.
During this time, riot police in Istanbul detained demonstrators.
On February 6, over 160,000 structures containing 520,000 apartments collapsed or suffered serious damage.
According to the government, 200 people have already been arrested, and hundreds more are reportedly being investigated. These people include building contractors and property owners.
Many new buildings were unsafe, experts had warned for years due to widespread corruption and government policies.
Mr. Erdogan promised to erect more than 500,000 new homes in Adiyaman in addition to infrastructure, hospitals, and parks.
By June, Turkey is expected to hold presidential and parliamentary elections. Following 20 years in office, Mr. Erdogan is running for reelection.