Jimmy Carter, a former US president, will stop receiving medical care and enter hospice care at his home in Georgia, his foundation announced on Saturday.
The Carter Center stated that Mr. Carter had chosen to "spend his remaining time at home with his family," but did not elaborate on the circumstances surrounding the choice.
The melanoma that spread to Mr. Carter's liver and brain was one of his most recent health problems. He is 98 years old.
He was in office from 1977 to 1981 and is the oldest living president in the nation.
During his time as president, Mr. Carter faced a number of foreign policy difficulties, and the Democrat lost to Ronald Reagan in the race for reelection.
He has the complete backing of his family and medical staff. The Carter family requests privacy at this time and is appreciative of the concern from his numerous fans, according to a statement released on Saturday by the Carter Center.
Instead of receiving additional medical care, terminally ill patients may choose to receive hospice care. In the final stages of a patient's life, comfort is given priority over further treatment.
Jason Carter, a former Georgia state senator and Mr. Carter's grandson, tweeted that he had visited "both of my grandparents yesterday. ".
They are content, and their house is as always a haven of love. I appreciate all the kind words, he said.
Mr. Carter and his wife Roslyn will commemorate their 75th wedding anniversary in 2021. Together, they have four kids.
US President Joe Biden stated that he and his wife, Jill Biden, were praying for their "friends Jimmy and Rosalynn" in a tweet on Sunday.
We respect you for the fortitude and modesty you have displayed in trying circumstances, Mr. Biden wrote. "May you travel on with dignity and grace, and may God give you peace. ".
Georgia native Mr. Carter, who was elected to serve as a state senator in the 1960s before being appointed governor of the state in 1971, was born in 1924.
He won the election to become the 39th president five years later, defeating Republican President Gerald Ford.
However, Mr. Carter's problems as president quickly multiplied.
He struggled to convince Americans to accept the necessary austerity measures because of high unemployment and inflation at home as a result of the oil crisis.
The Camp David Accords, by which Egypt formally recognized the state of Israel, were signed in 1978, marking the Carter era's pinnacle. Additionally, he ratified a treaty that gave Panama back control over the Panama Canal.
However, 66 Americans were held hostage in Tehran after the last Iranian Shah was overthrown in 1979. Mr. Carter responded by severing diplomatic ties with Iran and imposing a trade embargo.
However, as the US hostages were held hostage for 444 days, the public did not think he was being tough enough, and his popularity plummeted. After a failed attempt to free the hostages resulted in the deaths of eight US military personnel, his approval ratings further suffered.
Iran then decided to hold off on freeing the hostages until after Ronald Reagan took office.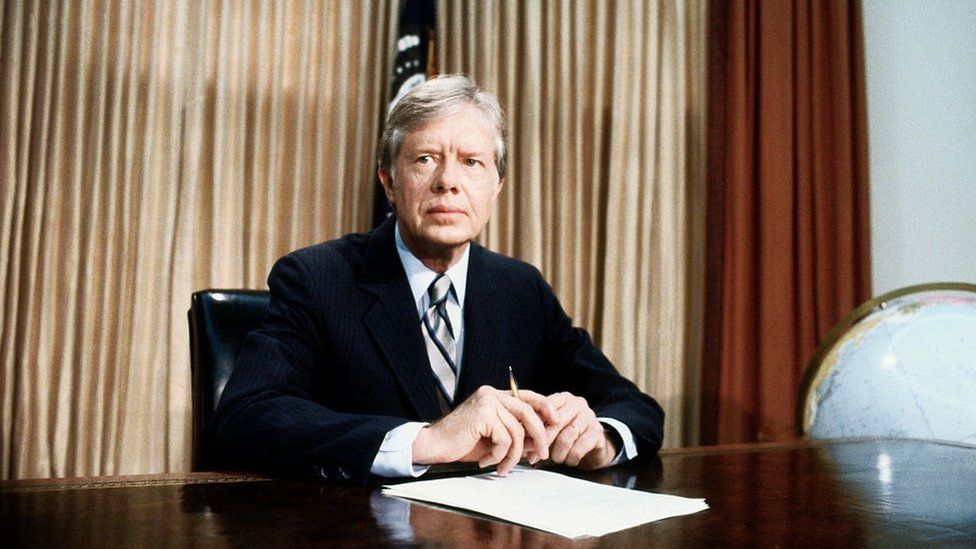 Mr. Carter has continued his humanitarian work with his Carter Center ever since leaving the White House.
In 1994, he served as the head of a delegation that aimed to persuade Haiti's military leaders to cede control. In Bosnia, he helped broker a cease-fire that helped pave the way for a future peace agreement.
As a result of his efforts to advance human rights, he went on to win the Nobel Peace Prize in 2002 and develop an international reputation.
Together with Nelson Mandela, he established The Elders, an organization of world leaders dedicated to advancing human rights and promoting peace.
Along with his extensive travels, he participated in annual trips to help build houses with the charity Habitat for Humanity well into his early 90s.
The former president, however, has also struggled with a number of health issues recently. Mr. Carter underwent liver surgery in August 2015 to remove a small cancerous mass.
He declared the following year that he didn't require any additional treatment because an experimental drug had completely wiped out all evidence of cancer.
When addressing his health issues, he has frequently displayed a remarkable calmness.
He declared in 2015, "I'm completely at ease with whatever comes. "My life has been exciting, adventurous, and fulfilling. ".
In October, Mr. Carter celebrated his most recent birthday in Plains, Georgia, the small town where he and his wife had been raised after he left office. They had been there since their births there between the First World War and the Great Depression.
Numerous prominent US politicians expressed their condolences to Mr. Carter's family as soon as the news broke on Saturday night, including Democratic Senate Leader Chuck Schumer, New York Governor Kathy Hochul, and Georgia Senator Raphael Warnock.
God is undoubtedly walking with him during this delicate time of transition, tweeted Senator Warnock. "May that peace and our love be a comfort to him, Rosalynn, and the entire Carter family."
. "