A female senator from Kenya who was expelled from the chamber for what appeared to be a bloodstain on her pants told the BBC that she was proud of herself for speaking out against "period shame.".
Gloria Orwoba claimed she had seen the stain outside the building before going inside.
Since I constantly campaign against period shame, I figured I should put my words into action, she said.
She was criticized by some MPs, including a different female senator, who claimed she was disrespectful.
Sen. Tabitha Mutinda raised the issue of Ms. Orwoba's compliance with the house's dress code during Tuesday's plenary session, stating that she found it unprofessional and uncomfortable.
It is so indecent, said Ms. Mutinda, that you can't tell if she is actually on her period or if she is faking it. This was not setting a good example for young women and girls, she continued, and there was a better way to bring up this issue.
When questioned about "a natural accident," Ms. Orowba responded that she was disappointed. My clothes are stained.
In a white trouser suit, she told the senate, "I think I'm dressed as per the standing orders - I'm covered, I have a suit, I have collars, I'm just short of a tie.".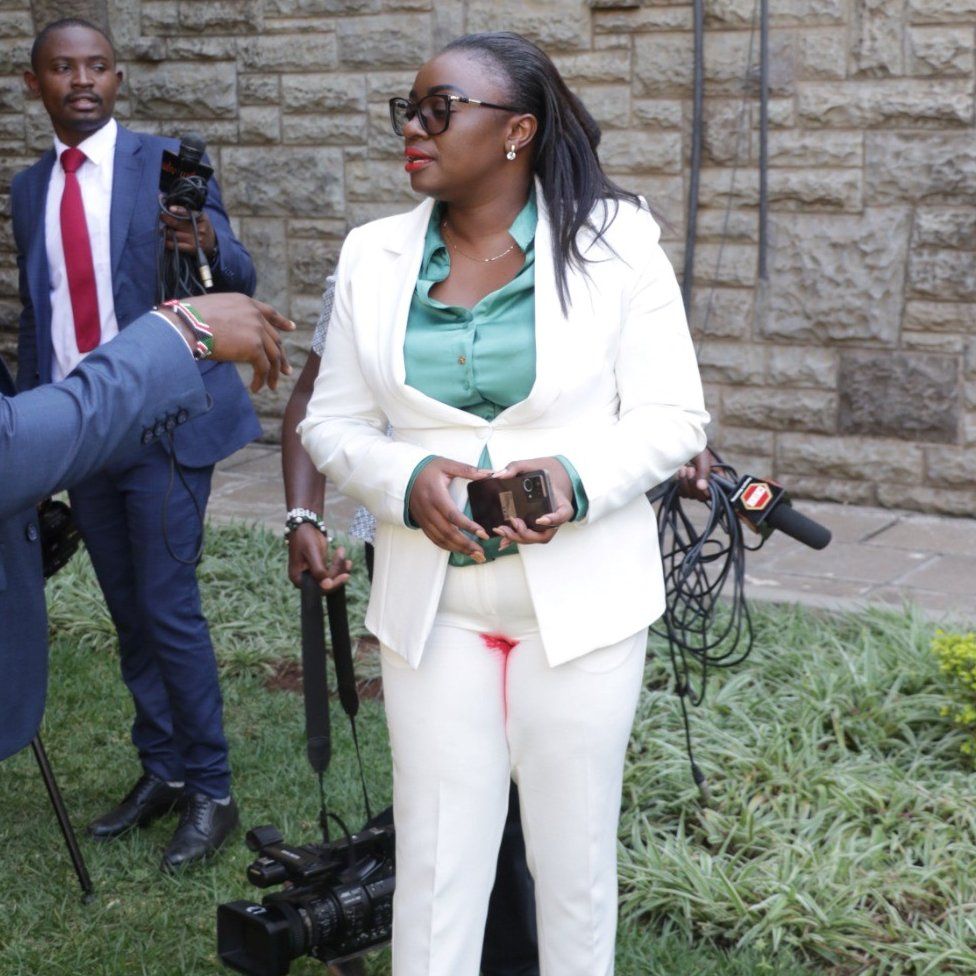 According to Ms. Orowba, her experience has helped her better understand the prejudice that some girls in Kenya experience during their periods.
"We have a girl who committed suicide because of the same problem that I'm experiencing, and now I understand because the women are trying to make this a crime," the speaker said. ".
Another senator, a man, criticized her.
"Our wives and daughters go through these cycles, but it's a matter to be handled privately without disclosing it to others. This house is in terrible shape as a result of what Sen. Gloria did to it. Sen. Enoch Wambua declared, "This must not be permitted to happen.
The senate's staff allegedly tried to stop Ms. Orowba from entering the chamber.
When I stepped out of the car, a senator's staff member rushed over to protect me and pleaded with me to get back in. I figured I should practice what I preach since I constantly fight against period shame. ".
Ms. Orowba must leave the chamber, according to a decision by Senate Speaker Amason Kingi.
Periods are never wrong, he asserted. "Sen Gloria, I'm sorry to hear that you're experiencing the natural act of menstruation. Since you've ruined your gorgeous suit, I'm requesting that you leave so that you can go change and return with clothes that aren't stained. ".
Ms. Orowba didn't change into new clothes after leaving the Senate building. She addressed the media before distributing sanitary pads to students at a Nairobi school.
The senator is a supporter of a resolution calling for more government funding for free sanitary pads and the provision of feminine hygiene items in all public schools. The funding, according to her, would deal with "period poverty."