The Canadian province of Nova Scotia has been devastated by floods, displacing hundreds of people and leaving four people missing.
The two children were in a car that was found by police, but there was no sign of them inside. The others who went missing were all drivers.
The Atlantic Canada region experienced its heaviest torrential rainstorms in fifty years, which contributed to the flooding.
Authorities reported significant damage to a number of local roads, highways, and properties as a result.
25 bridges have been impacted, six of which have been completely destroyed.
Due to their inability to get home, 500 to 600 people were forced to leave their homes across Nova Scotia; however, the province reported that many of them were able to do so on Monday after the evacuation orders were lifted.
The four missing people, who are from West Hants, a town north of Halifax, are still being sought after, according to the Royal Canadian Mounted Police (RCMP).
To lower the water levels in the search areas, they are using industrial pumps.
The two missing kids were found inside a pick-up truck that was flooded. Three additional passengers in that car had been able to flee.
Additionally missing are a man and a young person, whose car was also submerged. From the car, two people were rescued.
Police have not yet disclosed their names or ages.
The mayor of West Hants was visibly emotional as he discussed the search efforts in a news conference on Sunday.
Holding back tears, Abraham Zebian said, "We've dedicated a lot of resources today to help find those families.". "We're making every effort. ".
Locals have been discouraged from participating in the search and rescue operations due to hazardous conditions by both Mr. Zebian and the RCMP.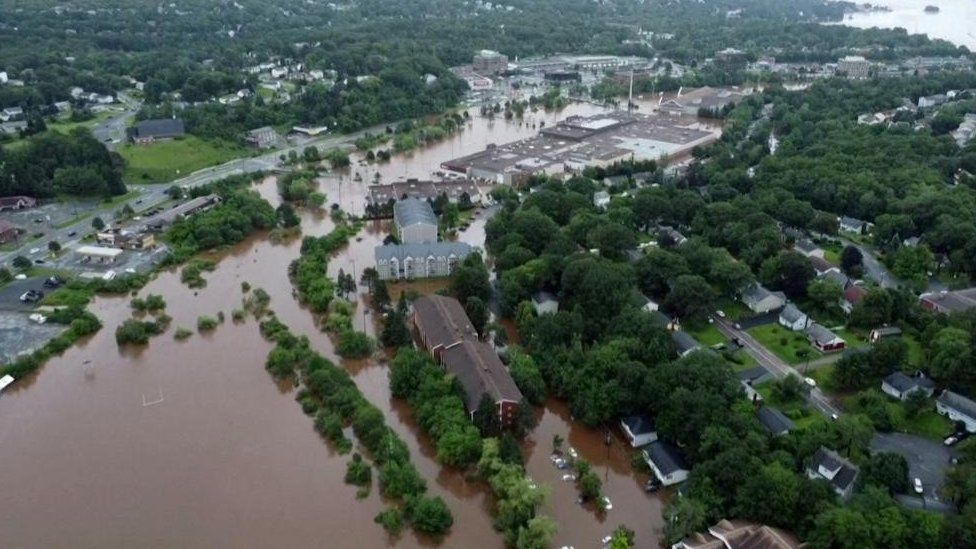 Tim Houston, the premier of Nova Scotia, reported that the province received 250 milliliters of rain in a 24-hour period, which is equivalent to what the province typically receives over a three-month period.
The mayor of Halifax, Mark Savage, called it a torrential downpour of "biblical proportions.".   .
On Saturday, Nova Scotia declared a state of emergency that will last the entire province until August 5. The federal government said it will send aid to assist those affected.
According to Canada Post, mail delivery was suspended in the province on Monday while it assessed the security of its personnel and business operations.
Due to the severe flooding, Halifax's Pride Parade was also postponed for Sunday.
The recent wildfires have burned a record amount of land, sending clouds of smoke south into the US and destroying dozens of homes in Nova Scotia. The flooding is the most recent extreme weather event to hit northeast Canada.