The line of people outside the Colleton County Courthouse for Alex Murdaugh's murder trial begins to form every morning at or around 6 a.m.
Scion of a legal dynasty Mr. Murdaugh has entered a not guilty plea in the shooting deaths of his wife and son.
One element of his stunning downfall, which also includes corruption allegations and a staged assassination, is the trial in Walterboro, South Carolina, which just finished its third week.
The case has the state enthralled.
In line on Friday morning, Cassie Headden remarked, "It's the only thing happening in Walterboro — the only thing that has ever happened in Walterboro.
Both the alleged crimes and the dramatic fall of a famous southern family, according to spectators, fascinated them. The Murdaugh family made a small fortune from their private family litigation firm while serving as the region's top prosecutors in succession for three generations from 1920 to 2006.
According to Wally Pregnall, a spectator from Charleston who traveled to watch the trial, "They ruled this area for years and years, and now that's starting to crumble - at least it looks like it.".
Others have arrived from other states, including California, Idaho, Wisconsin, and Maine, transforming this small city in the state's south into a true-crime tourist destination.
A family traveled from Aiken, South Carolina, two hours away, while a group of friends carpooled from Hilton Head Island and took the day off work. An area middle school teacher visited with her class of teenagers earlier this week as part of a field trip.
Monica Petersen said Friday outside the court, "I feel like it's being a part of history and we just wanted to be here to witness it.".
The only kind of bag that was permitted in court was a clear plastic purse, which the regulars also used to carry snacks and water. They also brought coats and scarves to stay warm in the intensely air-conditioned courtroom. Some attendees who voluntarily gave up their mobile phones—which are prohibited for spectators—brought notebooks and scribbled along with the proceedings.
We have jokingly said that if John Grisham had written this book, people would have thought he had lost it because it is so unbelievable.
In an effort to show that Mr. Murdaugh fatally shot his wife Maggie, 52, and son Paul, 22, at the dog kennels on the family's 1,700-acre hunting estate, Moselle, lead prosecutor Creighton Waters called dozens of witnesses and combed through a mountain of evidence over the course of three weeks.
Prosecutors claim that Mr. Murdaugh stole millions of dollars from his family business over a ten-year period. They contended that the murders represented a last-ditch effort to win sympathy and shield his financial crimes from discovery.
In court, his attorney, state senator Dick Harpootlian, refuted this theory by arguing that his client, a devoted family man, was incapable of killing his family.
In court, Mr. Harpootlian claimed, "He didn't kill - he butchered - his son and wife.". "And you must erase any notion that he made from your mind.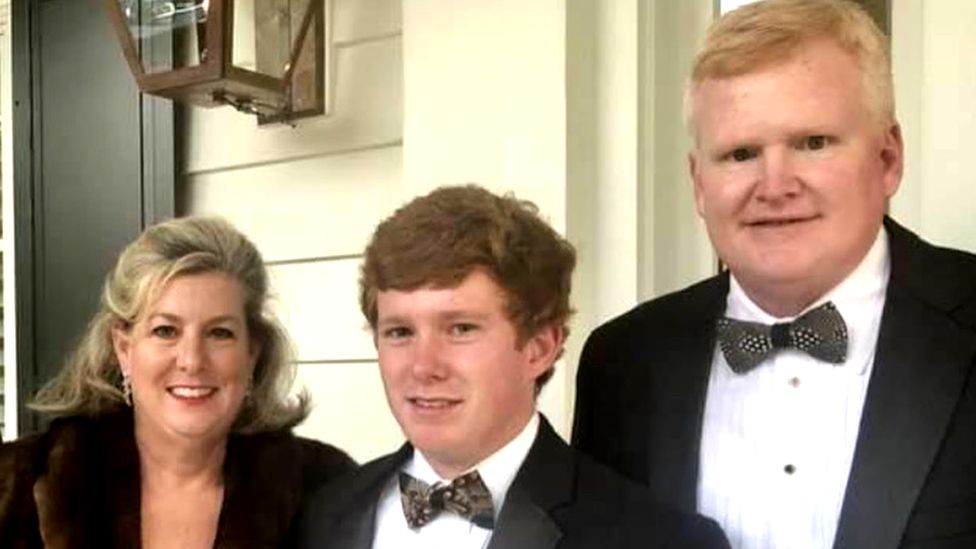 Prosecutors are anticipated to question Curtis Eddie Smith, also known as Cousin Eddie, who is accused of attempting to shoot Mr. Murdaugh on a country road just three months after the deaths of his wife and son. According to Mr. Murdaugh, he set up the unsuccessful hit on himself so that his surviving son could receive $10 million (£8.4 million) in life insurance payments.
But Mr. Smith claimed that the hit was never authorized and that the gun accidentally fired: "If I shot him, he would be dead.
Separate charges against Mr. Murdaugh include theft, insurance fraud, lying to the police, and other offenses. In those cases, he has not yet admitted guilt. Friends and former coworkers testified in court that Mr. Murdaugh admitted stealing and apologized for it. The stolen funds, according to his attorney, were used to support an opioid addiction.
The proceedings have occasionally been tiresome because of hours of repetitive testimony about specifics of Mr. Murdaugh's alleged financial wrongdoings.
However, other witnesses have given an intimate view into the Murdaugh family's private life and given details of Maggie and Paul's final moments.
Blanca Turrubiate-Simpson, a housekeeper for the Murdaugh family, testified on Friday that Maggie texted her the night before she died while walking to the family's beach house on Edisto Island. Ms. Turrbiate-Simpson reported that Maggie wanted to spend the night at Edisto but was asked to return to Moselle by Mr. Murdaugh.
Maggie, according to Ms. Turrubiate-Simpson, "sounded like she didn't want to come home.". She enjoyed her time at Edisto.
A Snapchat video Paul recorded and sent to a friend that same night placed Mr. Murdaugh with his family just before the alleged murders, according to mobile phone evidence. Mr. Murdaugh had previously claimed he had not spent the evening at the dog kennels at all.
The prosecution is anticipated to take a break the following week, allowing the defense to present its case.
If found guilty, Mr. Murdaugh could spend the next 30 years in prison.