In order to deliver aid and transport refugees back to the UK, three volunteers made 16 trips to Ukraine.
Simon Beck, Christine Holden, and Jeremy Russon of Trowbridge Homes for Ukraine discussed their visits to the country one year after the start of the Russia-Ukraine war.
I was tired of seeing people fleeing their homes on the news and doing nothing, said Mr. Beck.
According to Ms. Holden, "We were there to make their lives as simple as we could do.".
Mr. Beck founded Trowbridge Homes for Ukraine in an effort to aid Ukrainian refugees who were attempting to enter the UK.
In order to accommodate the refugee's luggage, he purchased a minibus and removed some of the back seats.
As a result, they could transport up to 11 people—and occasionally, their pets—back to the UK.
You simply did what you had to do to improve their quality of life just a little bit, he said.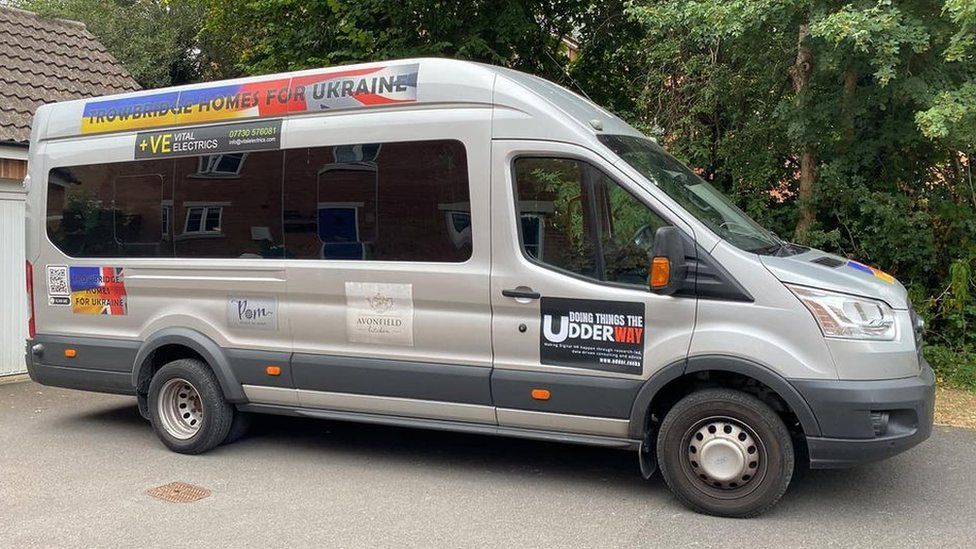 On one of their journeys, they had a six-year-old girl and her mother riding in the back.
We discovered Frozen on Spotify after hearing that she was a huge fan. "The smile on her face caused her mother to open up, and conversation began. ".
We are all humans, and we have a shared humanity, Ms. Holden continued. "This is what it's all about, regardless of the language we speak or the circumstance from which we are coming.
Mr. Russon was deeply affected by one family's decision to part with their 11-year-old dog.
Mr. Russon admitted, "I'm trembling just talking about it.". "It's reminding me of some amazingly strong people.
"We believe that resilience is having the strength to get back up after a long night out; this is resilience, to go through what they have been through. " .
"Their stories have not come to an end," Ms. Holden continued, "because they still have family in Ukraine and because events there are still occurring.
"All we have to do is try to be kind to these people.
. "