After battling Islamist militants in the country for ten years, Mali has informed the UN that its 12,000 peacekeepers must depart.
France withdrew its troops from Mali last year after military authorities there seized power and dispatched mercenaries from Russia's Wagner group.
After Islamist fighters and separatist rebels united and took control of northern Mali in 2013, the UN sent a mission there. To establish a distinct state was their goal.
Following the deployment of 5,000 French troops to try and quell the uprising, the UN peacekeepers arrived.
Over time, the threat posed by Islamist militants, who have expelled tens of thousands of people from their homes and killed thousands of people, has persisted.
Despite having a broader mandate to safeguard civilians and reduce the threat posed by jihadists, the UN force in Mali is not designed to launch an offensive against militants.
Attacks have been carried out in Mali and throughout the wider region by the Islamic State of the Greater Sahara and Jamaat Nusrat al-Islam wal-Muslimin, an al-Qaeda affiliate.
Boko Haram is active in the nations bordering Lake Chad, and Ansaroul Islam, another jihadist organization, is active in Burkina Faso.
Mali experienced an increase in terror attacks and the number of locals joining insurgent organizations despite the presence of UN peacekeepers and French soldiers who oversaw counterterrorism operations.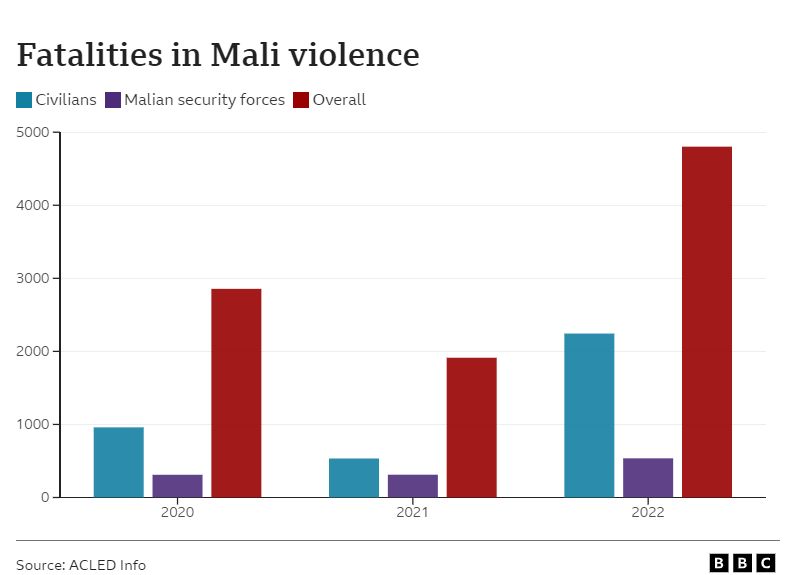 Over the previous ten years, more than 300 UN peacekeepers have died. The world's deadliest peacekeeping mission, according to reports, is this one.
Countries like the UK and Sweden have declined to send troops, and Russia and China have criticized the mission at the UN.
French President Emmanuel Macron announced his intention to reduce French forces last year.
He was incensed that military authorities, who had taken control in 2021, had put off holding democratic elections. Additionally, they requested that Wagner, a Russian mercenary organization, send over 1,000 fighters to serve as security.
Whether the recent Wagner fighter mutiny in Russia will affect its operations in Mali is currently unknown.
The UN's mandate in Mali is scheduled to end on June 30.
They should stay in Mali for an additional year, according to UN Secretary General António Guterres.
Abdoulaye Diop, Mali's foreign minister, refuted this claim by claiming that the UN force had failed to address security issues in a timely manner.
The Mali government has frequently interfered with UN commanders' operations, the commanders have complained.
In addition, Mr. Diop charged that the UN mission had "made serious allegations that are harmful to Mali's natural cohesion, peace, and reconciliation.".
According to a UN report published in May, 500 civilians were allegedly killed in central Mali in March 2022 by Malian army personnel and foreign mercenaries during an anti-jihadist operation.
The UN Security Council is expected to vote on how to remove the peacekeepers on Friday.
It is believed that they are talking about a French proposal to leave gradually over the next six months.