One of the biggest public investors in solar panels in the nation, according to a city on the south coast.
According to Gerald Vernon-Jackson, the council leader, Portsmouth will have about 40,000 solar panels on local government structures by the end of 2024.
The number was made public at a meeting with business representatives to discuss the future of the city's green economy.
Every council building has them, according to Mr. Vernon-Jackson.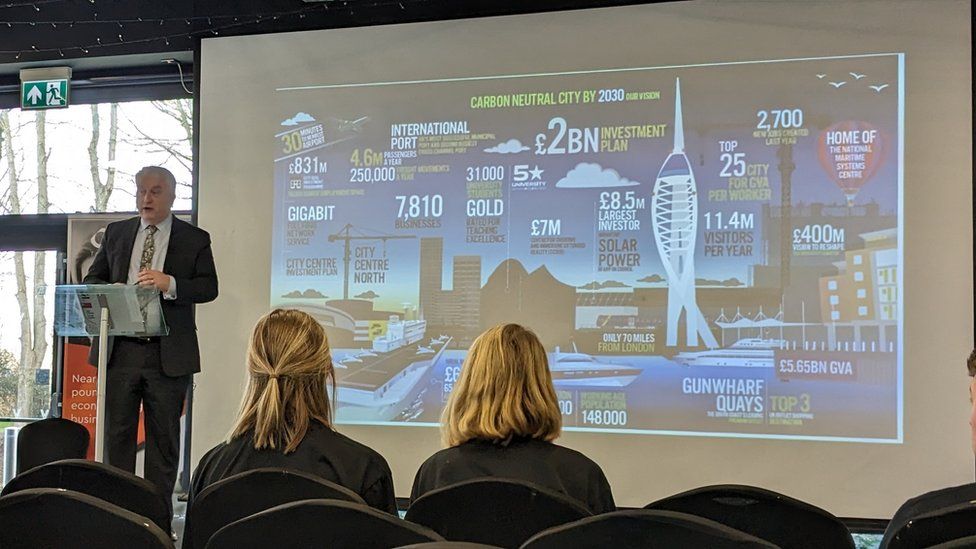 At the council's The Future is Green event on Friday, businesses, training partners, and public sector employees gathered.
Mr. Vernon-Jackson went over the various green initiatives and strategies the local government had adopted with a focus on solar panels, shore power, and the revitalization of the city center.
He claimed that among all local government entities in the nation, the city council was "the largest investor in solar panels.".
"In about a year, Portsmouth's council buildings will have about 40,000 solar panels.
You may have seen that we covered the lanes at the port where people line up to insert their tickets.
According to the Local Democracy Reporting Service, he claimed that the only reason they had done it was to add more solar panels, making the port the first carbon-neutral port in the nation.
Mr. Vernon-Jackson continued by saying that the council intended to repeat the exercise at Lakeside Car Park "to drastically reduce the enormous electricity bills.".
The council claimed that it had a total capacity of more than 6.3MW, which is equal to more than 20,000 individual solar panels and can power 2,000 homes.
By the end of 2024, the council said it hoped to reduce its annual carbon footprint by more than 3,000 tonnes.