In the wake of Storm Otto, thousands of people in northern Scotland were without electricity on Friday night. .
Over 43,000 properties had their power restored throughout the day on Saturday, according to Scottish and Southern Electricity Networks (SSEN) engineers.
By 20:00 GMT, fewer than 500 homes still lacked power, and the company anticipated that hundreds more would experience power outages throughout the night.
By Sunday night, SSEN anticipates having everyone reconnected.
Most of Aberdeenshire is affected, as are portions of Kennethmont, Lonmay, Rathen, Oyne, Methlick, Glenbuchat, Kininmonth, Pitcaple, Insch, and nearby communities.
Hot food and beverages are available from on-the-go food vans.
High winds that toppled trees and damaged a number of cars and buildings were the defining characteristics of Storm Otto, the first named storm of the season.
Numerous locations recorded wind speeds greater than 80 mph, and at Cairngorm Mountain, gusts reached 120 mph.
Due to trees blocking many routes in Aberdeenshire, trains, buses, and ferry services were either canceled or delayed.
A yellow ice warning has been issued by The Met Office for portions of northern Scotland between Sunday night and early morning.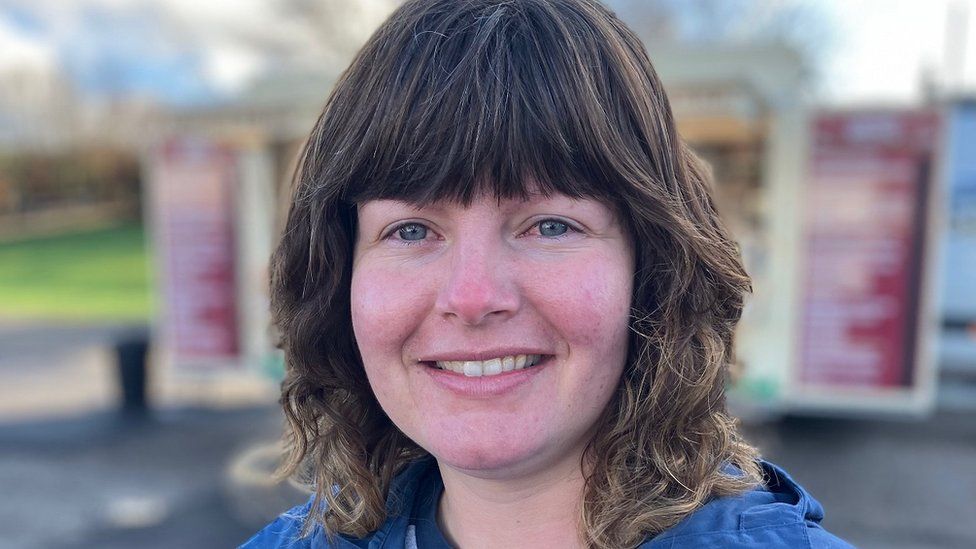 They lost power at around 8:00 on Friday morning, according to Chloe Alexander, who lives in a farmhouse in Hatton with her husband and two young children.
In November 2021, Storm Arwen also had a negative impact on them.
She told BBC Scotland, "We have to think about an 18-month-old and a four-year-old, so it's mostly concern for them, keeping them warm, making sure they've got food.".
"A year and a half ago, in November, Storm Arwen knocked out our power for four to five days, so I wasn't confident in SSEN's response because they couldn't guarantee when the power would be restored.
When they reassured me the last time, my baby was five months old, and they did so every 24 hours. Thank goodness my in-laws are in Peterhead because I just didn't know when the power would come back on last night. ".
In comparison to November 2021, she added, SSEN's communication and response had been "a lot better.".
According to the company, 750 employees are addressing the storm's effects after hiring additional staff to deal with the power outages.
SSEN has made "good progress," according to operations director Mark Rough, in restoring power.
"Our teams will work tirelessly through the night to complete repairs and bring power to those who are still without it. We remain optimistic that the majority of impacted customers will have their service restored today, with complete restoration anticipated by tomorrow evening at the latest.
"We continue to collaborate closely with our resilience partners to support our customers as needed, especially those on our Priority Services Register. We also encourage anyone who may require additional support to contact our devoted teams on the 105 power outage helpline. ".
SSEN employee Greg Clarke stated that since the storm season of the previous year, the organization has been working hard to "improve the resilience" of the network.
We've made quite a few improvements, according to Mr. Clarke. We will do everything possible to ensure that we give our customers more accurate restoration times so that those who will be without supply for an extended period of time can make informed decisions about finding alternate housing. ".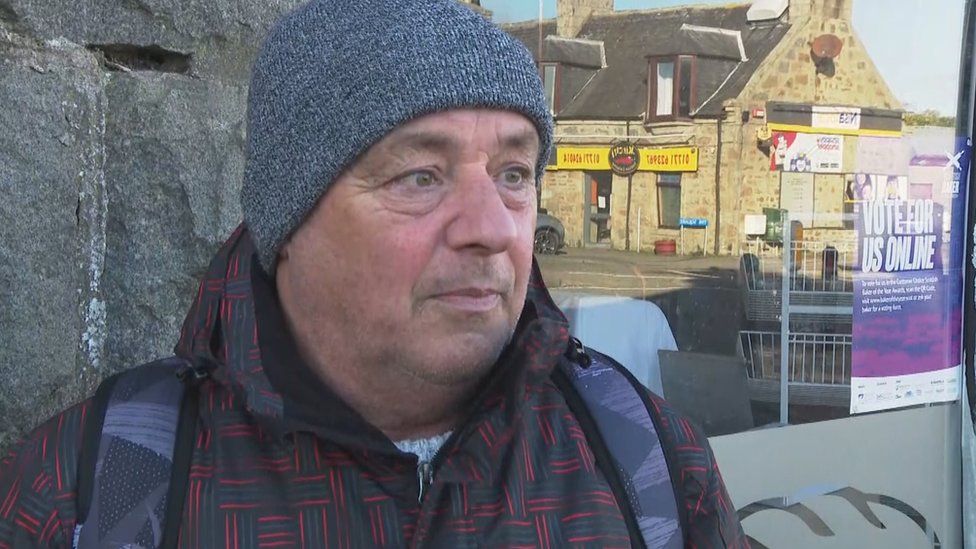 According to Kenny McKenzie, who lives in Mintlaw, Aberdeenshire, he lost power at 7:45 on Friday after a tree was blown down outside his home.
Everything stopped working when there was no word, no internet, and no mobile phone, he claimed.
One of our neighbors has a gas stove, so she brought over a flask so we could drink our coffee, which was wonderful first thing in the morning.
"Hopefully we're going to Fraserburgh because the power is on there, so we'll wait and see if there's a bus; it appears that the buses have also stopped, though nobody seems to know for sure. ".
Customers who have been without supply for more than 12 hours are eligible to claim up to £30 per day for food. Customers are urged to save their receipts.
Friday saw the closure of more than 100 schools in Aberdeenshire, as well as nearly 50 in Highland and a few in Moray.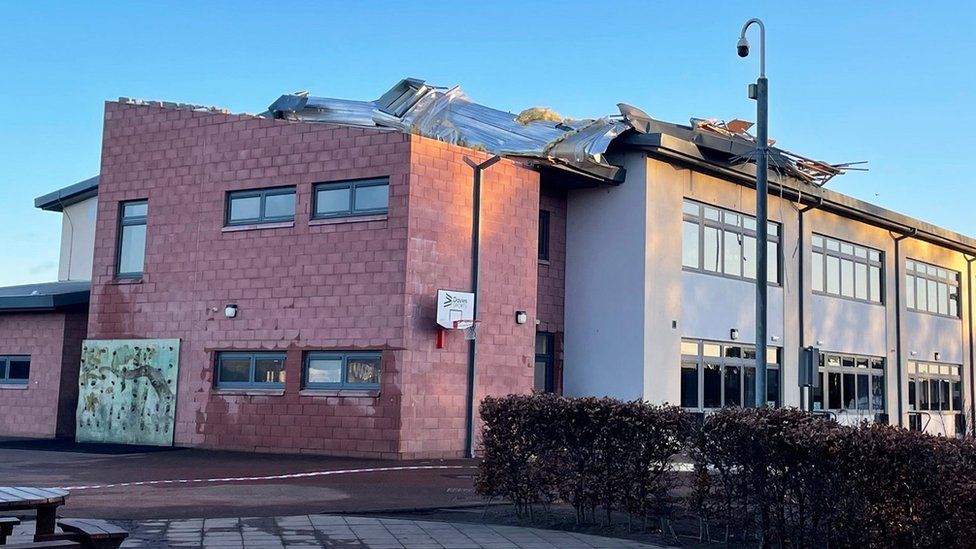 Following significant roof damage, Angus Council declared the Burnside Primary School building unsafe for students and staff.
When school resumes after the midterm break on February 22, children in grades P1 through 7 will have access to remote learning.
Following roof damage to its city campus, North East Scotland College in Aberdeen also closed.
According to BBC Scotland Weather, gusts of up to 83 mph were recorded in Inverbervie, Aberdeenshire, and up to 80 mph were recorded in Lossiemouth, Moray, and Tain, in the Highlands.
Otto was the name given to the storm by the Danish Met Office. Using the same name, the UK Met Office.
The UK has not experienced a named storm since Franklin in February.
The Met Office names storms from September to September, and does so to increase public awareness of severe weather.
If you are willing to speak with a journalist from the BBC, kindly include a phone number. The following methods are also available for contact: