With the aid of a brand-new miniature wind turbine, a seaside pier in Lincolnshire is being illuminated at night.
The Skegness Pier has one of the 6 ft (2 m) vertical turbines installed, and a factory roof in Spalding has the other.
They require little maintenance because they can catch wind from all sides without turning.
The technology is being tested with local councils by the Norwegian company Ventum Dynamics, which makes both.
According to East Lindsey District Council Cllr. Steve Kirk, the three-month trial could ultimately be advantageous for "the entire community.".
These can be used for residential areas, such as apartment buildings or nursing homes, he continued.
"This lowers the price of your electricity. Thus, it not only benefits the environment but also those companies that are currently experiencing severe difficulties as a result of rising energy costs. ".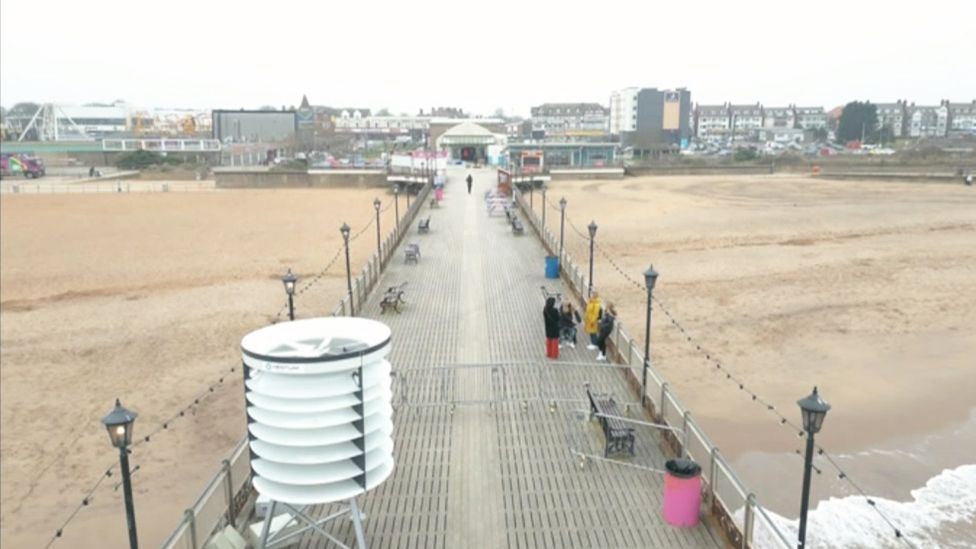 The two Lincolnshire turbines were the first to be installed outside of Norway, according to one of the project partners, DSR Group.
The company said that the energy produced during the pilot will be tracked and the data used to guide future design changes.
The turbines can function "regardless of the direction the wind is blowing," according to the company's founder Ravi Rayarel.
What it does, according to him, is actually suck the wind into the center of the turbine and push it upward into the generator of the turbine itself.
It actually speeds up the wind because the wind speed that enters is a little lower than the wind speed that exits through the top of it.
. "