"My school is great, and this place is like paradise. ".
Nikita, age 7, who was one of 50 orphans transported to Scotland from the war-torn Ukraine, said as much in his message.
Days after the Russian invasion, the children of various ages were removed from orphanages by the nonprofit Dnipro Kids, which Hibernian Football Club supporters founded.
After finding initial safety in Poland, they made the protracted trip to Scotland's capital after completing the necessary paperwork.
Ukraine has been defending itself against its invaders for many months. But for this group of Dnipro children, the war is far away, and they are creating a new life for themselves.
I had the opportunity to speak with some of the kids who had arrived in Scotland by bus in March of last year with the aid of interpreter Natalie.
16 Dnipro orphans, including Nikita, attend Castleview Primary School.
Natalie said: "He [Nikita] told me a couple of days ago that this school is absolutely amazing in comparison to Ukraine. He said to me, "It's just a paradise.". ".
Through their shared interest in football, playground games, and Lego construction, the kids have formed lifelong friendships.
The children from Ukraine were assisted in settling by their classmates, who also learned about the difficulties they faced along the way.
Jubilee, who is close friends with Sasha and Losha, said: "I have learned that when they were there [in Ukraine], it was a difficult time and when they came to Scotland, they felt calm and good. ".
Since moving to Edinburgh, eight-year-old Ola has made a lot of friends. She said through her interpreter, "I like everything about my new school; I like writing, dancing, and playing with my friends.
Language barriers still exist, but teachers and students always manage to communicate.
Signing and visuals are helpful teaching aids, according to Clare Langley, head teacher of Castleview Primary School.
"We began with 19 Dnipro children back in May, and three have gone on to high school," she said. Our current Dnipro family size is 16.
"There is no denying that it was a difficult adjustment, but they've done a great job. ".
Following a 2005 Uefa Cup match, Hibs FC supporters founded the Dnipro Kids charity. It raised money to pay for outings for the youngsters from local orphanages.
The charity's chairman, Steven Carr, said in an interview with BBC Scotland that when the war started a year ago, they felt they "had to do something for the children.".
We were very concerned about what was going on because it didn't seem safe, he said.
When we finally touched down at Heathrow, we were so relieved to realize that everything was going to be okay and that we were safe. " .
When the charity first returned to the UK, he claimed, they "didn't really have a plan" for what they would do next to assist the kids. However, with a lot of community support, they have been able to "do what we have to do for these families.".
He continued, "I am extremely proud of what the charity, the kids, and the [orphanage] mothers have accomplished.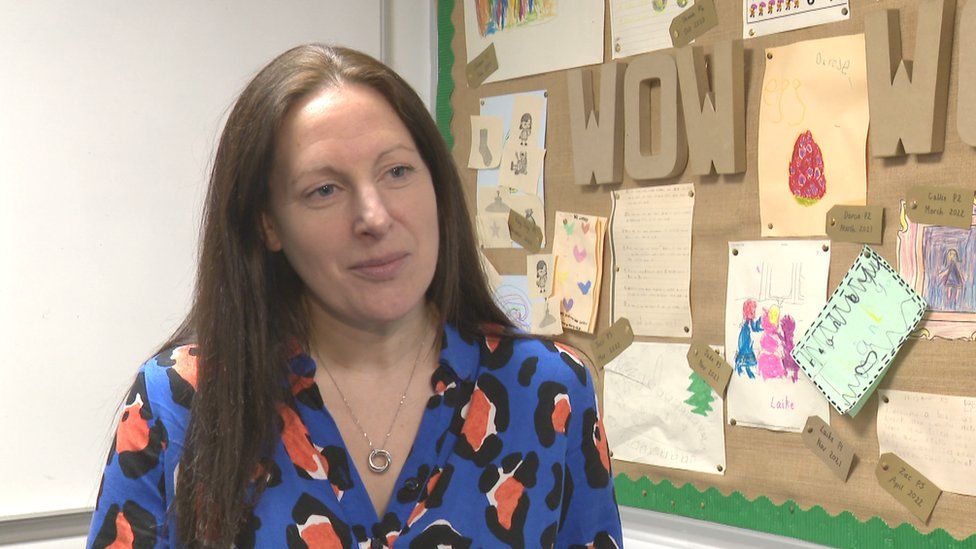 The group had been "welcomed into our Castleview family," Ms. Langley said when she returned to the classroom, adding that "we just love everybody and it's really worked.".
They share bricks with every other component of our school, she continued. It is lovely that we feel they belong with us. ".
"They followed the routines the other kids had, and it worked. Since they are naturally drawn to those who speak their language, we have made an effort to hire Russian speakers to assist them whenever possible. ".
Despite the fact that the Ukrainian children's experience has been positive, Ms. Langley acknowledged that their thoughts occasionally return to the unfavorable events that have taken place in their nation.
She argued that it was crucial that everyone around them recognize that Ukraine remained their home and that they would eventually be able to return without being afraid.