Marharyta Lymar, a university lecturer, had a "really normal" life in Ukraine up until 18 months ago.
Then, on February 24, 2022, Russia under Vladimir Putin invaded her nation.
She and her colleagues found ways for Petro Mohyla Black Sea National University (PMBSNU) to carry on because she was determined to keep instructing her students.
Since then, PMBSNU and Swansea University have entered into a partnership, and Ms. Lymar and a delegation from Ukraine have traveled to Wales to share their experiences.
Swansea and Mykolaiv are both industrial port cities with universities, and PMBSNU is located in Mykolaiv close to the Black Sea.
Ms. Lymar, a translation professional with experience in international relations, described at a conference how they modified their instructional strategies, provided more mental health support to staff and students, and promoted a survival mindset.
We're here to bring everyone a message of hope, she said.
"The news is all bad, but we've managed to survive and keep our country's reputation as a forward-thinking society. ".
Ms. Lymar claimed that initially, things were so terrifying that lecturers were unable to see a way forward.
"We had nothing but shells from February to April; all we could think about was staying alive," she claimed.
"However, once we realized we'd accomplished that, we turned our focus to how we also kept our country alive. ".
Staff and students endured daily Russian missile attacks in underground bunkers for the first few months of the war.
But as they gradually reestablished normal life, a glimmer of hope appeared.
Despite how awful Covid was, Ms. Lymar said, "looking back, it had given us the blueprint for how to get back on our feet.".
When it was safe for our students to leave campus and go home, we continued lectures the same way we had the previous two years because we had already been using online teaching. ".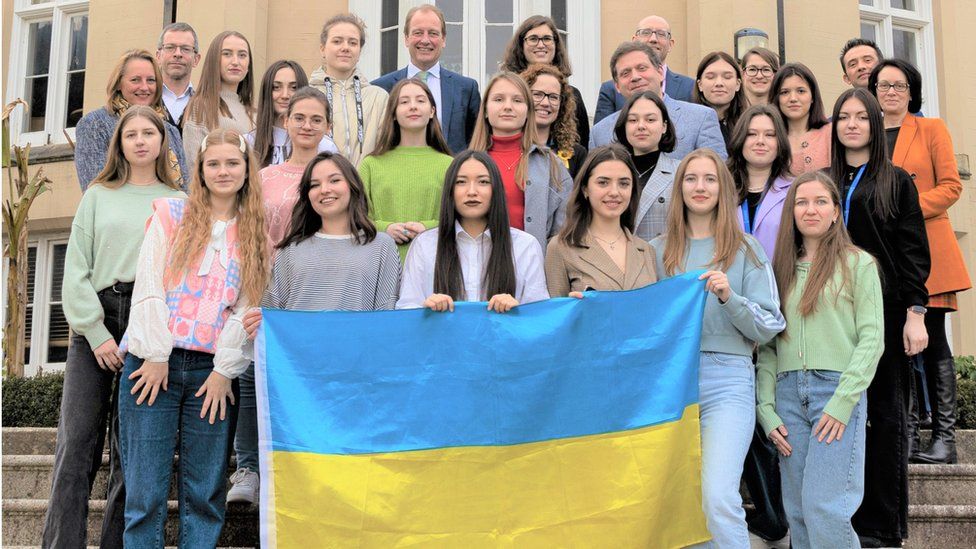 Ms. Lymar clarified that further improvements were needed, though.
"Electricity would occasionally only be available for a few hours in the morning and evening, so we frequently had to give last-minute lectures over mobile phones.
Additionally, deadlines had to be eliminated. Each student was working in a unique environment, making it impossible to hold them all to the same standards. ".
Additional student assistance was also implemented, ranging from official counseling to routine phone calls to make sure everyone was alright.
However, Ms. Lymar claimed that one of Ukraine's biggest coping mechanisms was its sense of nationalism.
We're all in this together, so I guess when everyone is going through the same thing, it makes it easier for one person to deal with it. " .
According to her, the university treated the students like members of their family.
In the midst of the war, Mykolaiv has even developed new customs.
"Pipes have been bombed so frequently that the tap water is now so discolored and contaminated that Ukrainians now bring bottled water to each other's homes as a gift for dinner, just as we would have done before the war. ".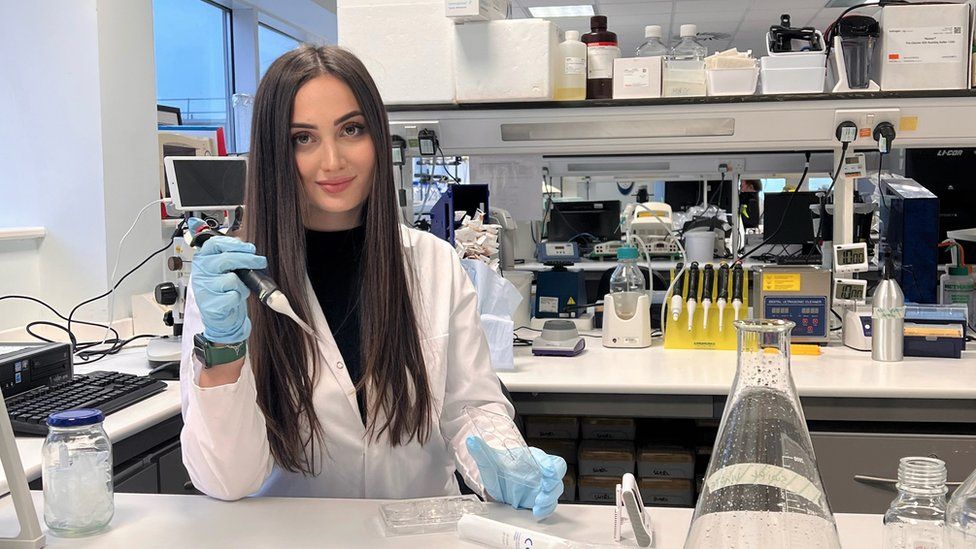 Gynecology specialist Mariia Hryhorian, a medical student at PMBSNU, spent last year studying in Swansea to aid in her education.
"I was immediately at ease. Swansea and Mykolaiv are both seaside cities, but we can no longer access our beaches because they are all gated. It's too risky to go there, she said.
"I'm so impressed with the tools and training, and everyone here is so friendly and welcoming.
"I need to return home with everything I've learned so I can help rebuild our nation after we win this war. ".
Many of Ms. Lymar's students, according to her, have stayed at home.
Some students on my course are currently engaged in active combat. One in particular assured me that he would stay safe and return home safely, but I constantly consider him.
"I don't know what to say when he sends in his assignments and apologizes for them being late; it just makes me cry. ".
Swansea University is also eager to emphasize the ways in which the conference and the larger partnership agreement can teach them resilience skills through the experiences of PMBSNU.
Swansea University's associate director, Emma Frearson Emmanuel, stated: "We are delighted to welcome our Ukrainian partners to campus, just as we were with their students who just finished a semester-long visit.    .
"This is a collaborative effort. We are picking up tips from our PMBSNU colleagues, like how to modify teaching strategies and help students through the most trying of times.
. "