During a surprized visit to Kyiv this week, US President Joe Biden announced nearly $500 million more in US military assistance to Ukraine.
In addition to the previous billions the US has invested in the conflict between Ukraine and Russia. In 2022 alone, Congress appropriated more than $112 billion (£92 point 47 billion).
In terms of financial support, the US provides Ukraine with the most.
However, a year after Russia's invasion, some Americans are questioning the aid's value and where the money goes.
The US had already committed nearly $80 billion in aid to Ukraine before Mr. Biden's pledge this week. This information comes from the Kiel Institute for the World Economy, which keeps tabs on international aid to Ukraine.
The US contribution to the effort is roughly $46.6bn in military aid, far more than any other nation is contributing. The EU receives $10.12 billion in military aid, coming in second place behind the UK with $5.1 billion.
However, that is only military assistance. Other forms of assistance raise the price.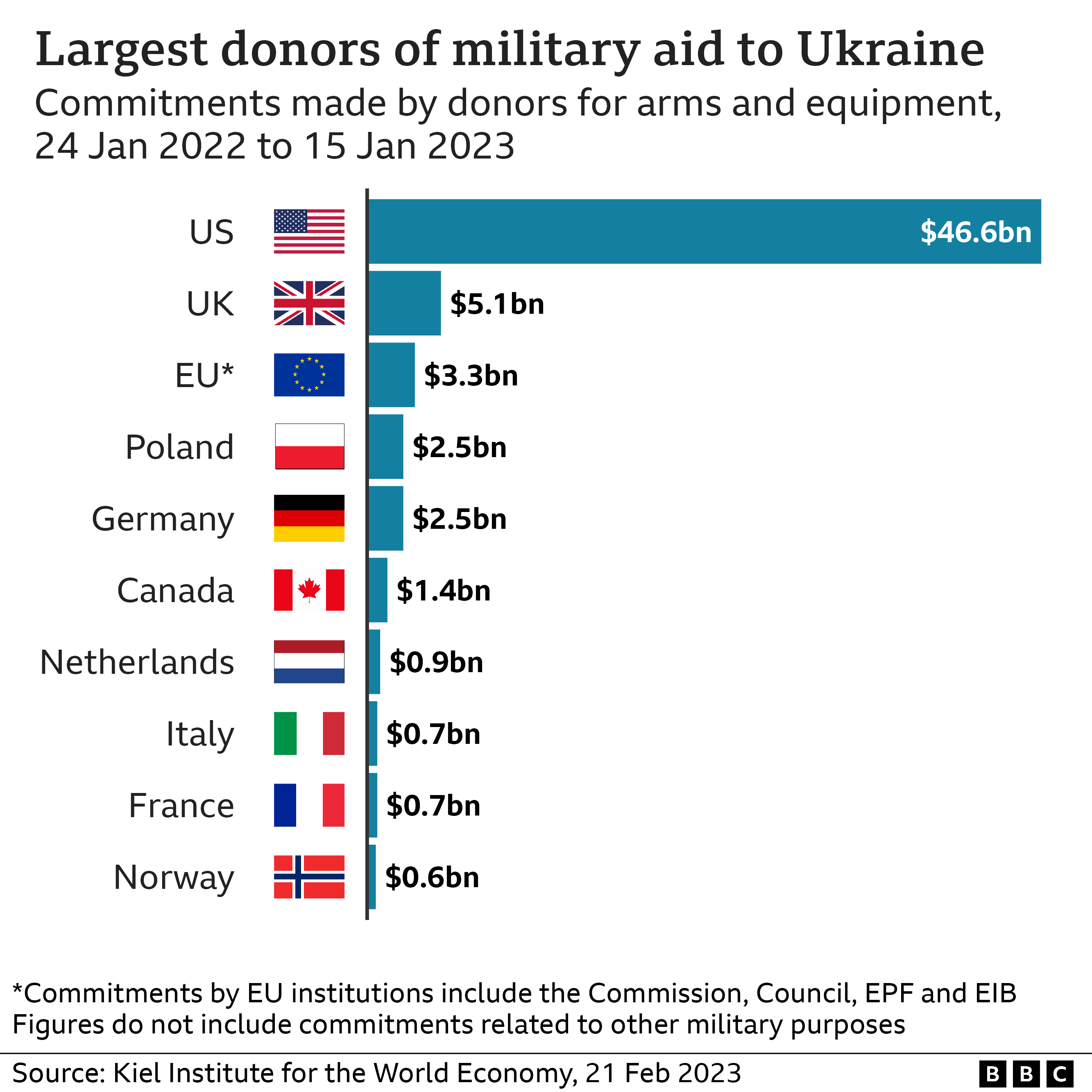 Drones, tanks, missiles, and other munitions systems, as well as training, logistics, and intelligence support, are all covered by military aid. Financial and humanitarian aid are additional.
For Ukrainians who have been displaced by the conflict, humanitarian aid includes food assistance, clean drinking water, medical supplies, and other necessities. Economic aid is financial. By paying government employees, those who work in healthcare, and teachers, it keeps the Ukrainian government running.
More than half of what the US spends on Ukraine is military aid, leaving $3 point 96 billion for humanitarian aid and $26 point 73 billion for financial aid.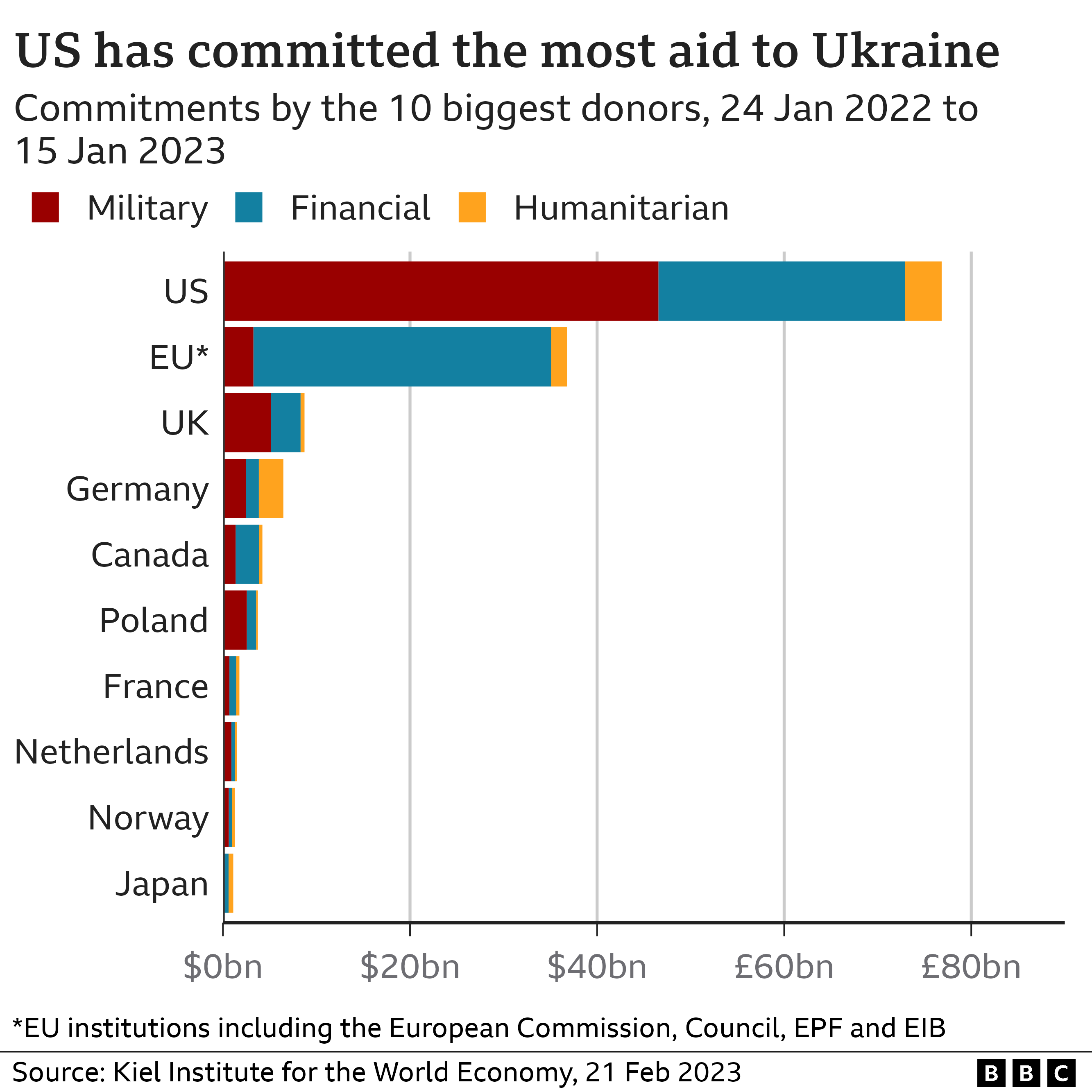 When commitments are ranked as a percentage of GDP, the US does not lead the world in spending.
According to the Kiel Institute, with a pledge of 1% of its GDP, Estonia tops that list. The US, on the other hand, has pledged only 0.04% of its GDP.
Despite leading the world in aid to Ukraine dollar-for-dollar, the US comes in fifth place on this list of donors.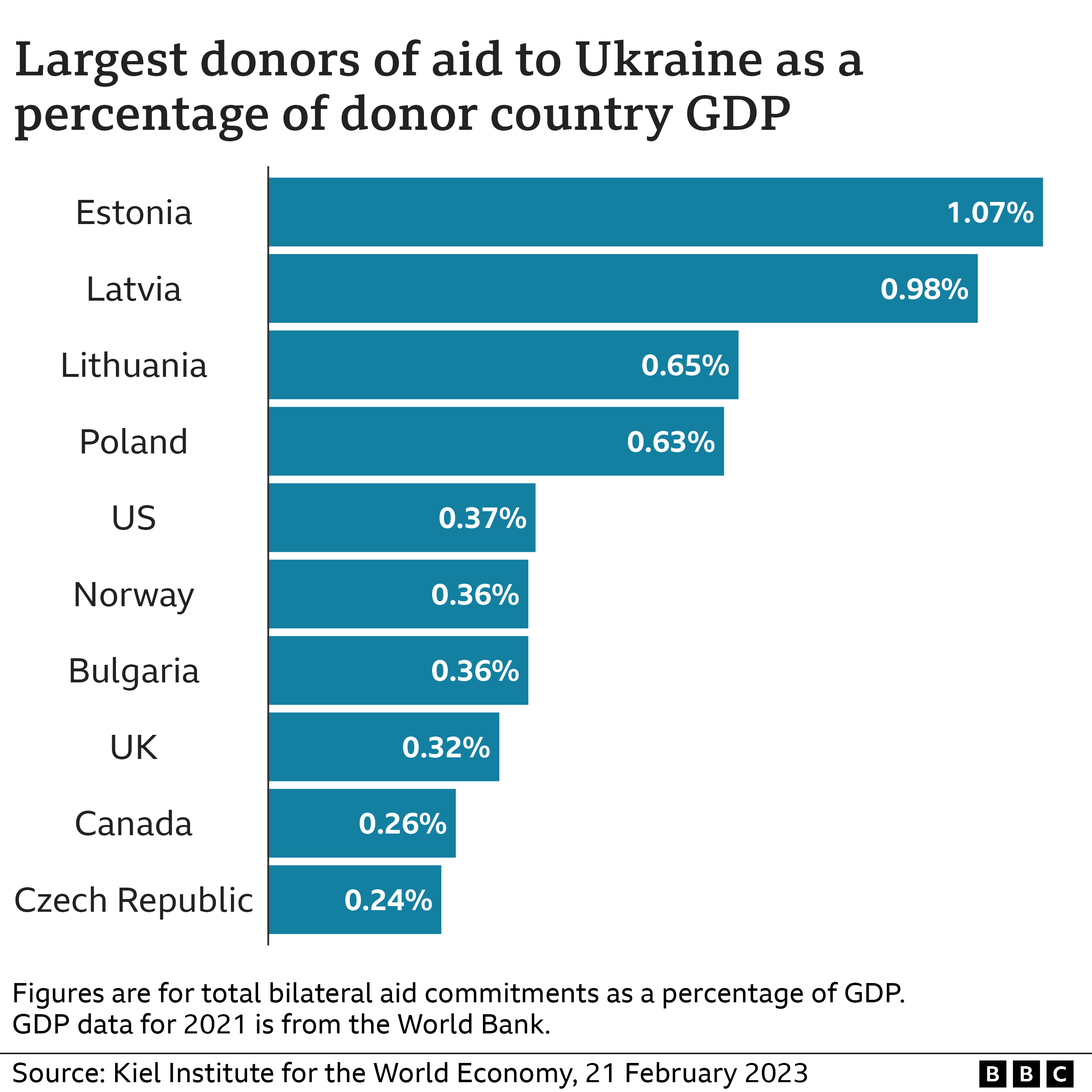 Worldwide funding for the conflict is still coming in, with the US leading the way. However, the cost is still considerably lower than in earlier wars, according to the Kiel Institute, a German research organization.
The United States, for instance, spent more than three times as much annually on the war in Afghanistan after 2001, according to Kiel.
Germany invested more than three times as much in the Allies during the Gulf War of 1990–1991 as it has in Ukraine.