A carpenter who lost four of his fingers in a workplace accident kept his promise to play the ukulele for the doctors who helped reattach them.
On Monday, Mike Aherne, 71, a ukulele orchestra player from Taunton, visited Southmead Hospital in Bristol.
After the incident in which one of his gloves got caught in a table saw and pulled his fingers through, he was treated at the hospital in 2019.
Without the NHS, Mr. Aherne stated, "I don't know what I would have done.".
Before the accident on January 11, 2019, at 11:00 GMT, the retired carpenter was already an enthusiastic ukulele player.   .
When it caught his glove, he said, "I was at work as usual, working on the table saw I had used countless times with all the safeguards in place.".
When I saw consultant plastic surgeon Rob Warr at Southmead Hospital, he felt they could put my fingers back because the cut was so clean. I knew it was bad and was transported there by ambulance.
Mr. Aherne continued, "My colleagues had taken care of the fingers for me right away.".
He had an 11-hour operation on his left hand, which saved three of the four fingers (he lost his little finger), followed by twice-weekly physical therapy for eight months.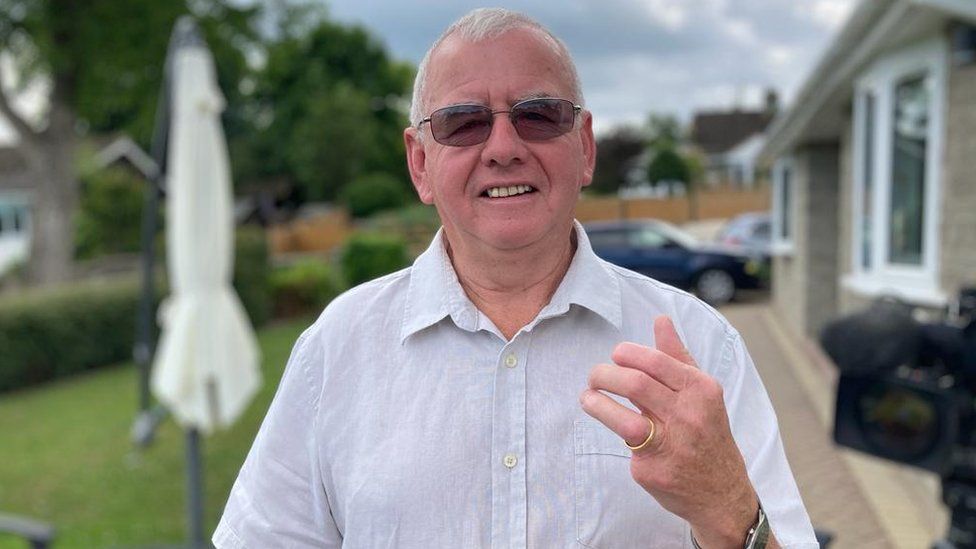 At around four in the morning after the procedure, he told staff that he would resume playing the ukulele and that he would also perform in the atrium of Southmead Hospital.
As part of the festivities honoring the NHS's 75th birthday on July 3, Mr. Aherne kept his word and visited the hospital once more.
He performed alongside other members of the North Curry Ukulele Orchestra.
Before I could play again, it took me around a year, he claimed.
I was already a part of the ukulele orchestra, having joined in 2018, and until I was able to play the ukulele again, I kept on singing and playing the drum.
"The people taking care of me were excellent. Happy birthday, NHS," Mr. Aherne added. Mr. Warr, a consultant plastic surgeon, described it as "fabulous" to watch his patient play once more.
Above all, he continued, "it is stories like these that give hope to future patients who suffer such potentially life-changing injuries and inspire those of us working in the NHS.".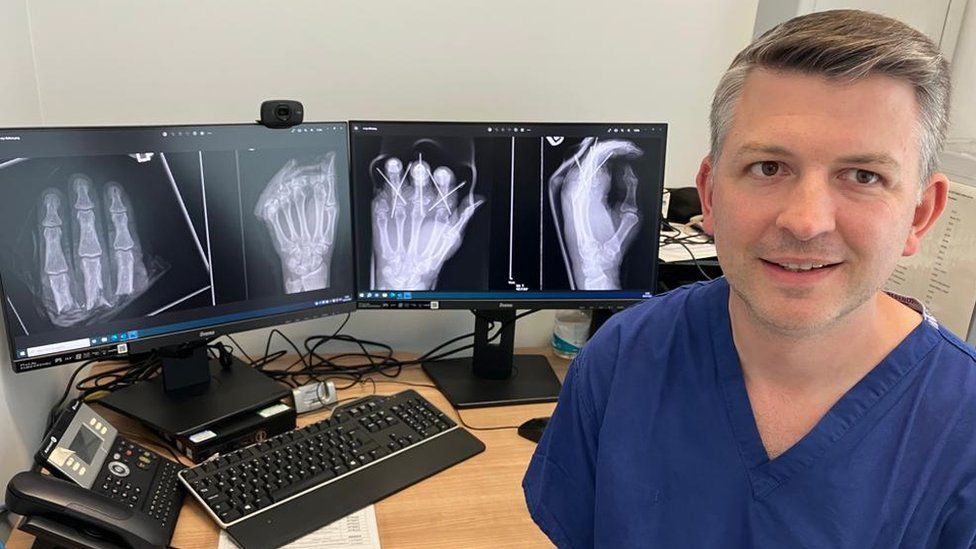 James Henney, a physiotherapist who specializes in hands and works at Southmead Hospital, said: "The rehabilitation required many hours of physiotherapy twice a week.
"You need a combination of excellent surgery, physiotherapy, and patience to achieve a such a good outcome.   .
It takes a lot of time and effort for patients to complete the post-operative care, which includes going to appointments and spending a lot of time performing exercises that can be uncomfortable. ".
He continued by remarking how "lovely" it was to watch Mr. Aherne perform and observe how his "hard work and dedication" had paid off.