According to Scotland's former chief medical officer, communication with scientific experts in London during the pandemic was hampered by outdated technology.
According to Dr. Catherine Calderwood, conference call lines are of very poor quality.
She continued, "This meant that Scotland wasn't fully involved in important meetings.".
In London, Dr. Calderwood was testifying before the UK Covid Inquiry.
In April 2020, two weeks after the UK-wide lockdown was imposed on March 23, she resigned from her position as chief medical officer.
Dr. Calderwood received a police warning for breaking the law by traveling more than an hour away from her primary residence in Edinburgh to her second home in Earlsferry, Fife, twice with her family.
In order to save lives and safeguard the NHS, the chief medical officer had fronted radio and television advertisements urging the public to stay at home.
Alongside Nicola Sturgeon, she also participated in daily televised media briefings.
She testified before the inquiry over a video link, stating that prior to the pandemic, communication with the Scientific Advisory Group for Emergencies (SAGE) committee in London had been excellent.
However, after the virus spread, dialing into the remote meetings from Scotland "became much more difficult because that was based in London and Scotland was not fully part of that," according to Dr. Calderwood.
"There were a lot of dialed-in participants, and of course, our infrastructure for remote working was not what it is now," she continued.
"I would have gone, or my deputy would have gone, along with several other Scots, but the line quality was frequently bad.
It dropped out a lot, and readouts from some of those crucial meetings in the early stages of the pandemic were frequently not fully fluent. ".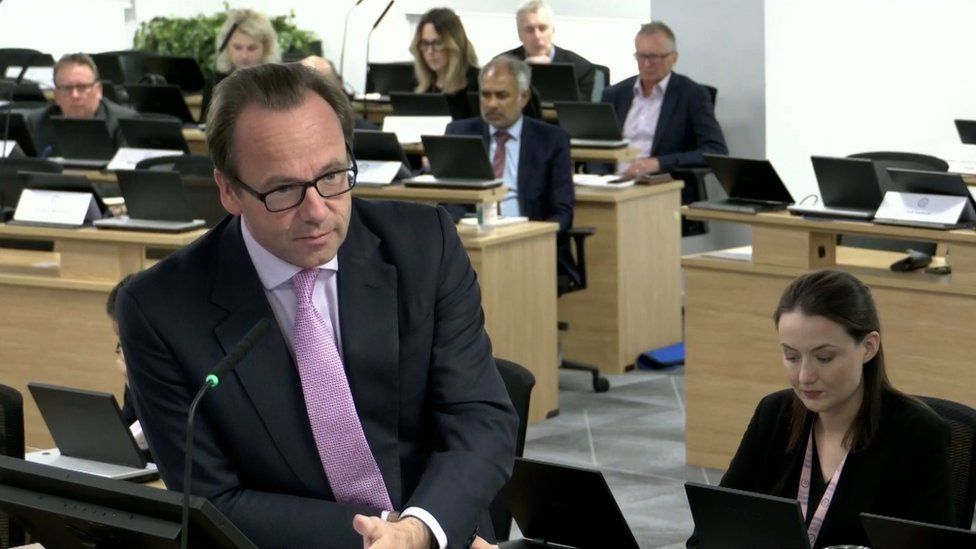 Dr. Calderwood claimed that this was a contributing factor in Scotland's decision to launch the Covid-19 Advisory Group, a localized version of Sage, in March 2020.
In order to ensure there was "lively scientific debate," she said she was keen for the group to include members who had been critical of how the pandemic had been handled up to that point.
Additionally, according to Dr. Calderwood, the UK did not learn from other nations that had previously dealt with coronaviruses like Covid, such as Sars and Mers.
We were slow and late, she continued. We could have learned more quickly because there wasn't a formal or coordinated method of communicating with other nations.
Dr. Calderwood claimed that prior to the pandemic, some recommendations from a 2018 exercise that examined how Scotland might react to a coronavirus outbreak had not been put into practice. These recommendations included instructions on the use and distribution of personal protective equipment (PPE) and the fitting of FFP3 masks.
Additionally, she claimed that because workers could not be freed up to participate in drills due to staff shortages, planning for a potential pandemic was becoming "extremely, extremely difficult" in Scotland's NHS.
At the Golden Jubilee hospital in Clydebank, Dr. Calderwood is currently the national clinical director of the Center for Sustainable Delivery.
She had previously worked as a consultant gynecologist and obstetrician.
She had initially been scheduled to testify before the inquiry last week, but the session was abruptly postponed just before it was scheduled to begin.
The Covid inquiry was established to look into how the UK responded to the virus. It will also investigate the pandemic's effects and any lessons that can be applied to prevent further viral outbreaks.
Up until 2026, public hearings are anticipated to take place.
Due to the resignations of the inquiry's original chairwoman for personal reasons and four members of the legal team, a separate Scottish inquiry that will focus on the effects of the virus north of the border has been delayed.
Both Ms. Sturgeon and John Swinney, who served as her deputy at the time, personally attended the inquiry last week.
Scotland's health secretary at the time of the pandemic, Jeane Freeman, testified remotely, but a bad internet connection frequently caused her session to be interrupted.
After the first cases were discovered early in 2020, there were approximately 227,000 deaths in the UK with Covid listed as one of the causes on the death certificate, including more than 17,000 in Scotland.
By February 2022, the virus was anticipated to have infected more than 44 million people.
It is about processing what occurred and drawing conclusions.
There will be no guilty or innocent verdicts.
Governments are not required to enact any recommendations.
Although there is no set end date for the inquiry, public hearings are scheduled to last until 2026.
In addition to the UK-wide investigation, Scotland is conducting a separate one.