Following a last-minute intervention by the UK government, new Northern Ireland organ donation laws will advance this week, according to BBC News NI.
Due to the impasse in politics at Stormont, Dáith's Law, which was intended to help a young boy in need of a heart transplant, was postponed.
But in order to guarantee that the new opt-out system is put into place, a change will be made to a Westminster bill in the upcoming days.
Máirtn, Dáith Mac Gabhann's father, described it as an "emotional day.".
Westminster had been urged to intervene by the family and Northern Ireland's politicians.
In order to watch the bill debate, Mr. Mac Gabhann announced that his family would fly to London on Wednesday.
He said he had discussed the government's choice with Northern Ireland Secretary Chris Heaton-Harris on Sunday night and that he approved of the move.
After all we have been through these past few weeks, it is a very emotional day for our family, he said.
"We feel as though we had to once more climb mountains to get there, and we are extremely proud of Dáith and ourselves. ".
The only area of the UK without an opt-out organ donation system is Northern Ireland.
In the Stormont assembly, Dáith's Law was first proposed in 2021 and completed in February 2022.
It would entail that, barring express consent, every adult in Northern Ireland would be regarded as a potential organ donor after passing away.
However, it was discovered last month that additional legislation was required to define which organs and tissues were covered by the opt-out system.
Continue reading: What is Dáith's Law and why has it been postponed?
The government's intervention, according to Mr. Heaton-Harris, is being made "in recognition of just how important this issue is" and is an "exceptional" case.
Such legislative choices, according to him, "should be made by locally-elected decision-makers" at Stormont.
He had previously argued that the Northern Ireland Assembly should be in charge of handling the matter because it would take too long for Parliament to address it.
However, the DUP's boycott of the power-sharing institutions in retaliation for its protest against the Northern Ireland Protocol trade rules that apply after Brexit prevented the legislation from being passed at Stormont.
The DUP, SDLP, and Alliance Party were attempting to push Dáith's Law through Westminster as a result of its failure to advance at Stormont.
A DUP amendment, which was supported by the other parties, sought to alter the Executive Formation Bill, a piece of government legislation that would postpone the need for a new assembly election if a Stormont executive could not be formed.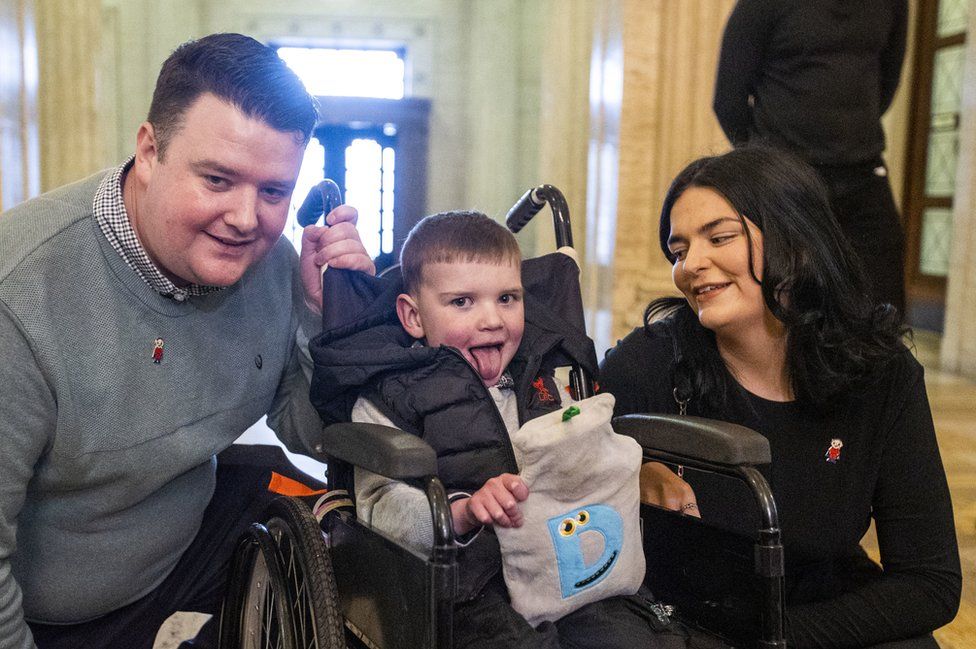 That, however, was not likely to be successful because the subject matter, or scope, of the bill is quite limited, and there were worries that it wouldn't be approved by the Commons Speaker's office when the bill is discussed by MPs on Wednesday.
As of right now, it is understood that the government is introducing the bill's amendment in its own name. This is a significant development that is believed to have the Speaker's support.
Government amendments are rarely turned down by the Speaker's office, in contrast to those proposed by opposition MPs.
On Wednesday, the bill's debate will be broadcast live from London, according to Mr. Mac Gabhann.
By 6 March, the bill might have gone through all of its stages in Parliament.
The opt-out system could then start operating in Northern Ireland after a three-month lead-in period, which means it could be in place by the start of the summer.
Initially, the Stormont Department of Health had anticipated starting in the spring of 2023.
BBC News NI has enquired about the amendment's specifics from the Northern Ireland Office.