According to Wales' health minister, the public must become more fit to support the NHS.
The remarks were made by Eluned Morgan in a BBC interview to commemorate the institution's 75th birthday.
According to Ms. Morgan, it is "fundamental" that people comprehend how to give themselves "better life chances.".
She claimed that ministers must make "difficult decisions" because of the health service's rising demand, tightening budgets, and potential patient travel distances for specialized care.
The Welsh Conservatives disputed Welsh government assertions that the UK government did not contribute enough money to the Welsh NHS.
Ms. Morgan spoke after Dr. Iona Collins, chairwoman of BMA Cymru, stated that the NHS in Wales is no longer reliable due to problems.
Eighty percent of the most serious "red" emergency calls, according to her, get a response within fifteen minutes.
But the health minister claimed that underfunding from the UK government was to blame for some of the "huge issues" with the NHS.
With "financial constraints" and rising demand, Ms. Morgan claimed the service is facing a "real problem.".
"Historically, we spent about 10% on diabetes; if things continue in this vein, we'll be spending 17% in a few years. No extra cash is available to us. She said, ".
"So where will that money come from?
"So we are going to have to make some quite difficult decisions, but we'll make them with the public. ".
Asked what her vision of the NHS's future was, she said: "There's lots of things that are not within the health budget that we can fix, but they're to do with housing and to do with poor air quality.
"But also we've got to get the public to perhaps come with us on that journey to understand to what extent they can help themselves to get fitter, to be in a situation where they are giving [themselves] better life chances for the future.
"That's fundamental. ".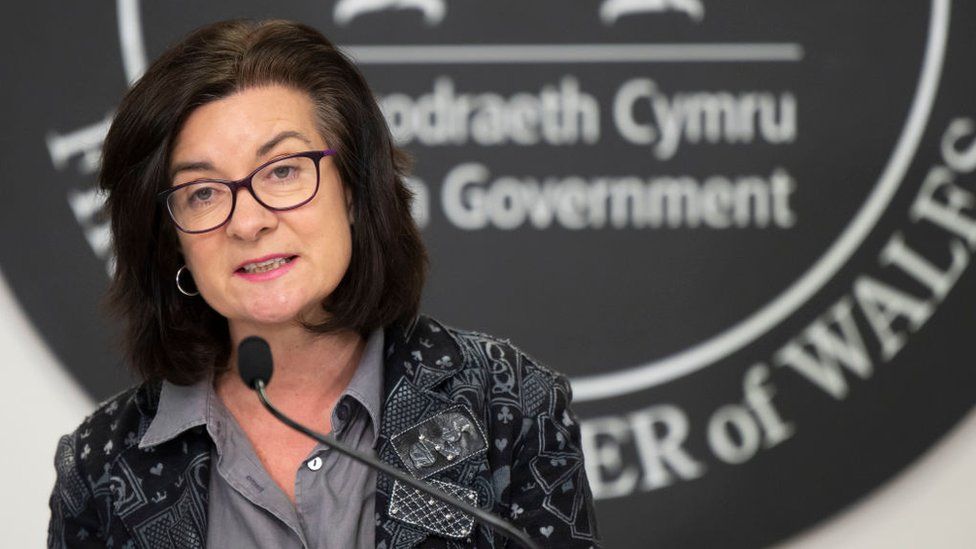 Ms Morgan added: "We're also very keen to see a shift perhaps, where we have care closer to people's homes.
"We've got to acknowledge we have an ageing population.  We're going to have to shift away from the kind of reactive emergency response to a longer term approach where we accept that, the ageing population. ".
She added: "There may be occasions where people may need to travel further for specialist care.  So that is something where we are going to need a further conversation with the public. ".
For the Welsh Conservatives, Russell George said: "We know that for every one pound spent on health in England, the Welsh government receives £1.20 but they spend £1.05 on health in Wales.
"They have not protected the budget on health in Wales this financial year and that's not the case over the border. ".
Plaid Cymru's Heledd Fychan said Labour had been in charge of the health service in Wales for 24 years and had failed to plan for the current "crisis" situation.
"We are trying to play catch up and who is suffering? It's the patients and the staff who are at breaking point," she said.