An individual video call service that was implemented during lockdown to assist those with eating disorders is being discontinued. One person claimed that the service saved the life of her partner, and a 19-year-old claimed that she is now concerned for the future.
The Avon and Wiltshire Mental Health Partnership (AWP) provided funding for it, according to the trust, but it was only ever intended to be temporary because they are bringing in new services that will improve care.
With her laptop set up in front of her, Tia is seated in the kitchen. .
She speaks daily on the phone with her nurse, who counts her down from five to one.
Tia removes the cover from a rice pudding at one.
Tia, a 19-year-old from Yate, is reassured by the nurse and encouraged to eat.
Since about a year ago, Tia has been getting these calls, but the Eating Disorder Home Care (EDHC) service will end at the end of March.
This article contains a graphic that some readers may find upsetting.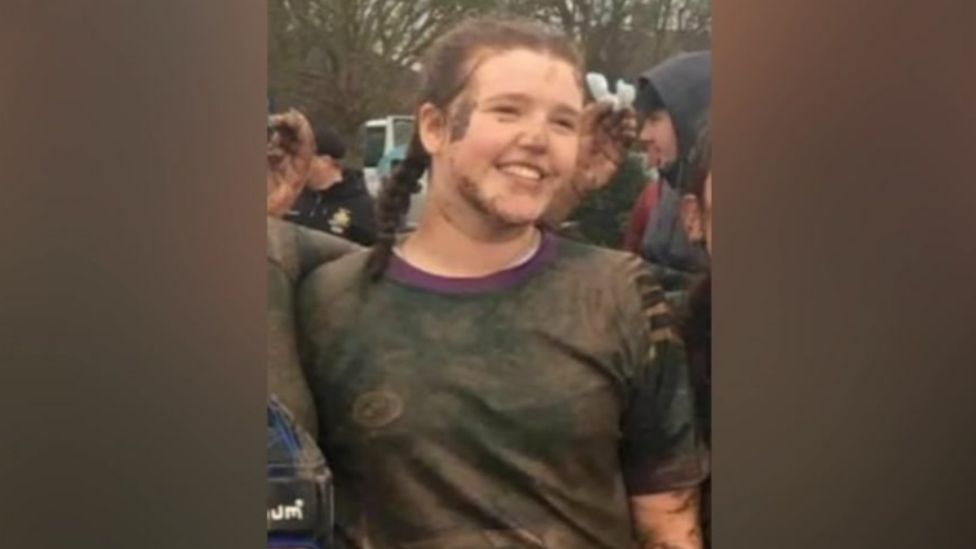 Three years ago, Tia was playing rugby and studying at school, but she claimed that she was bullied for being "bigger" and struggled with her body image.
She made the decision that she wanted to emerge from lockdown "brand new" in March 2020.
She had lost a lot of weight and received compliments on her new appearance, but she claimed that eventually it "spiraled out of control.".
Tia was severely malnourished both physically and mentally. She couldn't sleep well, was constantly cold, was balding, and bruised easily.
She claimed she reduced her body weight by 50% in 18 months.
There were serious concerns about Tia's heart because it had shrunk, and she had been in and out of the hospital "so many times I lost count.".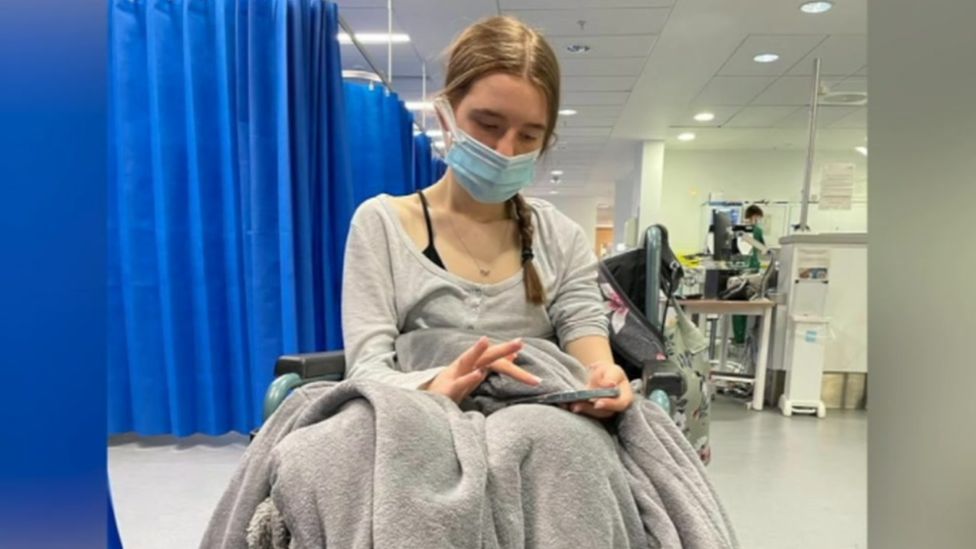 Tia spent days being connected to medical equipment. We were informed that she was dying, so those were really dark days, said mum Jo.
Tia was sent home under their care after Jo was contacted about the EDHC service, which she was eager to use.
"I'm incredibly grateful that they went to my mother and asked her, as I'm sure I might not have.". My entire life has been altered," Tia said.
"They have helped me through a lot of challenging times. and have accompanied you on your journey. ".
Up to six video calls a day where a specialist would instruct patients on how to eat their meals and snacks would take place.
Tia claimed that without them, she would simply not eat.
"I just can't manage on my own. My therapist and I are still working on this because I really struggle, the patient admitted.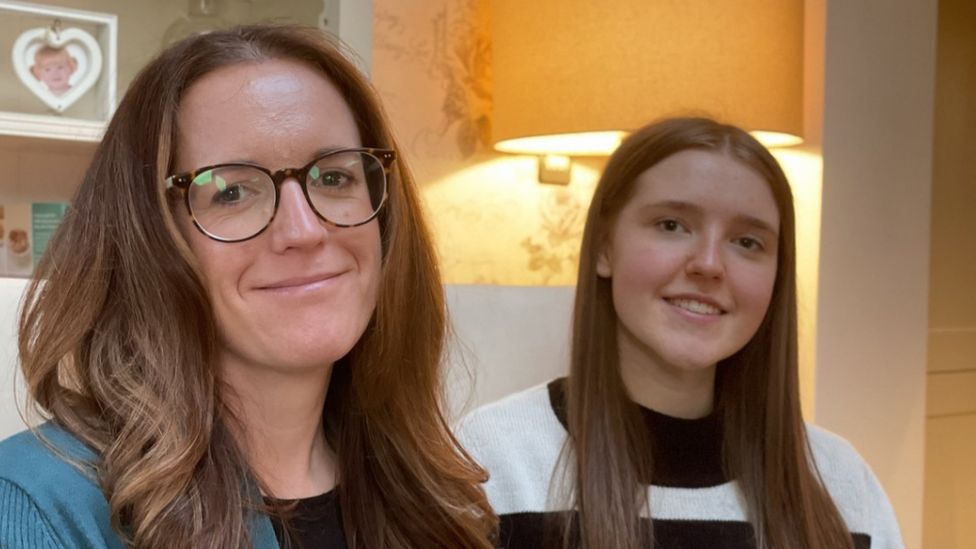 The closest inpatient space is in Manchester, according to Tia's family, so the service has kept her out of the hospital. She can be supported both at work and while on vacation thanks to it.
Without them, I genuinely don't know what we would have done, said Jo.
The chance for her to remain at home would allow our family to remain together. was, in fact, everything.
We were so frustrated that there were so many days when we would have ended up at A&E.
We couldn't accomplish it on our own. It has restored our quality of life. ".
Jo stated that as EDHC comes to an end, she is concerned about what the future may hold. .
She said, "I'm really concerned that there doesn't seem to be a plan in place.
"We haven't spoken at all, and next month is still months away. ".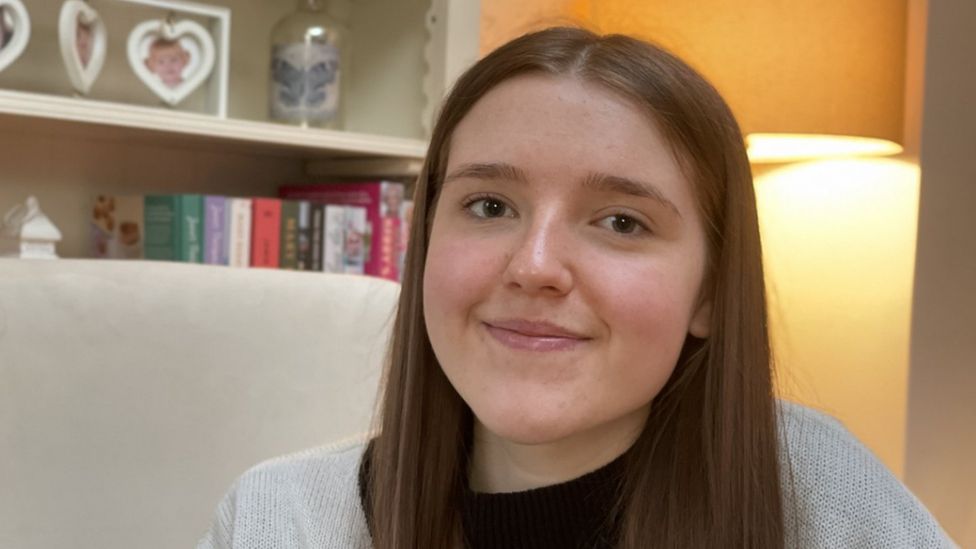 When the service was established in the winter of 2021, there were 43 referrals; however, only about half continued with the program. .
Prior to its closure in March, it is currently being used by about nine people.
According to AWP, the temporary service was brought into Bristol, North Somerset and South Gloucestershire (BNSSG) at a specific time to address specific issues, such as a staffing shortage, a lack of inpatient beds, and the fact that lockdown prevented in-person patient visits.
Despite its satisfaction that some people have found the calls to be beneficial, it continued by saying that treating the symptoms of the eating disorder rather than its causes runs the risk of creating dependency.
The waiting list for its eating disorder team has been reduced from 400 people in July of last year to just over 100, according to AWP, which has increased its staff from 10 to 40. This has allowed it to offer better, evidence-based support.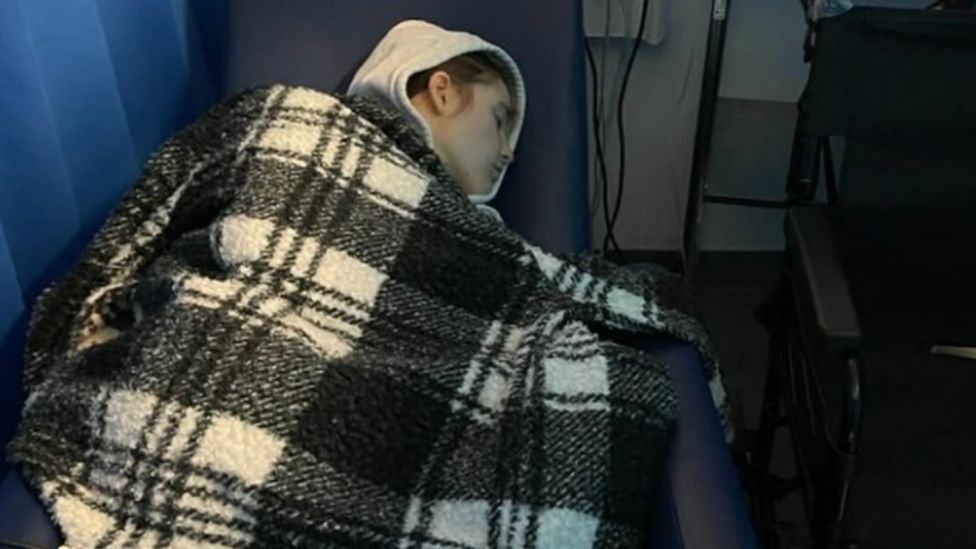 Now that Tia is on the road to recovery, she expressed concern for anyone else who has recently received a diagnosis.
"EDHC has been essential to my healing. They are the people in whom I have the most faith, and they support me, she said.
I won't have them there if things do get difficult. It's just a little intimidating, and I don't believe it has fully sunk in.
I'm also disappointed that some people won't have the same chance as me to heal in their own home, which is a safe place.
"It's disturbing that in the future, so many other children and adults who can't do it themselves will have to,". ".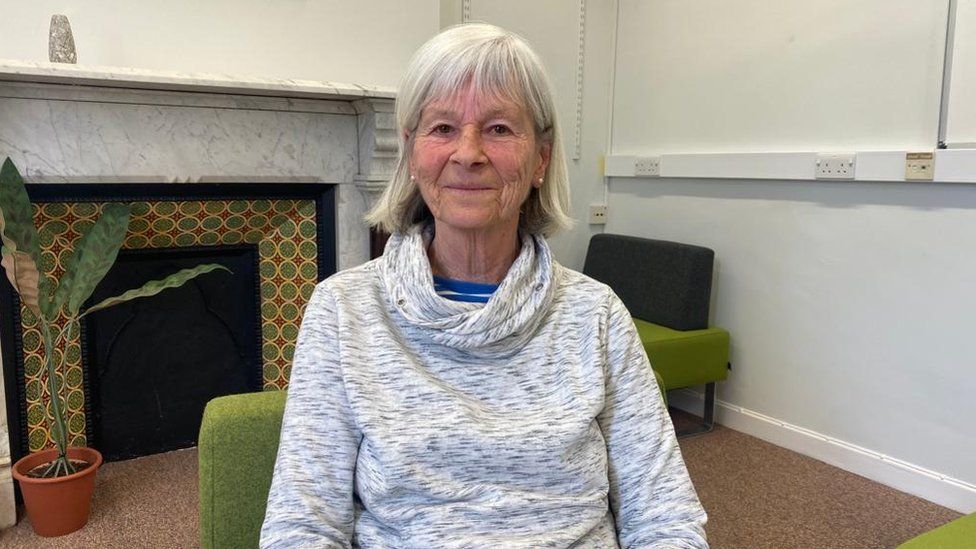 The service's termination has "devastated" Sally Monkhouse, 74.
Her partner has been receiving support from the EDHC for his anorexia for more than 60 years.
She claimed that her partner and she would both be significantly impacted by the loss of the service.
The Chew Valley resident Ms. Monkhouse said, "My partner has given me permission to say they wouldn't be alive today if it wasn't for this wonderful, wonderful service.
"What is so unique about it is that people can continue living their lives while they are being healed; they can continue to live in their homes and receive treatment there; they can continue their education; parents can continue raising their children safely; and people can make a living while doing it.
"I believe it to be a transferable model, and I really hope that they take another look at it because I think it could be applied to many different areas of mental health. ".
A new early intervention program, among other broader improvements to the eating disorders services, were being developed, according to AWP, when EDHC was hired.
It now sees all urgent patients in less than two weeks, and everyone who has been referred is evaluated in under four.
This has enabled it to offer more individualized support for people, significantly lowering the need for EDHC, it claimed.
We don't want people receiving intensive meal support for very long, a spokesperson continued.
"It was only intended to be a temporary intervention, and what will be in place is actually a much richer program that is addressing the underlying factors, which is what meal support in itself can not do. ".
The assistance provided will help people work toward independence and recovery and will include counseling, occupational therapy, dietetic appointments, and a level of meal support.
You can get support at if you or someone you know has been impacted by anything mentioned in this article. The BBC Action Line.