In the UK, more than 110,000 hip replacement surgeries are performed annually. This week marks the NHS's 75th birthday, and BBC News looks back at how a Lancashire pioneer's work ultimately changed the lives of millions of people.
Sandra Haughton from Northwich has endured crippling pain for the past year.
She tells me, "It's totally taken over my life.".
"It's been terrible. I haven't driven my car in almost a year. I use a wheelchair because I can't stand for very long. I need it to cook and do the laundry. ".
Ms. Haughton believes a change is coming to her life. She is getting ready for surgery at Wrightington Hospital in Wigan, which is on the outskirts of West Lancashire.
She says with a smile, "There are three things that I really want to do. "I really want to dance, go on a beach walk, and drive my car again. " .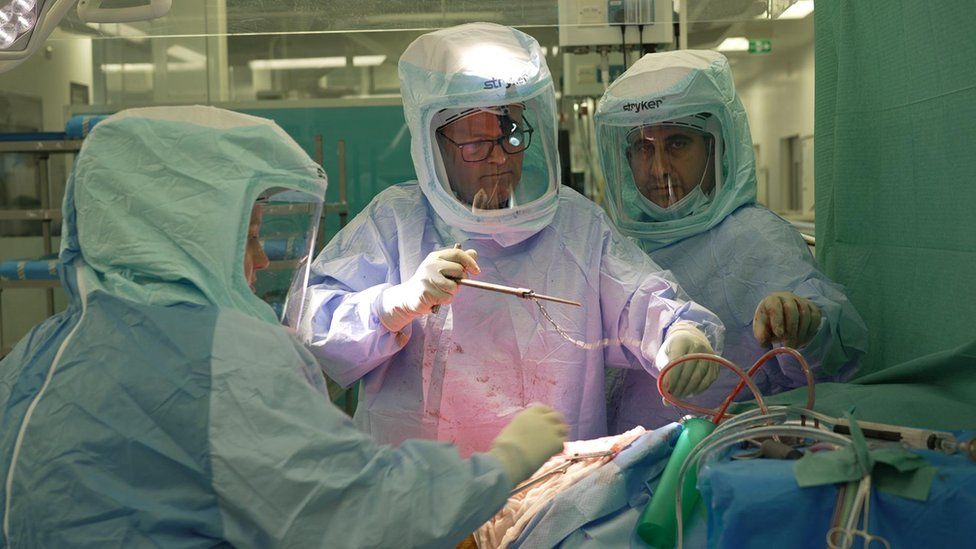 Over 85% of hip replacement surgeries performed on the NHS are still functioning well after 20 years, making them one of the most popular surgical procedures.
John Charnley, who invented hip replacement surgery at Wrightington Hospital in the 1950s and 1960s, is largely responsible for that.
He was born in Bury in 1911, started his medical training at the Manchester Royal Infirmary, and became an orthopaedic specialist both during and after World War II.
In 1958, Prof. Charnley, who would later receive a knighthood for his contributions, arrived at Wrightington with the express purpose of establishing a hip replacement research facility.
Wrightington had been a tuberculosis treatment facility for years, but due to the sharp decline in cases in the 1950s, it was largely underutilized.
Although artificial hips were available at the time, they had many restrictions.
Materials that came into contact with one another wore out or even squeaked.
He experimented with different materials and various ball-and-socket sizes because he had a strong interest in engineering.
According to Prof. Peter Kay, a consultant orthopaedic surgeon at Wrightington Hospital, "I think what really drove him was a real interest in solving problems.".
"Charnley looked at a variety of materials that could be used for hip replacement. In order to make sure there weren't any reactions, he actually tested out some of the materials on himself by [putting] bits of the material under his skin. ".
Many of the implants were even made in Prof. Charnley's garden shed as part of his hands-on approach.
According to Prof. Kay, "Tuesday night was'socket night,' when he made the sockets for the hip replacements.".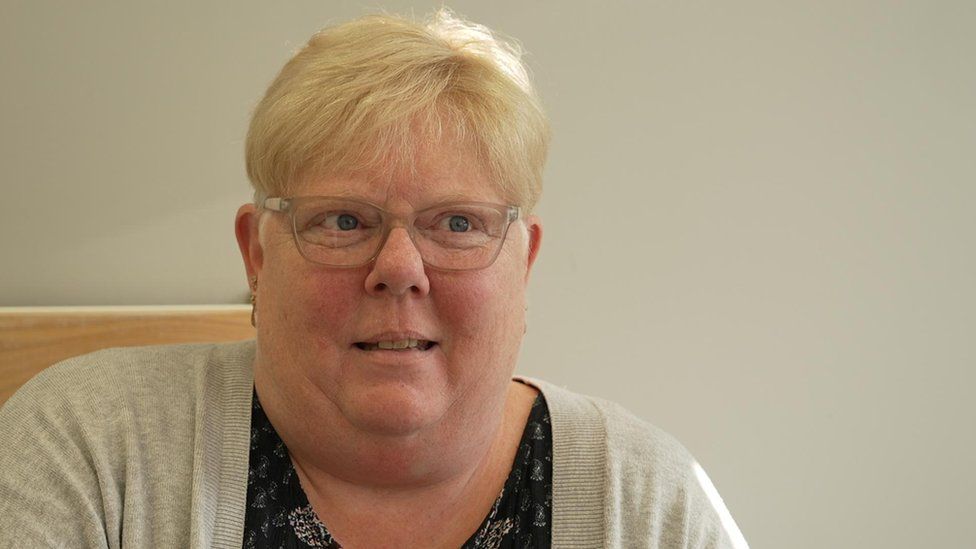 Prof. Charnley performed the first successful total hip replacement in late 1962, a significant accomplishment, before focusing on infection control in major surgery.
He developed a sterile air flow system with the help of a local engineer that is still in use today.
Dr. Henry Wynn Jones, a consultant orthopaedic surgeon and the hospital trust's clinical director for lower limb surgery, explains the profound impact hip replacements frequently have on patients.
The great thing about a hip replacement is that having severe arthritis is very painful, extremely debilitating, and patients frequently need to take very potent analgesics (painkillers) while they wait. And we have this operation, which is essentially curative in the vast majority of cases," he adds.
Like all hospitals, the trust has experienced a significant increase in waiting lists for elective procedures as a result of the Covid pandemic and recent strikes. In response, the trust has added additional surgeries in an effort to catch up.
When there are severe bed pressures on the NHS in the winter, Mr. Wynn Jones says, "what we really need to do is try to protect elective centers like ours so we can work 52 weeks a year and not have to stand down.".
He admits: "It's really difficult.
There should probably be a model that allows for some expansion of emergency service capacity without affecting elective services. ".
The trust is now utilizing AI and robotic surgery to further improve outcomes, carrying on Sir John's legacy. Hip surgeons from all over the world come here to learn, and they take what they learn with them.
Prof. Kay asserts that when the name Charnley is mentioned, people all over the world—in South America, Australia, and Asia—are familiar with it. In fact, Charnley is possibly more well-known elsewhere in the world than he is in Lancashire. ".
Today, more than a million hip replacements are performed annually throughout the world.
With roughly 1,500 hip replacements performed each year, Wrightington Hospital continues to be a center of excellence.
One of them is Ms. Haughton, and she is very appreciative of that.
She declares, "I'm really going to start living again."