At a tea party honoring the NHS's 75th anniversary, the Prince and Princess of Wales got to meet the first person born under the National Health Service.
Aneira Thomas revealed to them that she was born on July 5, 1948, at 00:01 in Carmarthenshire, the same day the NHS was established.
She was given the Aneurin Bevan name in honor of the former Health Minister and founder of the National Health Service.
At the party at St Thomas' Hospital in London, Catherine, Princess of Wales said to current and former NHS employees, "I wanted to come here and say thank you. " .
Every maternity ward in the nation was anticipating the birth of the first child, Mrs. Thomas informed the royal couple.
"The doctors who delivered me kept looking at the time while also turning to face my mother.
She anticipated hearing the word "push," but all she heard was "Hold on, Edna. '.
Timing was crucial. ".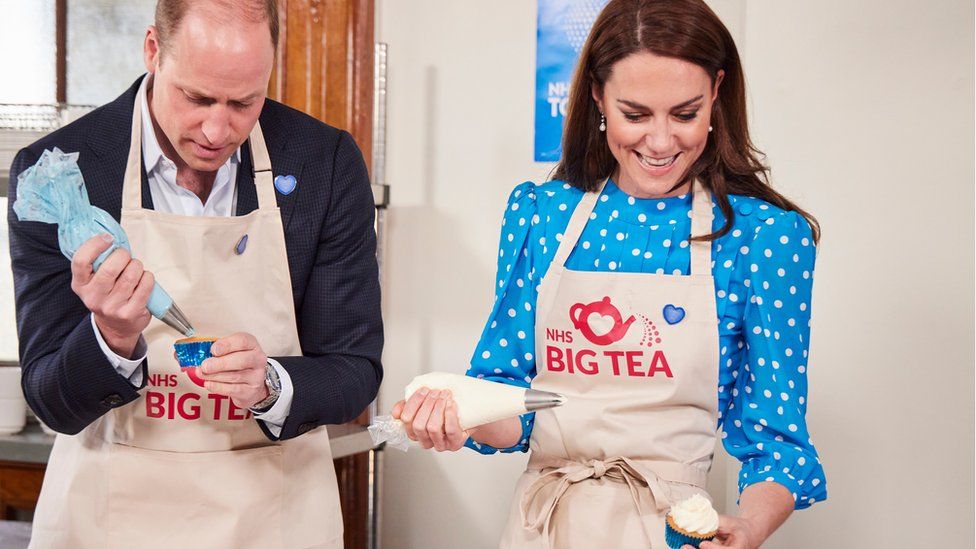 Mrs. Thomas later worked as a mental health nurse for the NHS. All four of her sisters worked as nurses.
She added that when her son and daughter both experienced "life-changing brain hemorrhages," the NHS "saved both of my children.".
Mrs. Thomas has previously related a family tale that occurred before the NHS was established. The family of her grandfather had to sell their piano to cover the cost of the doctor's visit when he broke his leg.
Blanche Hines, a member of the Windrush generation and a nurse for almost 50 years, was also spoken to by Prince William and Catherine. Blanche's daughter and grandson are both employed in the medical field.
At the celebration, which was held by NHS Charities Together, Prince William wished everyone present a "very happy 75th birthday at the NHS.".
The anniversary falls during a time when NHS employees have been engaging in industrial action over pay disputes.
The NHS charities put a strong emphasis on the welfare of the workforce, including by providing counseling and psychological support.
Prince William "really understood the issues and complexities - particularly with the current challenges we're facing," according to consultant clinical psychologist Dr. Neil Rees.
Another query was answered by the royal visitors who were seen on camera making cakes for the celebration. Which should be placed on top of a scone: jam or cream?
Catherine said, "I always do jam and then cream.".
The politically apolitical Prince William responded, "I go for whichever is closest to me.
. "