During planned nursing strikes over pay and conditions, Manx Care has stated that essential services will continue to be provided on the Isle of Man.
Members of the Royal College of Nursing (RCN) will begin a 12-hour strike on Tuesday at 08:00 BST.
The CEO of Manx Care, Teresa Cope, stated that closing services and canceling appointments during the time had not been "taken lightly.".
However, she warned that "circumstances may change depending on staffing levels.".
The final pay offer from Manx Care was declined, which led to the walkout.
The healthcare organization claimed that in order for them to continue operating as scheduled, it had collaborated with the union to define services that were considered "essential.".
However, as part of the mandate imposed on them by their union, members who work in those services may choose not to report to work, it said.
The health care provider would "respect and support," according to Ms. Cope, the decision of the members to strike.
Maintaining safe staffing levels across services that preserve life, particularly access to urgent or emergency care, had been "vital," though.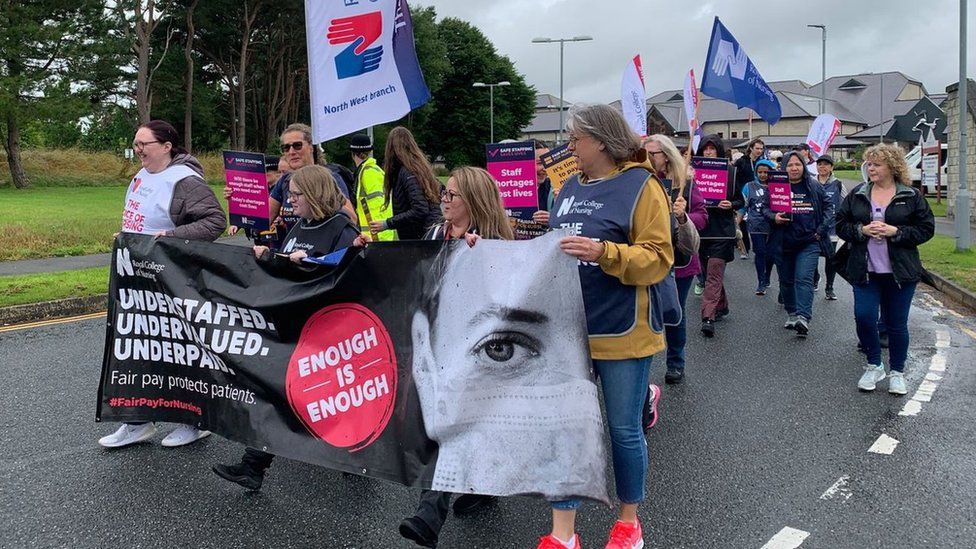 A total of 120 face-to-face outpatient appointments have been canceled, the Ramsey minor injuries unit will close for the day, and all elective theatre sessions have needed to be rescheduled during the planned action.
Manx Care's community nursing team's clinics and home visits are also scheduled to be canceled, unless they are absolutely necessary.
The emergency surgery unit, the emergency department, the oncology day unit, critical care services, and urgent cancer services will all be available at Noble's Hospital.
There will still be regular maternity unit appointments.
Although some outpatient appointments have been rescheduled, the mental health crisis team and inpatient mental health services will continue to run as usual.
Termination appointments that are urgent or time-sensitive will also go on as scheduled.
The action won't have any impact on the island's general practitioners.