According to a report, if earlier recommendations had been fully followed, three women who died in a hospital's maternity unit might have survived.
The deaths happened over a 16-month period at University Hospitals of Derby and Burton (UHDB) NHS Foundation Trust.
A review by the Healthcare Safety Investigation Branch (HSIB) also uncovered a bullying and intimidation-prone culture and offered safety advice.
The affected parties' families have received an apology from the trust.
The recommendations were deemed "invaluable" in response to the report.
Despite the fact that there was no common thread connecting the deaths and the four other cases of life-threatening situations that took place during the same time period, the report found that processes and leadership had been inconsistent and disjointed.
Strong action planning and prompt application of lessons learned from earlier investigations, according to the HSIB, "may have had an impact on the outcome for the women who received care during the seven events included in this thematic review.".
There were 45 midwife vacancies at the time the report was written, which indicated the trust had serious staffing issues with its maternity service.
HSIB asserted that there was no proof that this had a direct bearing on the cases, though.
The midwifery and theater teams had "a high level of comradery among front-line staff," according to the report, but the senior and leadership teams did not always exhibit the same level of camaraderie.
The review team discovered strong indications of poor conduct, bullying, and a hierarchical culture, particularly within the obstetric team.
The report stated that "this did not directly impact on the seven women whose care was being explored in this thematic review.".
There are important issues that the trust needs to address, especially those related to leadership and governance. ".
One case involved a woman who passed away at home, while the other six cases occurred at the Royal Derby Hospital.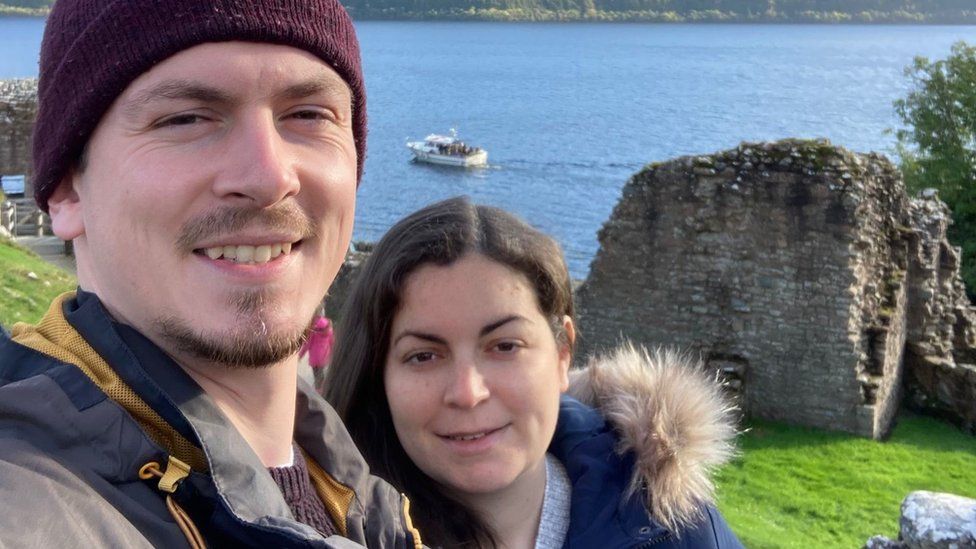 She had been scheduled at the Royal Derby for an elective Caesarean section on January 19, 2022, according to Aaron Horsey, who lost his wife Bernadette at the trust.
He claimed that Bernadette, who worked for the Nottingham University Hospitals Trust, had chosen to give birth to their child in Derby in part because she had reservations about the maternity care options available in Nottingham.
He reported that the procedure "seemed to go quite normally; we were told there was a bit of an increase in activity and Bernadette said she felt very strange.".
The doctors let the couple take a brief look at their son as he was born.
He was there, crying out like a typical baby. He said, "For me, seeing him arrive felt like it had been forever.
"When I turned to face Bernadette to tell her that "he's here," she immediately slouched to one side.
She had a very peculiar breathing pattern, which I recognized from my first aid training, and she was white-grey.
She was no longer conscious. I grabbed her arm and gave her a firm squeeze while yelling at her.
"I caught the consultant anesthetist's attention and said, "She's not well. Someone quickly grabbed my shoulder and yanked me away. I told her, "I'll be right here," and I left. Then I was led outside the building. ".
In a room outside, he claimed, one of the consultants informed him that Bernadette was having a cardiac arrest and later informed him that she had passed away. ".
"My first thoughts are with the other affected patients and their families," Mr. Horsey said following the publication of the report. Nothing could change the situations we all found ourselves in, regardless of what this review said.
The patients in this review were clearly affected by Derby Hospital's failure to learn from earlier investigations. For upcoming patients, they must perform better. ".
The family is awaiting the results of the inquest into Bernadette's passing.
According to the trust, seven maternity incidents that occurred between January 2021 and May 2022 were the subject of a request for an independent review from the NHS Derby and Derbyshire Integrated Care Board.
According to the report, all potential learning opportunities were found in order to provide the trust and the participating families with peace of mind.
The seven incidents had a lasting effect on the families involved, so it was crucial for us to make sure we had taken advantage of every opportunity for additional learning, according to Dr. James Crampton, executive medical director of UHDB. For this reason, we proactively requested this independent review.
"Although the review did not uncover any recurring issues that had an impact on the outcomes for all the women involved, there were lessons for our organization that we took very seriously, and the recommendations are invaluable in assisting us in further enhancing safety and the experience of women in our care. ".
The report identified 26 findings, five recommendations, and ten safety prompts for the trust to consider in order to enhance safety, all of which the trust claimed to have accepted.
The report's immediate recommendations, such as improving our emergency bleep process and streamlining our major hemorrhage guidance, were already addressed by the organization, said Dr. Crampton. "We have also put in place a thorough plan to swiftly deliver all other initial actions within the next three months," he continued.
We would like to express our regret to the seven women and their families once more for the experiences they had and to thank them for being so brave as to provide us with their feedback, which we will use to improve the service and care we offer to other people.
. "