Blackpink made history by becoming the first Korean band to ever serve as the headlining act at a significant UK music festival.
The K-pop girl group performed to a sold-out crowd of 65,000 fans at London's BST Hyde Park, some of whom traveled halfway around the world to see them.
Having traveled from the Philippines to the UK, Jeangil Pagunsan said, "We've been waiting for this since last year.
"The joy we are experiencing right now is beyond words. It was such an insane night. ".
Her friend Rick Mae Vaporoso remarked, "We love everything about them. It was all so hyped up. ".
Adrian and Jess Chan, who left Nottingham at 6:00 a.m. to ensure they got a good seat in the audience, agreed that "their songs are great, their personality is great, and they're really energizing.".
Michelle and Yazmin Glackin, a mother and daughter, had a much more difficult journey because their early-morning flight from Northern Ireland was canceled.
In order to ensure they wouldn't miss the concert, they endured a long wait for the last two seats on the 15:30 flight. They arrived at the concert with all of their luggage.
"The day was long, but it was all worthwhile. Michelle, whose daughter is "absolutely besotted" with the quartet, said, "We'd do it all over again.".
She said, "But I saw nothing because she was on my shoulders the entire time.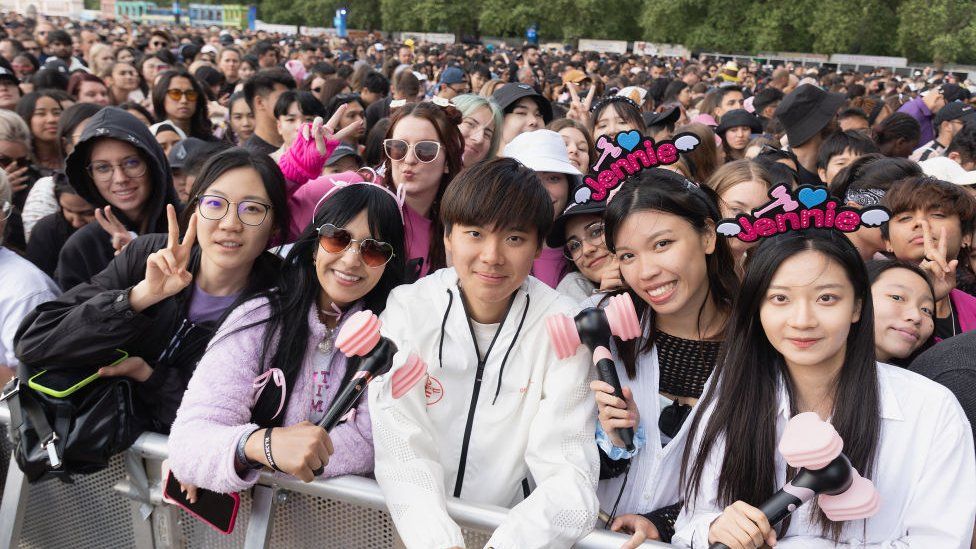 Blackpink are not only among the biggest K-pop bands in the world, but also among the biggest bands overall.
They are made up of Lisa (real name Lalisa Manobal), 26, from Thailand, Rosé (Roseanne Chaeyoung Park), 26, from New Zealand and Australia, Jennie Kim, 27, from South Korea, and Jisoo Kim, 28, from Gunpo, about 20 miles south of Seoul. They were formed in a rigorous six-year bootcamp.
They have amassed the most YouTube subscribers since the release of their first single, Whistle, in 2016, and they are the first K-pop girl group to sell one million albums.
Born Pink, their most recent album, debuted at number one in the UK charts, and the group as a whole has 356 million Instagram followers.
Therefore, Blackpink were a wise choice for the more daring BST line-up, even though they might have seemed an outlier on the UK festival circuit, where this year's headliners are largely safe, tried-and-true acts like Arctic Monkeys, The Killers, and The Strokes.
The band is in the midst of a world tour, and their expertly honed performance combines their brash, self-assured pop songs with the kind of dance moves that would make the pros on Strictly come out in a cold sweat.
They exploded onto the stage while performing two of their most popular songs, How You Like That and Pink Venom, while bathed in pink lights and surrounded by a video wall covered in pointy, black thorns.
This dichotomy permeates every aspect of the band's existence, including their name and music.
Every sweetly sung melody and pop hook is set against a menacing EDM riff or a frantic rap breakdown, and their songs frequently end in a "rum-pa-pum" chant in the military style.
All of which is ideal for Sunday evenings when you want to completely whip up an audience.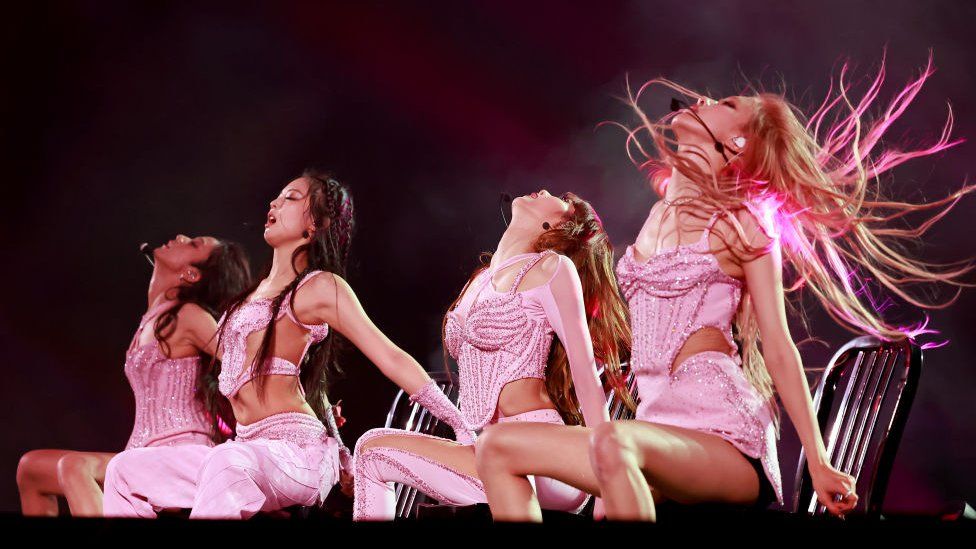 For the first 20 minutes, the four-piece maintains a frantic pace, stomping down the catwalk and breaking into chair choreography in the middle of Pretty Savage.
After a brief pause, Rosé, who is grateful for the opportunity to stay cool after a recent run of shows in Australia, exclaims, "London, what a nice breeze you have.".
Each performer gets a chance to showcase their solo work and exhibit a little more of their personalities during the middle portion of the show.
Jisoo plays the tender love song Flower with a soft demureness, while Blackpink's most talented writer, Rosé, displays her pop savvy with a medley of the hit songs Gone and On The Ground.
Jennie, who recently co-starred in the HBO drama Idol, shines through a lighthearted rendition of Solo, while Lisa, who best captures the band's outspoken attitude, rips through the hip-hop track Money before getting into the dance breakdown and starting to voguing.
The only minor hiccup occurs when, during Rosé's solo performance, air cannons launch thousands of streamers into the air only to have a gust of wind blow them back into the stage, where they hang off the lighting rig for the remainder of the evening.
The band regroups after the hiccup and plays a fast-paced third act that features the summertime dance anthem Lovesick Girls and the relentlessly catchy Shut Down (which effectively samples Paganini's second violin concerto, La Campanella).
But Tally, whose shrill lyrics - "are the highlight. Nobody is keeping score, so I can spend time with whomever I want. - are an unusual declaration of sexual liberation in the infamously conservative K-pop industry.
The band abandons their choreography to perform the song side-by-side, much like the Spice Girls performing 2 Become 1, but with more f-bombs, as Rosé says in her introduction that it is "very special to us.".
Despite rumors that they will break their seven-year contract with YG Entertainment, which is rumored to expire next month, their open affection suggests that the band is still alive.
The angrier lyrical content of Tally feels like a marker for where they want to go next should they seize the chance to exert more control over their career.
The show's explosive finale, featuring the massive hooks of DDU-DU DDU-DU and the euphoric Forever Young, doesn't seem to matter to the fans in the audience, who shout out every word, even the Korean ones.
As she waves goodbye, Rosé says, "We definitely did not expect this much energy.
Jennie continues, "I can't express my gratitude to everyone who came out today.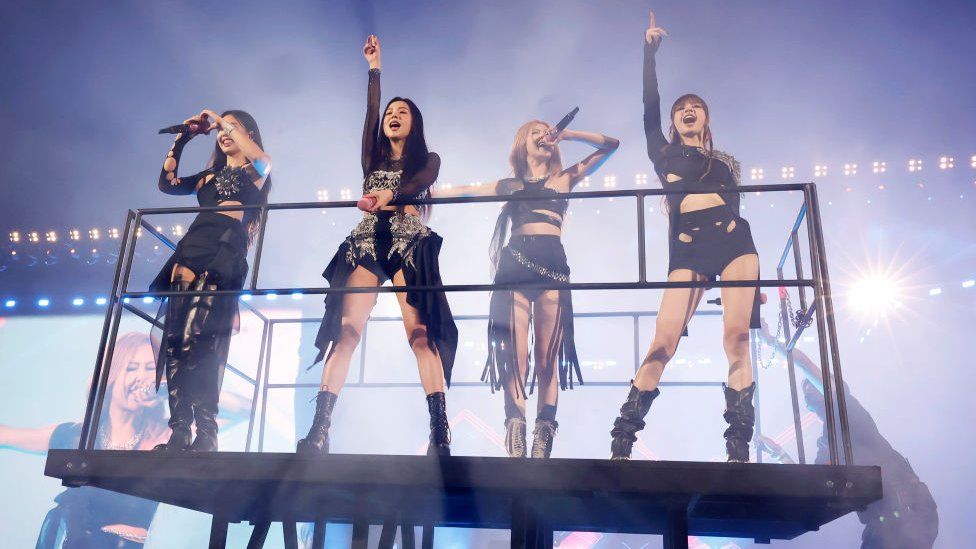 It's important to note that Blackpink's current world tour setlist was completely reworked for the Hyde Park performance, including new staging and choreography.
The band performed the set at Coachella in April, but they had to learn it all over again for their performance in Australia last week. They managed to fit in a final dress rehearsal during soundcheck on Sunday morning, about 24 hours after their flight from Incheon, South Korea, to the UK.
However, observers reported that despite experiencing jet lag, they performed with the enthusiasm of performers with a packed room in front of them.
Jim King, who arranged for the band to perform in Hyde Park, calls it "a spectacular, spectacular show" on all levels and in comparisons.
"Performing at Coachella or Hyde Park is very demanding on an artist, particularly a pop artist. And the level of detail in that show, along with all the unique elements, just demonstrates their talent and professionalism. ".
Blackpink may be the first K-pop act to headline a festival in the UK, but King, who oversees festivals in Europe for the massive live entertainment company AEG, predicts they won't be the last.
This music genre will only grow in popularity, he predicts. "Today, you witnessed it. Even though many of these bands have never attended a greenfield festival before, there is a lot of fervor present.
"I believe that Blackpink has dismantled any resistance we may have had in the past, which allows many of their contemporary artists to enter as well.
.  "