The scion of a legal dynasty from South Carolina has admitted lying about his whereabouts the night his wife and son were killed in a murder trial that has gripped the US.
However, Alex Murdaugh, 54, denied ever harming either Paul or Maggie Murdaugh, who were shot and killed at the family's remote hunting estate in June 2021.
On Thursday of trial week five, the former attorney took the witness stand.
If found guilty, Mr. Murdaugh could spend anywhere between 30 years and life in prison.
In the southernmost part of South Carolina, where the defendant's family has controlled the legal system for more than a century, the Walterboro trial has caused a stir.
The prosecution claims that Mr. Murdaugh killed Paul, 22, and Maggie, 52, in a desperate effort to win sympathy and cover up ten years of financial crimes.
Prosecutors claim that Mr. Murdaugh stole about $8.8m (£7.3m), and he has admitted to stealing from clients and coworkers. He is currently facing close to 100 different financial charges.
This theory has been refuted during the trial by the defense team, who asserts that Mr. Murdaugh would never have "butchered" his family.
On Thursday, Mr. Murdaugh sobbed in court as he recalled the night he discovered Maggie and Paul dead. .
In reference to graphic images of the crime scene, he told the jury, "I saw what y'all have seen pictures of.". "So bad. ".
And he addressed what was possibly the most damning aspect of the prosecution's case: that he had lied about being with Maggie and Paul at the canine kennels on the homestead just before they were killed.
The defendant's claims that he had been sleeping inside the family home were refuted by a cellphone video taken at the kennels by Paul just five minutes before the killings, according to the prosecution, which included both Alex Murdaugh and Maggie's voices in the background.
He confessed, "Once I lied, I lied again. He put the earlier denials down to paranoia brought on by his long-term painkiller addiction.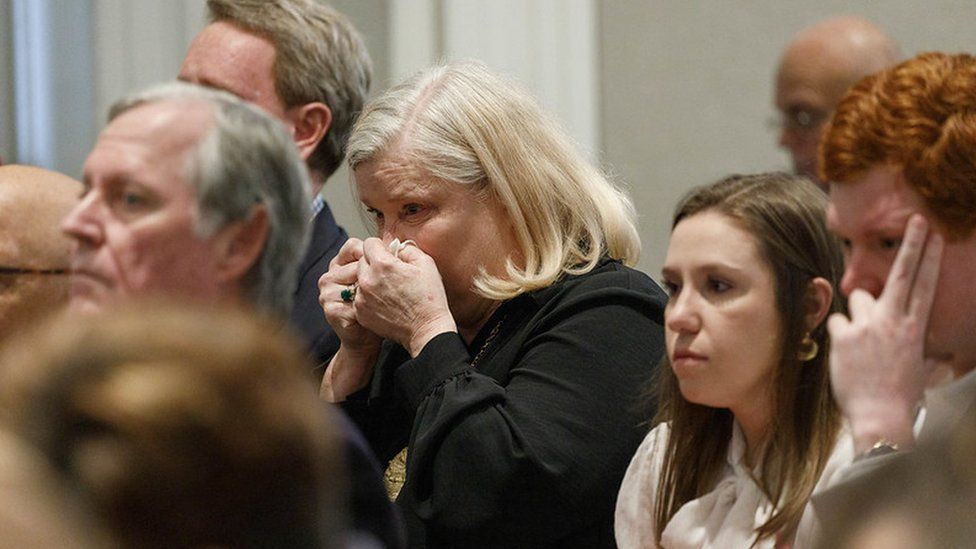 His testimony made a lot of reference to that addiction. According to Mr. Murdaugh, a knee injury he sustained in college caused him to develop a strong oxycodone addiction for which he drained his bank account.
He remarked, "I'm not really sure how I allowed myself to get here.
Even while being cross-examined by lead prosecutor Creighton Waters, Mr. Murdaugh maintained a largely contrite demeanor throughout hours of questioning.
Mr Murdaugh was pressed harder and harder on a long list of alleged financial crimes by an animated Mr Waters, who paced around the court during questioning.
Mr. Murdaugh kept repeating, "I was wrong.". "I recall defrauding, deceiving, and stealing from people. "   .
But Mr. Waters' claims that Mr. Murdaugh was worried about his "financial house of cards" collapsing were denied by Mr. Murdaugh. .
"You have accused me of killing my wife and son, and I have sat here for all these weeks listening to all this financial stuff that I did incorrectly and that makes me feel bad," Mr. Murdaugh said.
However, he denied using violence.
Tomorrow will bring more cross-examination.