The Wagner mercenary group, which has several thousand fighters stationed there as well as lucrative business interests, attempted a failed weekend mutiny in Russia, and its failure is likely to have an impact on Africa.
Whether Wagner's commander Yevgeny Prigozhin, who has been ordered to relocate to Belarus, will continue to command his private army from that country so that it can fulfill its security contracts in locations like the Central African Republic (CAR) and Mali is unknown.
On Monday, CAR and Mali received assurances from Russian Foreign Minister Sergei Lavrov that their essential security arrangements would remain the same.
Initially, it was done to make money; however, since it had the Kremlin's tacit approval, it also served to advance Russia's diplomatic and economic interests.
For instance, Wagner's agreement in 2021 to assist the new military junta in its conflict with Islamist militants was a major win for Russia when France withdrew its forces from Mali.
A timeline of Wagner's operational history was recently posted on Telegram, confirming that the company's official involvement in Africa began in 2018 when it sent "military instructors" to the Central African Republic and Sudan, and that it expanded into Libya the following year.
It has been noted that these nations have natural resources that Mr. Prigozhin's organization is interested in.
Diamonds, gold, oil, and uranium are abundant in the CAR, which has been unstable for decades.
In exchange for a piece of the resource pie, Wagner has given President Faustin-Archange Touadéra, who even has the mercenaries as his bodyguards, the freedom to ignore the influence of the nation's former colonial overlord France as it attempts to defeat rebel groups.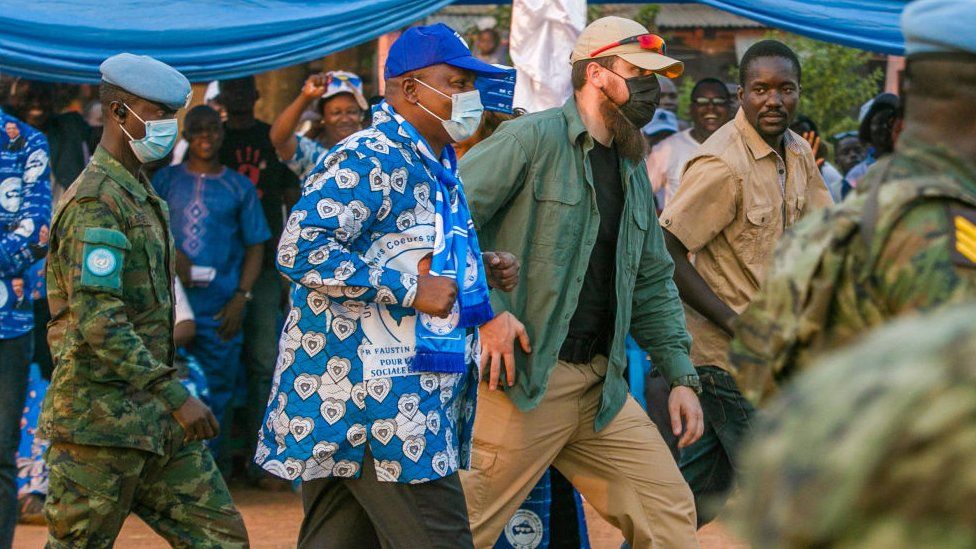 According to Julia Stanyard of the Global Initiative against Transnational Organized Crime, "Wagner's operational strategy over the past two to three years has been to expand both its military and economic footprint in Africa.".
According to the analyst at the think tank, Wagner is connected to a network of businesses that have engaged in business ventures in the nations where the mercenary group operates.
These are said to manufacture beer and vodka in addition to dealing in conflict minerals and timber in the CAR.
Wagner's brief foray into Sudan made it possible for Russian mining company M Invest to establish operations there; the US Treasury alleges that Mr. Prigozhin owns or controls M Invest. One of Africa's largest gold producers is its subsidiary, Meroe Gold.
Wagner is not believed to have as many fighters in Libya as it did when it supported rebel general Khalifa Haftar's attempt to seize the capital, Tripoli, almost four years ago.
However, Libya strategically enables Russia to enter Africa, expands its influence in the Mediterranean, and aligns with the Kremlin's support for Gen. Haftar. There are still Wagner mercenaries stationed near important oil facilities in Haftar strongholds in the country's east and south, and sources have told the BBC that little has changed since Saturday.   .
Though there is no proof to date of its firms operating there, Wagner's interest in Mali may be related to its abundant gold reserves. However, it is more likely to be strategic, expanding Russia's sphere of influence in West African nations in response to pressure from the so-called Islamic State and al-Qaeda groups.
In addition, Mali may have served as a front for Wagner to purchase weapons from Turkey, according to a large collection of US military documents that were leaked earlier this year. One Pentagon dispatch claimed that junta leader Col. Assimi Gota had authorized such an acquisition.
In numerous nations, Wagner fighters have been charged with committing serious human rights violations.
According to a BBC investigation from 2021, the group in Libya was responsible for the unlawful use of anti-personnel mines and booby traps in homes near Tripoli as well as the execution of civilians.
According to data from the Armed Conflict Location and Event Data Project (Acled), militant violence in Mali increased by more than doubling between 2021 and 2022, with civilians accounting for the majority of casualties.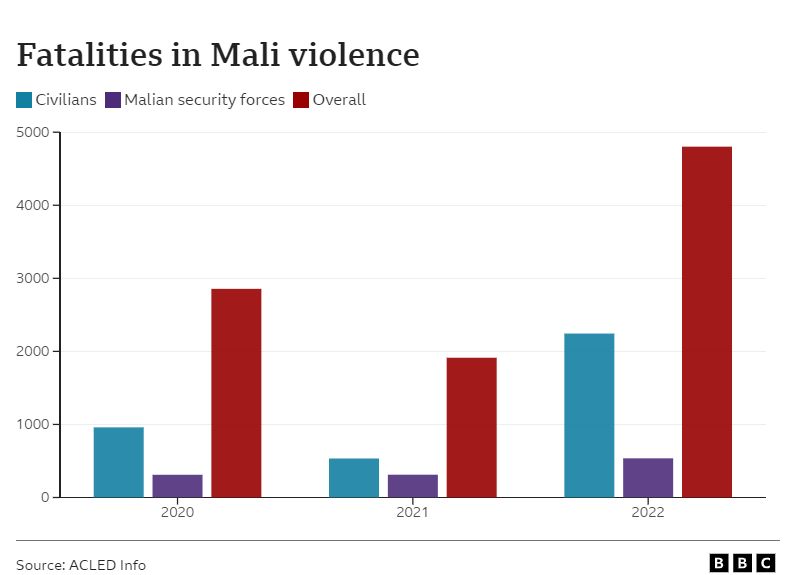 There have been more civilian fatalities as a result of army operations involving the Wagner group. One of the worst incidents involved the week-long operation in the central town of Moura that resulted in the deaths of 500 civilians. The US sanctioned two soldiers and the de facto Wagner commander in Mali, while the UN blamed "foreign forces" and the Malian army for the killings.
The US Treasury charged the mercenaries with committing a pattern of serious crimes earlier this year, including "mass executions, rape, kidnapping, and physical abuse in the Central African Republic and Mali.".
Despite the fact that Wagner's victory in the CAR over a potent rebel coalition cemented his public support there.
This fan base has received assistance from regional troll farms run by Mr. Prigozhin with the goal of swaying African discourse and inciting anti-Western sentiment.
One such instance is the Malian junta's recent request for the UN peacekeeping force to leave the nation, which is in keeping with a social media campaign to have Russian troops take its place.
Wagner mercenaries were "more effective" than UN peacekeepers in Mali and the CAR, according to Mr. Prigozhin, who spoke in May to the station based in Cameroon and affiliated with him, Afrique Media TV.
The mercenary group Wagner would not be where it is today without the Kremlin, according to analysts, despite the fact that Wagner has been extremely helpful for the Russian state in Africa, particularly as it seeks diplomatic support during the Ukraine conflict.
Untangling the two on the continent seems like a risky task because they are so entangled.
In Libya, for instance, it is evident that Wagner units have been heavily reliant on assistance from the Russian defense ministry.
If the group were to be completely disbanded, the Russian government would no longer resupply its units in Africa, according to a UN diplomatic source and Wagner watcher, who spoke to the BBC.
In the meantime, Lou Osborn from the All Eyes on Wagner Project told the BBC that a Prigozhin holding company was paying all of their fighters in Africa. This is an interesting point in light of Mr. Lavrov's most recent assurances to the CAR and Mali.
According to a UN source, fighters would essentially be out of a job and available for hire in nations dealing with dangerous civil wars and insurgencies if they were left unpaid and without political or military support.
Vladimir Putin, the president of Russia, has advised Wagner fighters to enlist in the regular army, return home, or travel to Belarus. However, according to Ms. Stanyard, it is not yet clear whether this will apply to the Russian soldiers of fortune currently serving in Africa.
According to the analyst, there might be "some kind of compromise position whereby Yevgeny Prigozhin, from his current exile in Belarus, will retain control and ultimate responsibility for the Wagner operations in Africa.".
What will happen to the shady business ventures in Africa linked to Wagner and Mr. Prigozhin is another major area of uncertainty.
It's interesting to note that since the Belarus deal was announced, the Kremlin's line has received more attention from the African-based troll farms, who ceased their activity during the mutiny on Saturday.
One person referred to Mr. Putin as "the master of war," but they did not go so far as to denounce his former ally Mr. Prigozhin, possibly implying that they might find a way to work together on Africa.