The cross-examination of a prominent Hollywood producer in the corruption trial of Israel's prime minister has dramatic moments befitting one of his movies.
Israeli billionaire and current resident of the UK, Arnon Milchan, has acknowledged that his gifts of pink champagne and cigars to Benjamin Netanyahu and his wife may have been "excessive.".
In one of three cases against Mr. Netanyahu that have cast a long shadow over Israeli politics, prosecutors are using him as a key witness to support allegations of fraud and breach of trust.
In connection with the other two cases, the prime minister is also accused of fraud, breach of trust, and bribery. He says he didn't do anything wrong and is the target of a political witch hunt.
At his request, Mr. Milchan is appearing before a remote session of the Israeli court in Brighton. Mr. Milchan's film credits include Pretty Woman, Bohemian Rhapsody, and 12 Years a Slave.
His evidence led to vibrant anti-Netanyahu demonstrations in the English seaside city, close to where he now resides, giving tourists an unexpected diversion.
At the request of the defense attorneys, questions about Mr. Milchan's contributions to Israel's security will be heard behind closed doors. According to reports, he worked with Israeli intelligence since the 1960s to acquire weapons and made some of his money as an arms dealer.
The witness described his friendship with Mr. Netanyahu as "close friends, almost brothers," saying they enjoyed discussing history together, at the outset of his testimony, which started on Sunday.   .
In addition, he hinted at a patriotic component, saying: "I can't tell you how many things Bibi and I did behind closed doors for the country. " .
Mr. Milchan greeted the prime minister with the phrase "Shalom, Bibi" when he arrived at the Jerusalem District Court to watch proceedings being broadcast live on a screen.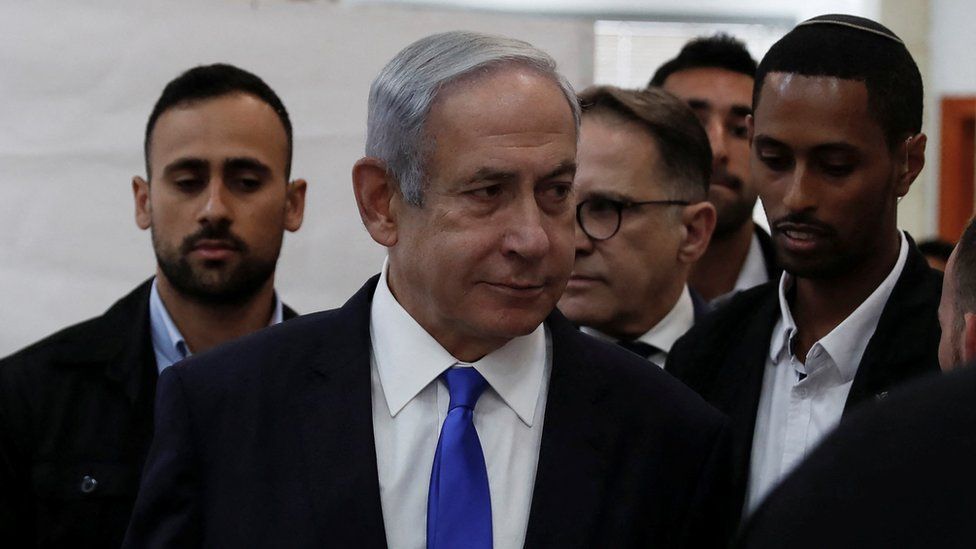 Sara Netanyahu, who traveled privately to the UK, is permitted to speak on behalf of her husband in the court proceeding in the Old Ship Hotel's ballroom, which the Israeli government has rented.
According to the charge sheet, Mr. Milchan and an Australian billionaire provided Mr. Netanyahu with a "supply-line" of champagne and cigars totaling nearly 700,000 shekels ($191,000; £150,000) between 2011 and 2016. The court was told that these were known as "roses" and "leaves" in code.
The movie mogul explained how the gifts, which also included pricey shirts and jewelry, were initially given haphazardly but over time developed into routine gifts that were occasionally sent in response to requests from the recipients.
He told the court, "Occasionally the leaves were on my initiative, I'd come visit.". At other times, Mr. Netanyahu would query me, "Say, are there any leaves at home? What about the roses?".
According to an indictment published in 2019 by the then-attorney general, Mr. Netanyahu is accused of using his position to help Mr. Milchan with his visa status for the United States and by promoting legislation that benefited his commercial interests. According to the prime minister, receiving gifts from his friends was standard protocol.
Israeli police initially suspected Mr. Milchan of bribery during what is known as the Case 1,000 investigation, but the attorney general found no evidence to support a case against him. He also maintains his innocence, much like the prime minister. Additionally, the Australian billionaire is not charged and insists that he did nothing wrong.
Using medical justifications for the 78-year-old's refusal to travel to Israel, Mr. Milchan's attorneys argued for being granted special permission to testify remotely from Brighton. According to court records, he has not traveled back to his country of origin in a while.
The investigations into Mr. Netanyahu's actions started in 2016, and his trial began three years later. Israel went to the polls five times in less than four years, which was an unprecedented period of political gridlock brought on by the criminal legal proceedings.
Politicians who are against Mr. Netanyahu have argued that he shouldn't be in office while facing charges.    .
Critics have also charged him with advancing a divisive judicial overhaul in response to his legal situation since he returned to power at the end of last year after spending 18 months in opposition. The prime minister and his supporters dispute this and assert that their proposed changes will restore the proper balance between the three branches of government.
40 prosecution witnesses, including some of the Netanyahus' former close confidants and aides, have testified thus far in the ongoing trial. Mr. Milchan's testimony is anticipated to continue for a number of additional days.
A plea agreement has frequently been mentioned, but no agreement has ever been reached. The most serious crime of bribery would be difficult to prove, judges warned the prosecution, according to a report in the Israeli media last week.