A Pakistani woman was helped by an Indian man in January enter the country illegally and obtain a fake ID card.
He gave assistance to his wife.
Playing the board game Ludo online, Mulayam Singh Yadav, 21, from India, and Iqra Jeewani, 19, from Pakistan, met and fell in love three years ago. But they were aware that being together would be difficult for them.
The relationship between India and Pakistan is tense; since 1947, when Pakistan was established and India was divided after independence, the neighbors have engaged in three wars. People may find it challenging to obtain visas so they can travel to see each other as a result.
Mulayam and Iqra traveled to Nepal in September of last year, where they were married. They later traveled to Bangalore, India, the state capital of Karnataka, where they shared a home.
But in January, their happy lives took a tragic turn when Mr. Yadav was arrested and charged with fraud, forgery, and housing a foreign national without proper documentation while Ms. Jeewani was detained for entering India illegally.
While Mr. Yadav is still incarcerated in Bangalore, she was deported last week to Pakistan.
The arrests have devastated Mr. Yadav's relatives in the Uttar Pradesh state of northern India. They claim that the couple's tale is merely one of love.
Jeetlal, his brother, declares, "We want them home.". "We are aware of the circumstances involving India and Pakistan. All they did, however, was fall in love. ".
Even the police appear to concur.
A senior Bangalore police official who spoke on the condition of anonymity said, "Aside from the illegal entry and forgery, it seems to be a love story.".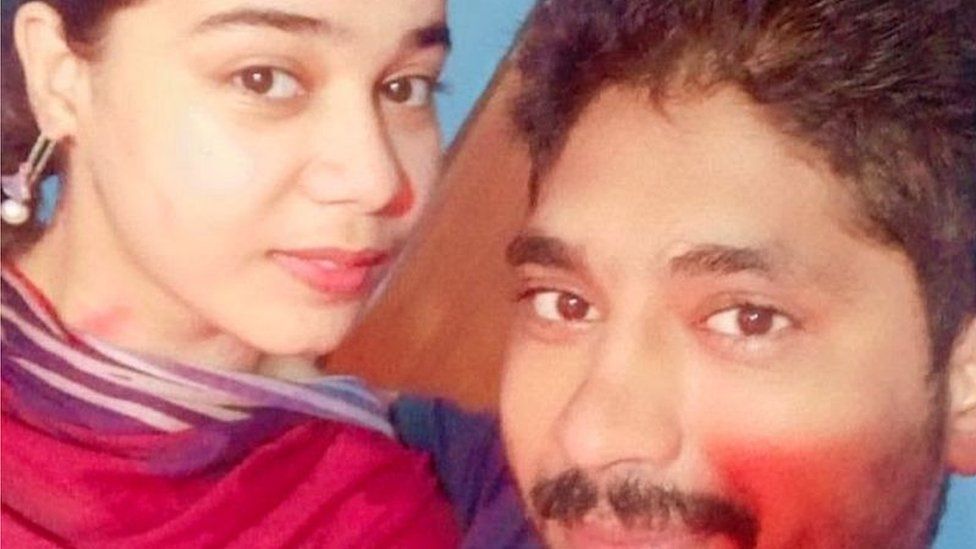 In 2020, during the Covid lockdown, that love story first started.
While Ms. Jeewani was a student in Pakistan's Hyderabad city, Mr. Yadav worked as a security guard for an IT company in Bangalore.
Following their online encounter, the two started a distance relationship. But Ms. Jeewani was coming under more and more pressure from her family to wed.
She left Pakistan and made her way to Nepal via Dubai at Mr. Yadav's suggestion. According to the police, the couple traveled to India after getting married there in a Hindu temple.
However, Ms. Jeewani lacked the necessary documentation to remain in India, so according to the police, Mr. Yadav set her up with a fake Aadhaar card, an Indian identity card.
The police claim that Ms. Jeewani stayed at home while Mr. Yadav commuted to work every day.
However, she made frequent WhatsApp calls to her mother in Pakistan, which made her an easy target for the police.
A G20 finance ministers' meeting and the Aero India air show were scheduled to take place in Bangalore in February, so according to Bangalore police officials, the city was on high alert last month.
On January 20, Ms. Jeewani was arrested for illegal entry and delivered to the Foreigners Regional Registration Office after further investigation. February saw her return to Pakistan.
S Girish, deputy police commissioner in Bangalore's Whitefield district, told the BBC that as of right now, the only charge against the woman is that she entered the country illegally. But we're still looking into it. ".
The BBC was unable to speak with Ms. Jeewani or her family in Pakistan for a response. She arrived at home, her father confirmed, and they did not want to "speak on this issue," according to a report from PTI news agency earlier this week.
The mother of Mr. Yadav, Shanti Devi, expresses hope for their eventual reunification.
"She is our daughter-in-law; we don't care if she's Muslim or Pakistani. She'll be well cared for by us.
. "