Three days after his Wagner mercenary group's rebellion came to an end 200 kilometers (125 miles) south of Moscow, Yevgeny Prigozhin, the instigator of Russia's 24-hour mutiny, arrived in Belarus.
The country's leader Alexander Lukashenko declared, taking credit for arranging his exile, "Yes, indeed, he's in Belarus today.".
Since he was captured on camera driving off in southern Russia on Saturday night, Prigozhin's whereabouts have remained a mystery.
His private aircraft was observed Tuesday as it approached Minsk, the capital of Belarus.
Wagner's mercenaries had been given the option to join their leader at an abandoned military base, according to Mr. Lukashenko: "There is a fence, everything is available, erect your tents.". ".
Prigozhin has been promised guaranteed security as part of the agreement that put an end to the mutiny, and Wagner's criminal case against Russia has been dropped.
The fighters have been given the option to sign contracts with the regular army, return home, or move to Belarus as Moscow gets ready to transfer the heavy weapons used by the mercenaries into the regular military.
NATO allies Poland, Latvia, and Lithuania have issued a warning that Wagner's entry into Belarus may have negative consequences for them as neighbors. The mercenaries are dangerous, according to a presidential adviser from Lithuania, as they may engage in sabotage and infiltration operations.
Tactical nuclear weapons have already been transferred by Russia into Belarus in recent weeks.
Clearly, they don't want a criminal like Prigozhin in Belarus, according to Katia Glod of the European Leadership Network, who also notes that Belarusian public opinion is also very uneasy. ".
The Wagnerites could aid the Belarusian military by sharing their knowledge of strategies and equipment, Mr. Lukashenko merely said.
After 23 years of Putin's rule, the Kremlin's ability to control Russian security has been severely undermined by the mutineers' ease in taking over Rostov-on-Don and then driving so far north with little resistance.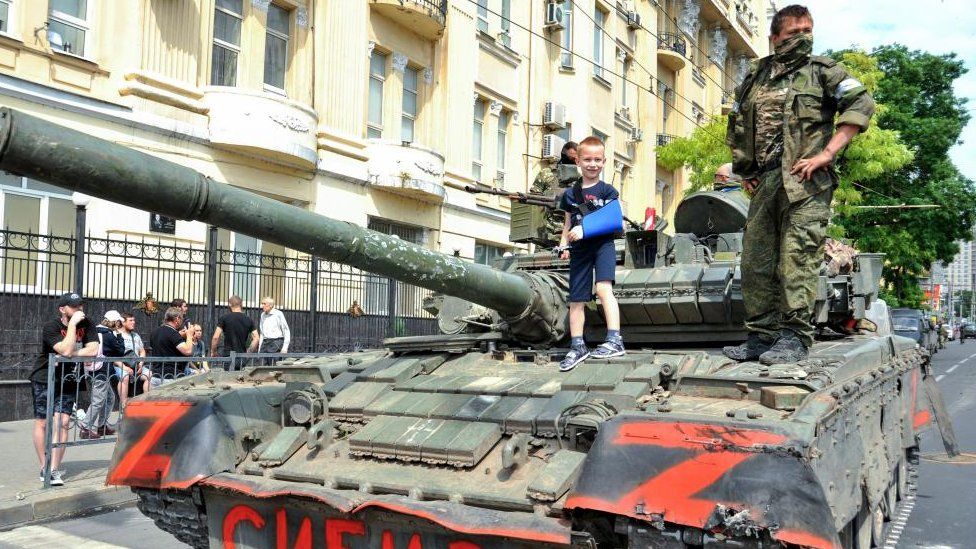 Suggestions that the events of Friday and Saturday had weakened his hold on power were dismissed by Kremlin spokesman Dmitry Peskov as "hysteria.".
However, after the Russian security forces had gathered in a Kremlin square, President Putin himself declared that they had defended their country, "de facto stopping a civil war in its tracks.".
The uprising was made even more concerning by Mr. Putin's revelation that Prigozhin's private army had received $1 billion in state funding for salaries and bonuses over a 12-month period. For feeding the military, an additional $1 billion went to Prigozhin's Concord catering company.
The latest attempt to control the narrative of a tumultuous few days that shook the Kremlin saw the Russian leader acknowledge that pilots had lost their lives "confronting the mutineers.".
Unconfirmed reports claim that the mutinous crew shot down six military helicopters as well as an Ilyushin 22-M command-and-control plane. The number of casualties is unknown, but there is some wreckage visible.
In addition, Prigozhin charged that 30 people were killed by a Friday missile strike on his men by the Russian military. There hasn't been any proof of that, though.
On Monday, he stated, "We traveled 780 km in a day. "No soldier was lost on the battlefield. Unfortunately, we had to attack aircraft because they were launching bombs and missiles at us. ".
In videos taken on Saturday, the Wagner convoy can be seen traveling north among civilian traffic in the southern Voronezh region while being bombed from the air.
Whatever the actual circumstances surrounding how the previous 24 hours of chaos ended, Alexander Lukashenko, the leader of Belarus since 1994 and the man who is widely believed to have rigged the 2020 elections in order to retain power, offered one elaborate explanation on Tuesday.
"I told Putin we could waste Prigozhin with no issues. In the event that the first attempt fails, try again. He said to security personnel, "I told him don't do this.
According to him, Prigozhin had accepted his offer to be reached by phone. Mr. Putin responded, "Look, Sasha [Alexander], it's useless; he won't even pick up the phone and doesn't want to speak to anyone. ".
He continued, "Give me his number.". The Russian Federal Security Service (FSB) "probably" has his phone number, according to [Putin]. ".
According to Mr. Lukashenko, when he spoke with Prigozhin, the mercenary boss was experiencing euphoria as a result of Wagner's up to that point success.
Prigozhin allegedly told him: "We want justice, they want to strangle us, we will go to Moscow," according to the leader of Belarus. ".
"I warn him that halfway through, you'll be smothered like a bug. ".
Mark Galeotti, a specialist on Russia, claimed that the president of Belarus had served as a useful middleman for Vladimir Putin, who could now try to keep Prigozhin on his side to control his mercenary forces in Africa.
According to Katia Glod, Belarusians were concerned with how much Vladimir Putin had been weakened by the crisis because that would also mean that Alexander Lukashenko had been weakened.
The Kremlin and the brutality of the [Belarusian] security forces that carry out Lukashenko's orders are his two main pillars.
"Short-term repression may increase as Lukashenko's state of weakness increases. In the long run, it might be good news if the Kremlin appears to be less of a pillar.
. "