Senegal's President Macky Sall's announcement that he will resign at the end of his two terms appears to have prevented his nation from sliding into a deeper crisis.
Political analyst Alioune Tine compared his choice to "deactivating a bomb," noting that well-known opposition figure Ousmane Sonko had threatened a fresh round of large-scale protests if Mr. Sall were to seek an unpopular third term.
Many people were taken aback by the 61-year-old president's announcement, which he made in a highly anticipated television address on Monday night.
Within his ruling party, there had been growing support for him to run for re-election, with the vast majority of its elected officials, including lawmakers and mayors, asking him to lead them into the election the following year.
When he announced his choice, many of his supporters who were gathered near the presidential palace in the country's capital, Dakar, were in tears.
"I am fully aware of and remember everything I have said, written, and repeated, both here and elsewhere, including the fact that the 2019 term was my second and final term. I must uphold my dignity and my word because of my sense of honor and historical responsibility, Mr. Sall said.
However, his detractors disagree, pointing out that Mr. Sall famously replied in French to a question about whether or not he would run for office again in 2024, "ni oui, ni non" (neither yes nor no).
Senegal's supreme law, the constitution, prohibits a president from serving more than two terms, but Mr. Sall's camp had been arguing - until just a few days ago - that his first term did not count because the current constitution was only adopted in his second term. This was a highly contentious situation.
Some of Mr. Sall's advisers, as well as relatives who had attained top positions in state corporations under his rule, had reportedly urged him to run for reelection, according to sources close to the presidential palace, according to the BBC. They feared a new president would oust them from their positions and take away their financial advantages at a time when Senegal's budding oil and gas sector was anticipated to expand.   .
The idea of Mr. Sall and his cronies staying in power repulsed the opposition, especially since they thought his government was becoming more authoritarian.
At least 16 people have died in clashes with the security forces since March as a result of Mr. Sonko, who is currently placed under house arrest, mobilizing his mostly young supporters against Mr. Sall.
Mr. Sonko renewed his call for "all the Senegalese people to stand up, [and] to face him" if Mr. Sall were to run for a third term prior to Mr. Sall's speech.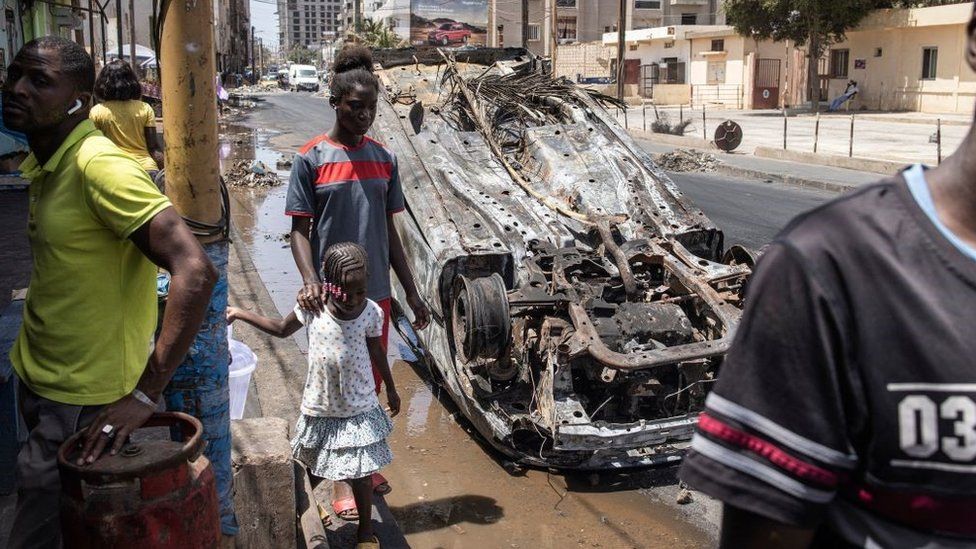 The pressure finally seemed to get the better of Mr. Sall, who stated that he wanted to "preserve the image of democracy, stability.". that Senegal has on a global scale.".
His choice stands in stark contrast to some of the other regional leaders.
President Alassane Ouattara of the Ivory Coast won a contentious third term in 2022. The opposition boycotted the election on the grounds that his candidacy was unconstitutional.
President Faure Gnassingbé of Togo is currently serving his fourth term as a result of an amendment to the constitution that eliminated a two-term limit.
In light of this, some political analysts believe that Mr. Sall has stopped the democratic process in his nation from regressing. Moussa Faki, the chairman of the African Union Commission, is among those who have praised his decision to forgo running for a third term.
Aminata Touré, a former prime minister of Senegal, disagreed, claiming that Mr. Sall had not performed a "heroic move.".
He is merely implementing the Constitution. The moment he was re-elected in 2019 is when he should have said that. The nation would not have gone through the turmoil and difficulties we did, she continued.