Emmanuel Macron has charged that protesters are taking advantage of the death of a teen who was fatally shot by police at point-blank range.
The French president hinted at the deployment of more police during a crisis meeting, but refrained from issuing a state of emergency proclamation.
He urged platforms to remove certain content from social media and parents to keep unruly kids at home.
After Nahel M, 17, was killed as he sped away from a traffic stop, three nights of unrest rocked France.
Officials report that 875 arrests were made on Thursday night alone. More than two hundred people, including 249 police officers, were arrested and hurt the previous evening.
According to Mr. Macron, a third of those detained for rioting were "young, or very young.". He exhorted parents to take action, saying it was their "responsibility" to keep any child planning to protest "at home".
After leading a meeting of French ministers discussing security, he told reporters, "It's not the state's job to act in their place.".
Mr. Macron called it an "unacceptable exploitation of the adolescent's death" that the violence of the previous three days had been denounced with "the greatest firmness".
He also demanded that social media sites—specifically TikTok and Snapchat—remove "the most sensitive types of content" that were being posted. He also urged business leaders to reveal to French authorities the names of "those who use these social networks to call for disorder and promote violence.".
In France, stores were looted overnight, streets were severely damaged, and cars were set on fire from Lille and Roubaix in the north to Marseille in the south.
French Interior Minister Gérald Darmanin on Friday advised that buses and trams should be suspended nationwide at 21:00 local time (19:00 GMT), leading to early closures of public transportation and the enforcement of curfews in some areas.
Since Nahel was killed in Nanterre, a suburb of north-west Paris, shortly after 9:00 on Tuesday, the French capital has been at the center of the unrest.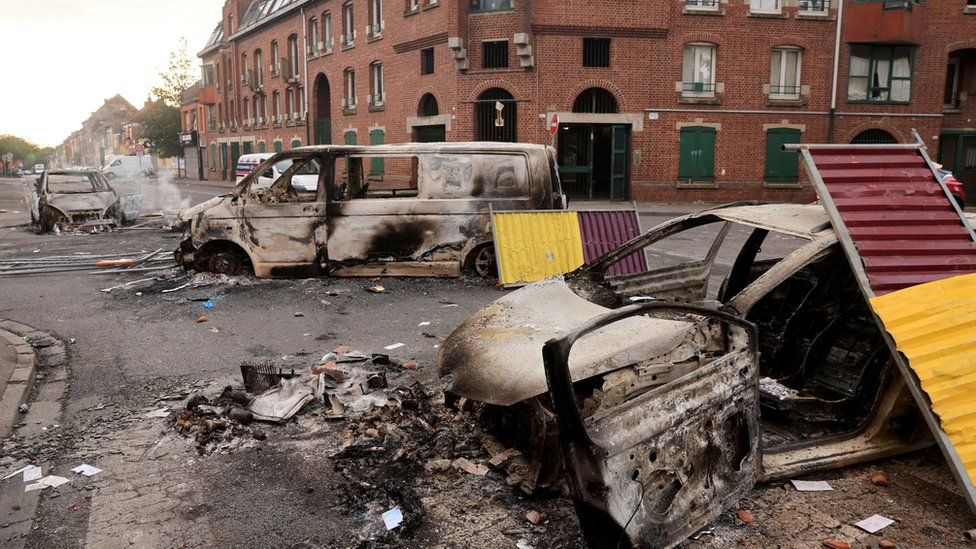 He was shot after he refused to stop for a traffic check and later passed away as a result of the incident. A video that was posted online in the hours after Nahel's death showed two police officers attempting to stop the car, one of whom was pointing a gun at the driver.
After being charged with voluntary homicide, the officer who fired the fatal shot issued an apology to the family. His attorney claimed that he is devastated.
With regard to a contentious firearms law passed in 2017 that permits officers to use lethal force when a driver refuses to stop, Nahel's death has reignited discussion about the state of French law enforcement.
More generally, it has raised issues with racism in the force. The UN human rights office stated that France could use the unrest to "address serious issues of racism in law enforcement.".
A UN spokeswoman in Geneva cited a recent report by the UN committee on the elimination of racial discrimination, which last December expressed serious concern over certain aspects of French law enforcement, including what the report suggested was the disproportionate use of identity checks and the imposition of fines on particular ethnic groups.
The officer who shot Nahel, according to Nahel's mother Mounia, "didn't have to kill" her son, she claimed.
She told France 5: "He saw the face of an Arab, of a young child, and he wanted to take his life.". Nahel was originally from Algeria.
More than 6,000 people marched in Nanterre under Mounia's direction on Thursday, most of whom were peaceful. She expressed her hope that the memorial would be a chance for the neighborhood of Paris and surrounding areas to remember her only child while sporting a white T-shirt with the slogan "Justice pour Nahel" ("Justice for Nahel").
The third night of violence began when the march turned violent in the late afternoon. Thought to have been out on the streets until the early hours of Friday morning, police shot tear gas at masked protesters who set fire to various items.