In the heart of Jenin, a thick layer of black ash has accumulated on the streets and sidewalks.
It originates from burning tire barricades constructed by young Palestinian men who prowl streets looking for Israeli jeeps. Some of them are armed with homemade bombs or rocks that they can throw at Israeli vehicles as they pass. Gunfire and explosions can be heard in the refugee camp, which is located on high ground above the town center, in sporadic bursts. Israeli drones fly overhead continuously.   .
Occasionally, armed Palestinians shoot at the Israelis as they emerge from the tire smoke.
This year, violence between Israelis and Palestinians has almost become routine. When blood is shed, there is frequently a dynamic of retaliation involving the Israeli army, Jewish settlers who live in the occupied West Bank in violation of international law, and Palestinian armed groups. According to the Israelis, more than 50 relatively recent attacks originated from the Jenin camp, which is why they moved in.
However, the causes of violence, hopelessness, and hatred are much deeper than the most recent violent clashes. They thrive in the toxicity produced by a land-related conflict that dates back more than a century. The so-called two-state solution, which called for the establishment of an independent Palestinian state alongside Israel, briefly raised hopes that peace would be achieved in the 1990s. The effort fell short.
Strong Western nations, including the US, members of the European Union, and the UK, continue to hold that two states are the only option. Their claims are mere platitudes. The most recent American attempt to make the concept work failed in 2014.
For months, there had been talk of an Israeli operation in Jenin. Palestinian armed groups had grown strong and cohesive enough to rule the Jenin refugee camp despite frequent smaller Israeli raids. They appeared to be gaining power.
A 15-year-old Palestinian girl was among the dead from an Israeli raid that they repelled two weeks ago after blowing up an Israeli jeep. The following day, two Palestinians who were eating nearby in a restaurant were responsible for the deaths of four Israelis. In a series of retaliatory attacks, Jewish settlers were protected by the Israeli army as they rampaged through Palestinian villages, torching homes and cars.
The Israeli army would eventually attack the Palestinians in charge of the Jenin refugee camp. It claims to be conducting a methodical operation to find and neutralize weapons and explosives.
Young Palestinian men gathered in angry knots at intersections in the city and in front of a hospital on the outskirts of the Jenin refugee camp are filled with rage and frustration. Their burning tire barricades leave behind twisted wire, burnt rubber piles, and black circles.
The Israeli army is providing updates on the explosives it has found and defused during its two days in the camp, as well as what it refers to as terrorist command centers. The military communiques' professional tone contrasts with those of Israeli cabinet members who oppose all forms of Palestinian self-determination.
Public security minister Itamar Ben Gvir declared that Israel's war in Jenin was also their war in Tel Aviv after a Palestinian was shot dead in Tel Aviv by a bystander after he crashed his car into a crowd of Israelis. He claimed that every Jew was a target for assassins.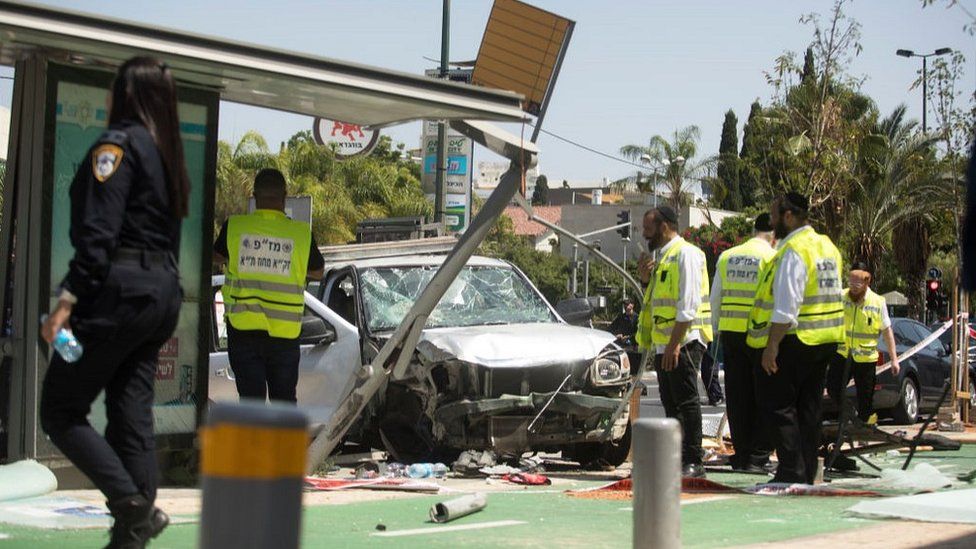 In order to deal with their adversaries, Mr. Ben Gvir and his political allies have been pushing for a punitive sweep through the West Bank. The Israeli army is more wary because it is more concerned with the dangers and repercussions of escalation. All signs point to the Israeli army wanting to confine its operation to the Jenin refugee camp, declare victory shortly afterward, and instruct its troops to return to their bases.
Following an operation like this, Israeli victories are rarely sustained. The cycle repeats as Palestinian armed groups restock their arsenals. Politicians in Israel sometimes refer to plans to increase Jewish settlements on Palestinian state-aspiration territory as a "Zionist response," which adds to the tension.
Many Palestinians are fed up with their own elderly and ineffective leaders in the Palestinian Authority, a holdover from the 1990s peace process, which was meant to establish the institutions necessary to establish their own state.
Based on prior operations, both sides will declare victory when this one is over. Then, the ongoing realities of this protracted conflict will once again become apparent. Anger, hopelessness, and poverty will only serve to strengthen the resistance culture that has become ingrained in Palestinian society, particularly in Jenin and Nablus. And for as long as it exists, Israel's right-wing, hyper-nationalist government will attempt to back up its words with deeds.
The real threat is that Israel and Palestine are escalating their protracted conflict's level of violence.