A teenager who was shot dead on Tuesday during a traffic stop outside of Paris has been charged and taken into custody by a French police officer.
The 17-year-old, Nahel M, was shot in the head at close range as he drove off and crashed shortly after.
Two nights of unrest in France have been precipitated by his murder. Chaos broke out Thursday afternoon during a march that the boy's mother was leading.
More unrest has already erupted in a number of towns and cities.
The ground floor of a building housing a bank in the town of Nanterre, where the teen was killed, is shown on video from several French outlets to be completely engulfed in flames.
While social media posts and videos appear to show that trash piles have been set on fire in various locations, protesters have reportedly been detained in Lille and Marseille.
Le Monde, a French newspaper, reports that fires have also been started in Toulouse in the southwest.
At 21:00 local time (19:00 GMT), bus and tram services in Paris and the surrounding area were suspended in anticipation of additional violence. Nighttime curfews have been established in some suburbs.
In Tours and Lille, transportation services have also been disrupted.
Following rioting that damaged cars and buildings in several French cities on Tuesday and Wednesday night, about 40,000 police have been deployed throughout France in an effort to quell the unrest.
The nation's interior minister, Gérald Darmanin, reported that 180 people were detained and 170 officers were hurt in the clashes on Wednesday night.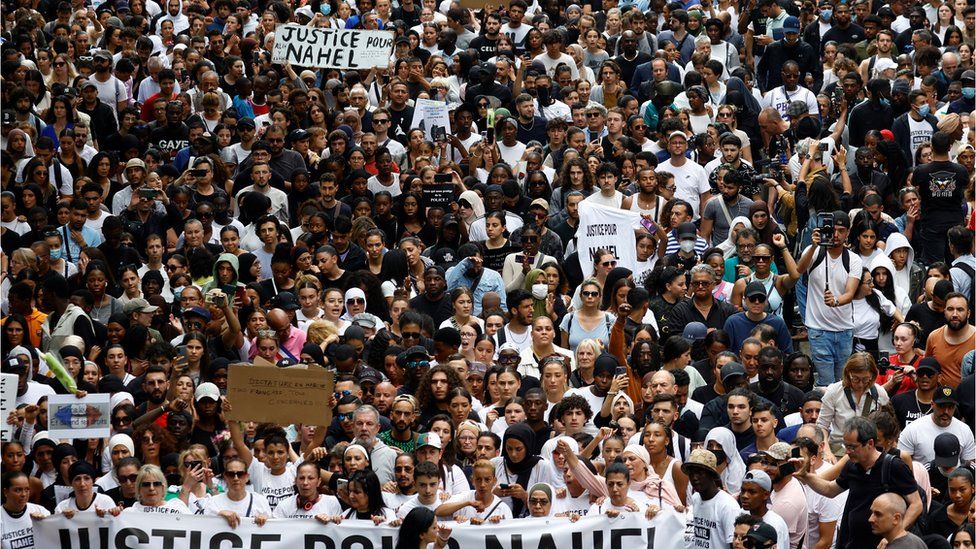 In Nanterre, violence broke out after a largely peaceful march for justice on Thursday afternoon, injuring officers as well. More than 6,000 people showed up to the event.
The French prime minister, Elisabeth Borne, said while she recognized the outpouring of grief following the death of the 17-year-old, she denounced the riots.
She declared that "nothing justifies the violence that has occurred.".
The death of the teenager has sparked a wider discussion about the role of the police and the interaction between the government and residents of France's suburbs, who feel isolated from the nation's prosperous city centers.
Yassine Bouzrou, Nahel's attorney, stated on the BBC World Service's Newshour program, "We have a law and judicial system that protects police officers and it creates a culture of impunity in France.".
However, Nahel's mother insisted that she only held the officer responsible for the killing of her son—not the police force as a whole or the system—responsible.
According to the officer who is accused of killing him, he fired because he thought his life was in danger. His attorney claimed to have discharged his client's weapon "in full compliance with the law," according to French radio station RTL.