Yevgeny Prigozhin, the mercenary group's leader, is still the subject of a Russian investigation despite the Kremlin's claim that all criminal charges against him have been dropped, according to state media.
On Friday, Prigozhin was the leader of an uprising and threatened to march on Moscow to oust Sergei Shoigu as defense minister.
In exchange for moving to Belarus and having the charges against him dropped, he withdrew his troops a day later.
On Monday, the Kremlin made an effort to present an image of normal operations.
In a video, Mr. Shoigu can be seen allegedly at a forward command post for the war against Ukraine.
The precise date that was captured on film is unknown.
For his alleged errors on the Ukrainian battlefield, Wagner had demanded that Mr. Shoigu be fired.
In his first public appearance following the unrest over the weekend, President Vladimir Putin lavishly praised the contributions engineers make to the Russian economy in a video address to engineers present at an industry forum on Monday.
According to the BBC's Eastern Europe Correspondent Sarah Rainsford, the operation to "Restore Putin's Reputation" is currently underway.
President Putin's team was urged to stand together by Prime Minister Mikhail Mishustin.
Prigozhin's whereabouts are still unknown, and despite his love of media interaction, he was unusually quiet.
Wagner took Rostov-on-Don, a city with a population of more than a million, on Saturday morning. Rostov-on-Don serves as the headquarters for Russia's primary military command in Ukraine.
An emergency was declared in the nation's capital and its surrounding areas when a Wagner column began to move north towards Moscow via the city of Voronezh.
Wagner was denounced in a speech by President Putin to the country. He did not specifically mention the former close ally Prigozhin, but he did promise to punish those responsible for what he called "treason" and "a stab in the back" of Russia.
After the Kremlin declared that Prigozhin would relocate to Belarus and that the Wagner leader and his rebellious followers would not face charges, the mercenaries turned around and departed Rostov-on-Don hours later.
Alexander Lukashenko, the president of Belarus, mediated the alleged agreement, but many questions remain.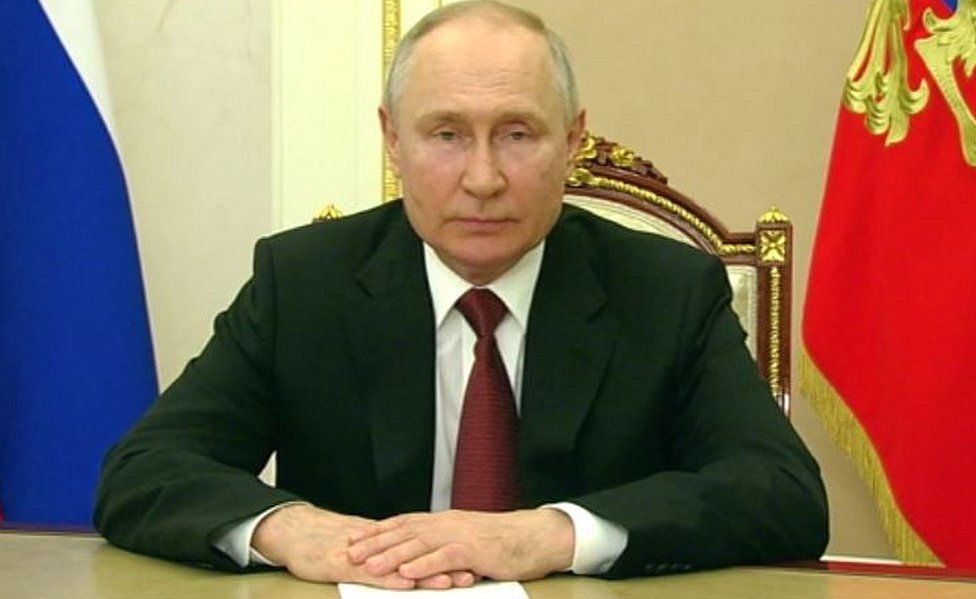 Wagner will join the Russian regular armed forces, according to the Kremlin.
To serve in Russia's "special military operation" in Ukraine, Wagner was still openly recruiting members of its own ranks on Monday.
Wagner advertises on Telegram that new recruits will receive at least 240,000 roubles ($2,843) per month (£2,236; $2,843), which is a fortune for most Russians, especially those in underdeveloped areas. It lists call-up centers all over Russia, with the main one located in the extreme south at Molkino.
Russian news agency Tass reported that the mercenary group was also recruiting in the city of Novosibirsk in eastern Siberia. The Wagner office there was closed on Saturday, but on Monday, its banners were back in place.
Wagner has long been regarded as a crucial weapon in Mr. Putin's effort to reestablish Russian influence on the world stage.
The group would continue its military role in Mali and the Central African Republic (CAR), according to Russian Foreign Minister Sergei Lavrov on Monday, despite the ongoing uncertainty surrounding Wagner's status.
Known for their brutality in Africa, Wagner fighters have been instrumental in Syria, aiding President Bashar al-Assad's forces.
Thousands of Wagner men are thought to have died during the brutal fighting that raged for months in the destroyed city of Bakhmut in Ukraine.
Prior to the Wagner mutiny, Prigozhin charged that the defense ministry had denied his men access to the weapons they required in an expletive-filled video.
After more than six months of intense combat, Bakhmut remains the only significant military victory for Russia. In recent days, according to Ukraine, its forces have pushed the Russians back toward Bakhmut.