Twelve days after a toxic chemical-laden train derailed in the small Ohio town of East Palestine, anxious locals are still clamoring for explanations.
James Figley, who resides a few blocks from the derailment scene, described the situation as "pretty dramatic right now.". "The entire town is ablaze. ".
On the evening of February 3, graphic designer Mr. Figley, 63, was asleep on his couch when he heard the terrifying sound of metal coming to a stop. After getting in the car to investigate, he and his wife came across a horrific scene.
There were numerous, ongoing explosions, and the stench became intolerable, according to Mr. Figley.
If you've ever burned plastic in your backyard and noticed that thick, dark smoke, that was it, he said. "It was black, plain and simple. It was obvious it was a chemical smell. making your eyes burn. If you were downwind, it might become very bad. ".
The accident caused fires to spread, which alarmed nearby residents.
A dangerous chemical called vinyl chloride was burned off by authorities a few days later to prevent it from exploding, which caused a toxic pillar of smoke to rise over the town.
Thousands of dead fish started to show up in the creeks over the following few days, officials later reported. People in the area told the local media that their foxes panicked, their chickens died suddenly, and their other pets became ill. Headaches, burning eyes, and sore throats were reported by residents.
Governor Mike DeWine and other state and federal officials claimed that after extensive testing, they had determined that the area was safe for people. Residents were given the reassurance that the contamination had been removed from the site and that the quality of the air and municipal water had returned to normal.
Confusion and fear have spread throughout East Palestine as a result of the discrepancy between what some residents have said and the assurances that officials keep giving. In the meantime, despite frequent updates from government officials and anger at the railroad, a mix of environmental and health experts have questioned whether the site is actually safe, and social media sleuths have asserted that officials are not providing residents with all the information.
Some residents have appreciated the increased scrutiny.
We don't know nearly enough, according to Mr. Figley.
Some information about the Norfolk Southern train that derailed on February 3 while en route to Pennsylvania has been released by officials.
According to Mr. DeWine at a press conference on Tuesday, the train was hauling about 150 freight carriages, 50 of which were struck by the collision. Ten of them or so had potentially harmful items on them.
The US National Transportation Safety Board said that although they have not yet identified the precise cause of the derailment, they believe it may have been caused by a mechanical problem with one of the car axles.
Vinyl chloride, a hazardous, colorless gas used to produce PVC plastic and vinyl products, was among the cargo being transported by its vehicles.
Another known carcinogen is vinyl chloride. Acute exposure to the substance is associated with headaches, drowsiness, and dizziness, while prolonged exposure can harm the liver and cause a rare form of liver cancer.
Officials carried out a controlled burn of the vinyl chloride on February 6 after ordering the immediate area evacuated. It was a decision between "two bad options," as Mr. DeWine put it, and federal, state, and railroad experts determined it would be safer than allowing the material to explode and send shrapnel flying through the town.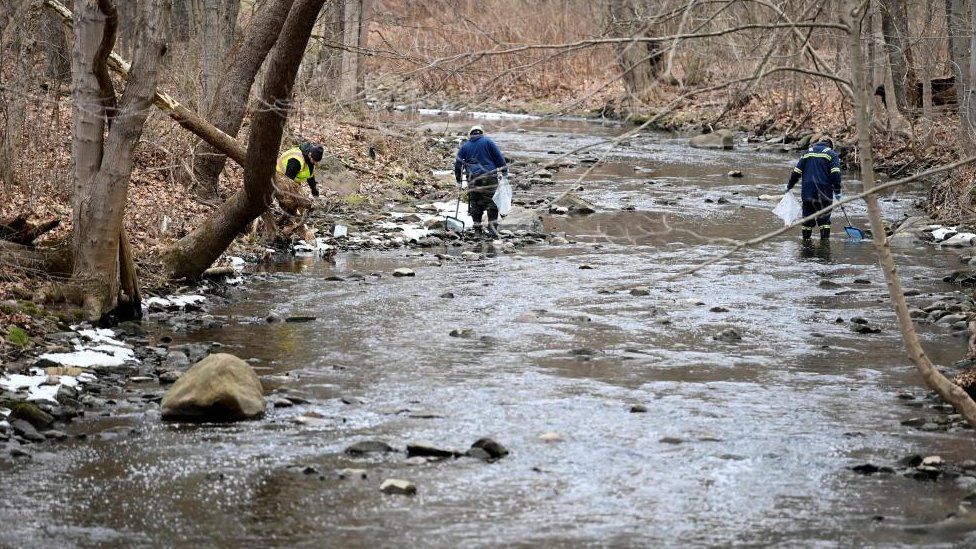 Apocalyptic smoke rose over East Palestine as a result of the controlled burn. The pictures quickly gained popularity on social media, with many shocked onlookers comparing it to a disaster movie.
The burn was deemed a success days later by Mr. DeWine, Pennsylvania Governor Josh Shapiro, and Norfolk Southern, and locals were allowed to return once authorities deemed it safe.
John Myers, an East Palestine resident who lives close to the derailment site with his family, said, "For us, when they said it was all clear, we decided it was OK to come back.".
He claimed there were no unfavorable side effects.  "The air smells like it always does," he said.
The US Environmental Protection Agency reported on Tuesday that no appreciable concentrations of hazardous substances had been found in the air. According to the agency, it has screened close to 400 homes so far and has not found any chemicals, but it added that it is still looking at additional homes in the area and monitoring the air quality.
After the accident, the EPA did find traces of chemicals in water samples nearby, including the Ohio River.  Those contaminated waters, the agency said, had entered storm drains. Officials from Ohio offered to test the water supply or drill new wells if residents so desired. They also advised concerned residents or those who relied on private sources to drink bottled water.
By Wednesday, the local water systems' wells had tested clean of chemicals from the derailment, and the public water supply was safe to drink, according to Ohio's state Environmental Protection Agency.
For some, it has been hard to reconcile the apocalyptic images of a toxic plume with the all-clear the government recently gave East Palestine.
Social media users, particularly on Twitter and TikTok, have fixated on reports of harmed animals and images of the vinyl chloride burn, demanding more answers from officials.
After people posted videos of dead fish to social media, officials acknowledged the phenomenon was real.  Around 3,500 fish of 12 different species had died after the crash across 7.5 miles of streams south of East Palestine, the Ohio Department of Natural Resources said.
However, officials said they had not received reports that the derailment or chemical burn had led directly to the deaths of livestock or other terrestrial animals.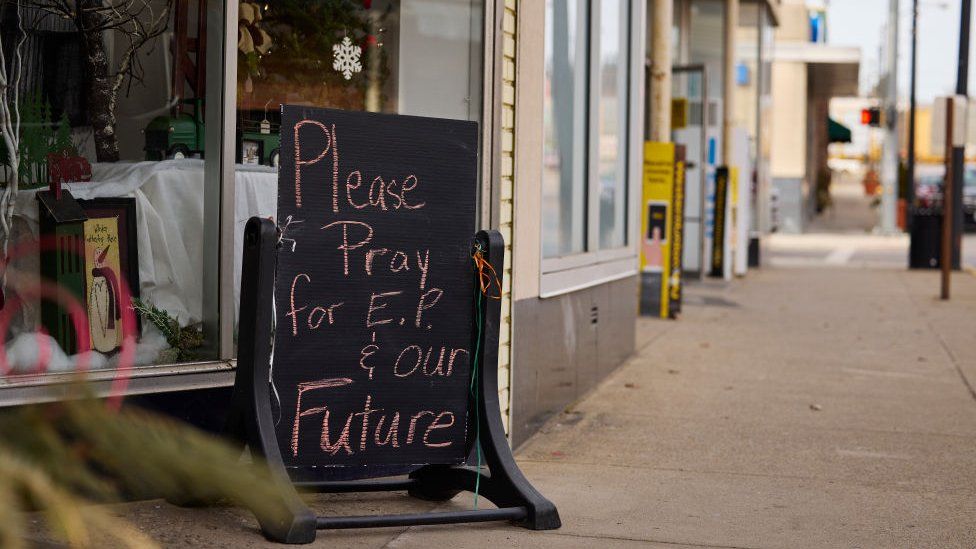 Residents in the immediate area have complained of headaches and nausea more than a week after the chemicals were burned, according to reports in the Washington Post, New Republic and local media outlets.
Environmental experts told the BBC they had misgivings about the government's decision to allow people to return to East Palestine so soon after the crash and controlled burn.
"It certainly feels like state and local regulators moved too quickly to move too quickly to give the green light to people to go back," said David Masur, executive director of the PennEnvironment Research & Policy Center.
"That builds a lot of distrust and scepticism from the public about trusting these agencies, which is a problem," he said.
In addition to vinyl chloride, several of the other substances on the train could form dangerous compounds when burned such as dioxin, said Peter DeCarlo, a professor at Johns Hopkins University who studies air pollution and air quality.
"That, as an atmospheric chemist, is something I would want to steer very, very, very clear of," he said, adding that he wanted the EPA to release more detailed data about the air quality.
At least four class-action lawsuits have since been filed by East Palestine residents against Norfolk Southern railway, alleging they have been exposed to toxic substances and have suffered "severe emotional distress" as a result of the derailment.
"A lot of our clients are really considering… possibly moving away from the area," said Hunter Miller, an attorney representing East Palestine residents Ray and Judith Hall in a class-action suit against the railroad.
"This is supposed to be their safe haven, their happy place, their home," Mr Miller said.  "And now they feel like their home has been infiltrated, that they're not so sure that this is a safe haven anymore. ".
On Tuesday, a reporter asked Mr DeWine if he would personally feel safe returning home if he lived in East Palestine.
"I would be alert and concerned," Mr DeWine said.  "But I think I would probably be back in my house. ".