A charity that works with Ukrainian refugees is brewing beer to raise money for its initiatives.
The beverage is being made by Hop Kettle, a local brewery, and Swindon Welcomes Ukraine, with a portion of the proceeds going to the nonprofit.
The beer is called Volya, which is Ukrainian for "Freedom.".
It would help "help even more Ukrainians looking for refuge," according to committee chair Sofiia Volovyk.
"Supporting hosts and Ukrainians now living together has been so rewarding," she continued. ".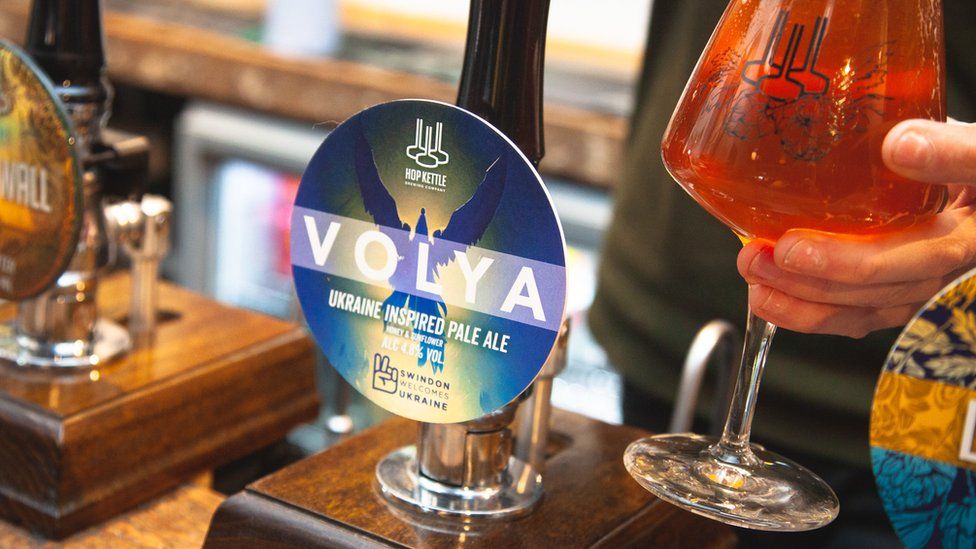 A national flavor of Ukraine, honey, and a symbol of that country, the sunflower seed, are used in the brewing of Volya.
As a means of keeping the Russian invasion of Ukraine "as a topic in people's heads," Swindon Welcomes Ukraine member Yana Shatoka told BBC Radio Wiltshire.
We still need more people to open their homes to Ukrainian immigrants, she continued, so connecting Swindon residents with Ukrainians is a crucial task.
"We've achieved a great deal in our first 12 months and helped the new community settle into life in Swindon," said Kris Talikowski, vice-chair of the committee.
We've been doing fundraising, so when Hop Kettle asked if they could make some beer with a Ukrainian theme to raise money, we were thrilled to work with them.
There was a "first-pour" at a bar in Old Town, Swindon, on Friday night, and the Hop Kettle brewery intends to brew more of the beer.