In Hawara, there are burned-out cars covered in an ashy layer and blackened homes. People are talking about the night their town burned, and the air is tasting acrid.
Residents told the BBC that a group of people went on an hour-long rampage while brandishing iron bars and rocks, torching homes, vehicles, and trees.
"The settlers attacked our home, breaking the windows and setting my nephew's vehicles on fire. Speaking outside his home, Abdel Nasser al-Junaidi claimed that "they attempted to break into my car showroom and set it on fire.".
He explained how he hurried his kids up to the roof in an effort to keep them safe.
The army did nothing to keep us safe. It helped the settlers and safeguarded them. Both soldiers and settlers were shooting. We were scared. A horrific and barbaric attack took place, according to Mr. al-Junaidi.
Walking the entire length of this town, which is situated alongside Route 60, the main road that runs north-south through the occupied West Bank, reveals the extent of the damage.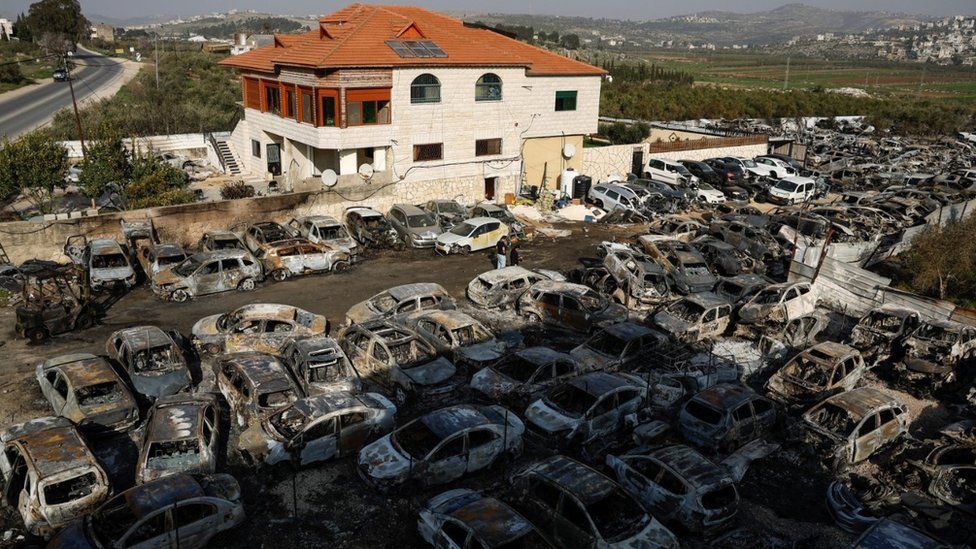 Numerous homes have been damaged, storefronts have been set on fire, and dozens of cars, including many in a used car lot, have also been destroyed.
According to the Palestinian Health Ministry, Sameh Aqtash, 37, died after being shot in the stomach on Sunday night during a settlers' attack in Zaatara. Dozens more suffered injuries.
When settlers placed burning tires outside one family's front door, blocking the exit, the family was trapped inside and had to be rescued by paramedics. .
An extended family attempted to flee their home as it was being attacked several hundred meters from the highway.
In the charred remains of his burned-out living room, Oday al-Domadi told the BBC, "My wife, my brother's wife, and our young children were in the house, they were screaming, the children were crying, and they were crying out for protection from the settlers' oppression, and we could not reach them.".
When he learned that settlers were planning a "revenge" march after the killing of two Israeli settlers earlier in the day in the town, he hurried home from his job in Nablus. Living 1.2 miles south of Nablus in the community of Har Bracha were Yagel Yaniv and Hillel.
"The house was being destroyed by about 30 masked settlers with pistols; when we entered the house, they found us, threw stones at us, and broke my brother's shoulder. .
"I yelled at the soldiers to protect the children and prevent the settlers from frightening them, but the soldiers responded by shooting at me and shouting at me to stay at home," recalled Mr. al-Domadi. Eventually, he was able to make sure his children were secure in another area of the building.
"What the kids went through, the terror and panic they felt, was the worst. They begged me to stay by them as they shivered in terror and took refuge in my lap after that. ".
A military official stated that "the wisdom of the deployment could be challenged" despite the Israeli army's defense of how it handled the violence.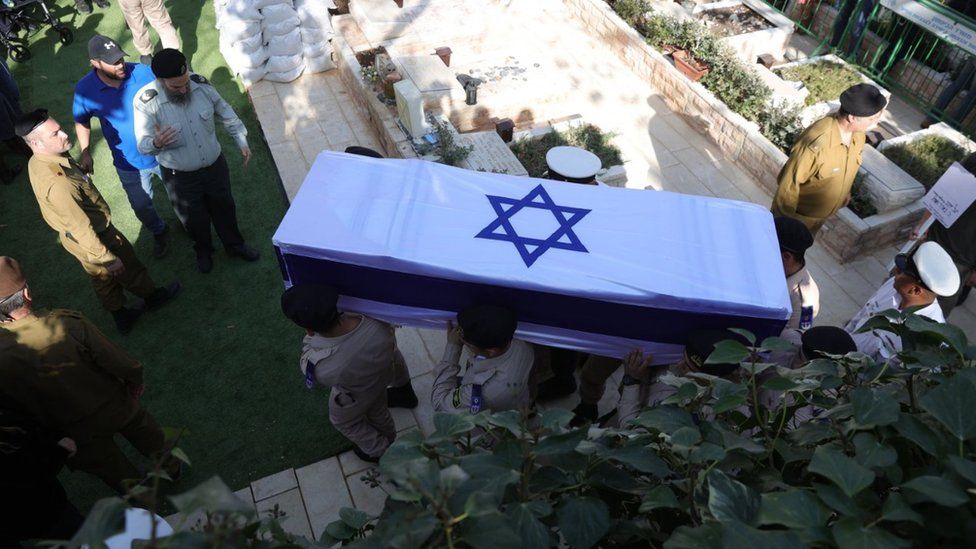 Human rights organizations have long attributed violence against Palestinian civilians to a climate of impunity surrounding settler violence in the occupied West Bank, particularly in some of the most irrational settlements in the region around Huwara and Nablus.
They claim that this has now been exacerbated by the strong pro-settlers, far-right element of Israel's new government.
Although the Israeli police frequently claim to be looking into such cases, activists claim that this is often just a cover-up.
There is growing concern about a descent into uncontrollable violence, which coincides with waves of Israeli military search and arrest raids in Palestinian cities and an increase in the number of armed Palestinian attacks against Israelis.
A tipping point appears to be approaching, especially in light of mounting evidence that the Palestinian Authority (PA), despite American-led efforts to assist it, is struggling to regain control of its limited security control over important cities.