The first blizzard warning for parts of southern California since 1989 is in effect.
By Saturday, mountains to the east of Los Angeles are expected to receive record snowfall of up to 8ft (2.4m).
Much of the northern US has already experienced significant blizzards and temperatures below freezing due to an enormous storm.
The cold front arrives after the US southeast basked in a heat wave with all-time high temperatures.
The entire US West Coast as well as British Columbia, Canada, are affected by the icy weather front.
From early Friday until early Saturday, the National Weather Service (NWS) has issued a winter storm warning for the coastal mountains in Ventura County and Los Angeles County.
The mountains surrounding Santa Barbara may also experience snowfall of up to 5 feet.
According to the NWS, there will be "near zero visibility" in addition to the heavy snowfall and strong winds.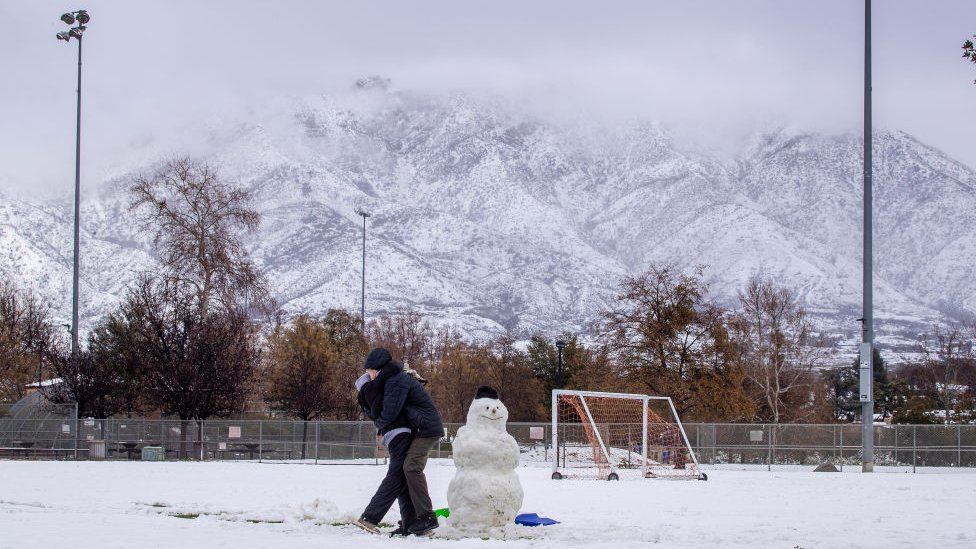 One perplexed California meteorologist admitted to viewers this week, "I have to be totally honest with you guys.". The truth is, I've never seen a blizzard warning. ".
In the state's central and western regions, "multiple rounds" of snow are expected to cover the southern Sierra Nevada mountains.
Due to the unusual weather on Thursday, schools in the state's far northwest were closed.
The Del Norte County Schools District's Jeff Napier told the Los Angeles Times, "This is the first snow day we have had in the 31 years I have been with the district.".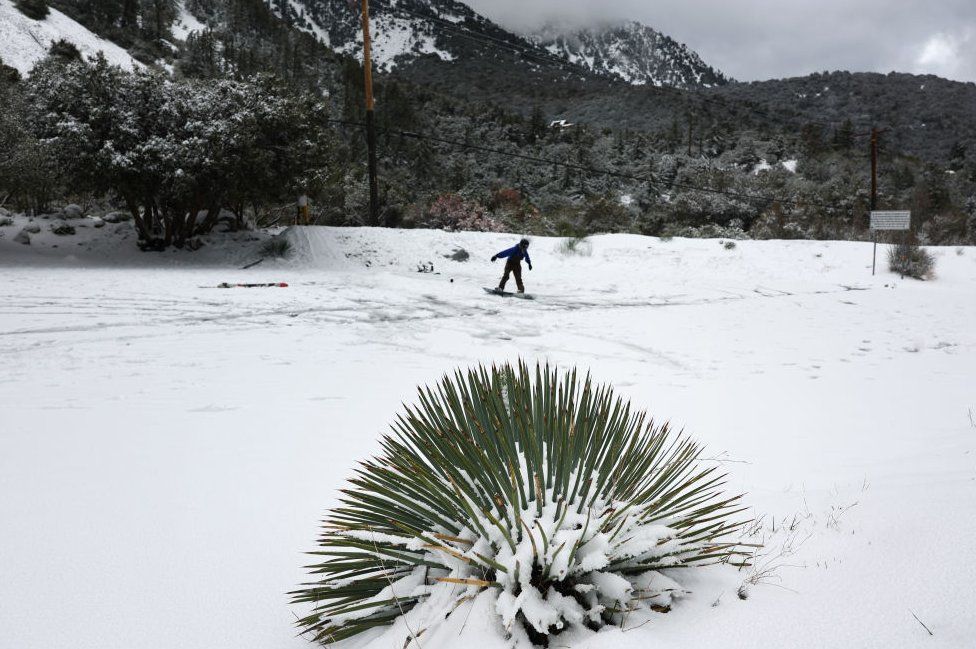 As the storm moves south over the weekend, lower elevation areas of southern California may also experience snow in addition to rain, according to forecasters.
The height of the snow may fall as low as 1,500 feet, or roughly the height of the famous sign in the Hollywood Hills. .
The cold snap has forced some state legislatures, businesses, and schools to close in other parts of the US.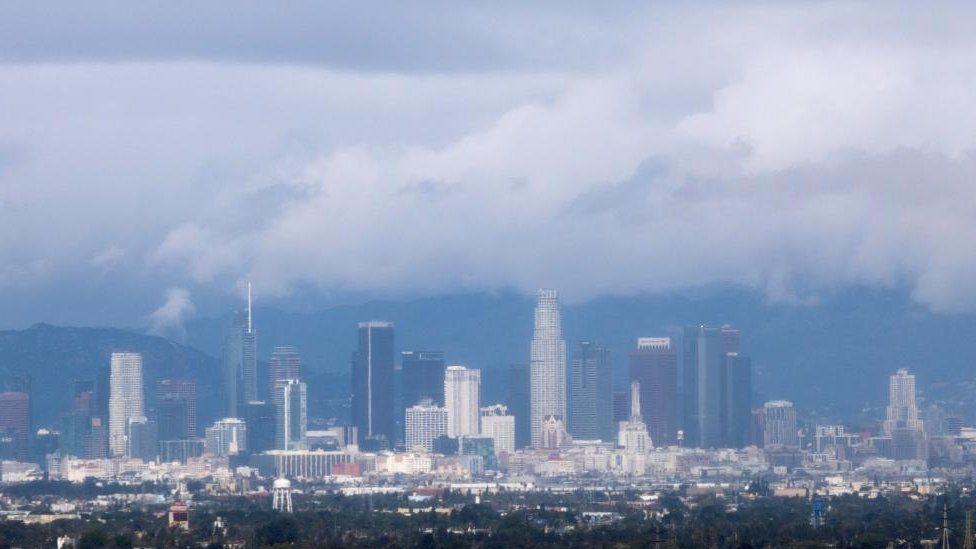 According to the NWS, Portland, Oregon, experienced its second snowiest day ever on Thursday morning with a total snowfall of nearly 11 inches (28 cm).
In Michigan, a volunteer firefighter perished as a result of the storm after he reportedly came into contact with a downed powerline.
Authorities in Oregon are also looking into a death that may have been caused by hypothermia and are thought to be connected to the storm.
A large redwood tree was uprooted by strong winds and fell into a home in the Bay Area of California, critically injuring a one-year-old child.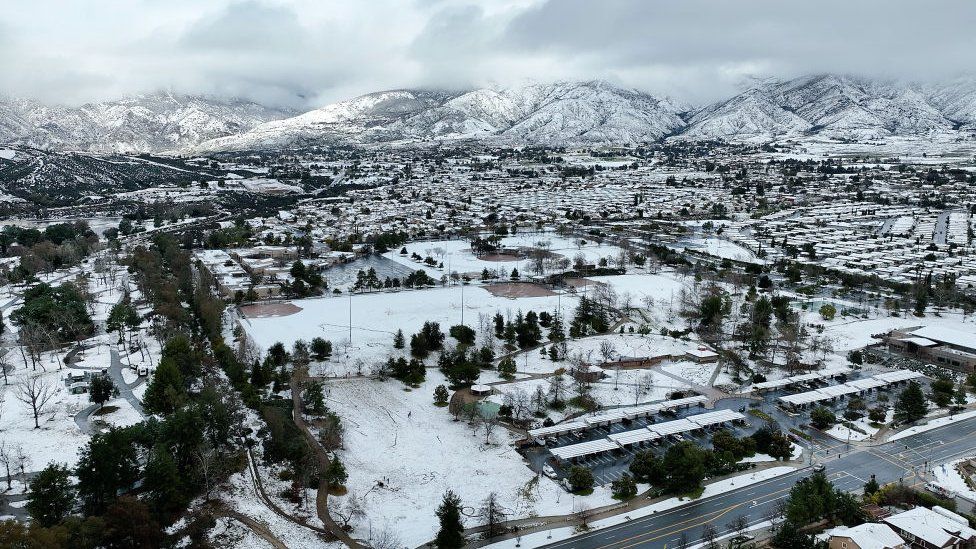 On Thursday night, 750,000 homes and businesses—including those in five states—were left without electricity, including 200,000 in Michigan.
According to data from FlightAware, there were more than 8,000 US flights that were canceled or delayed on Thursday.
On Thursday, the temperature in Washington, DC, reached 81°F (27°C), the highest for the month of February since 1874.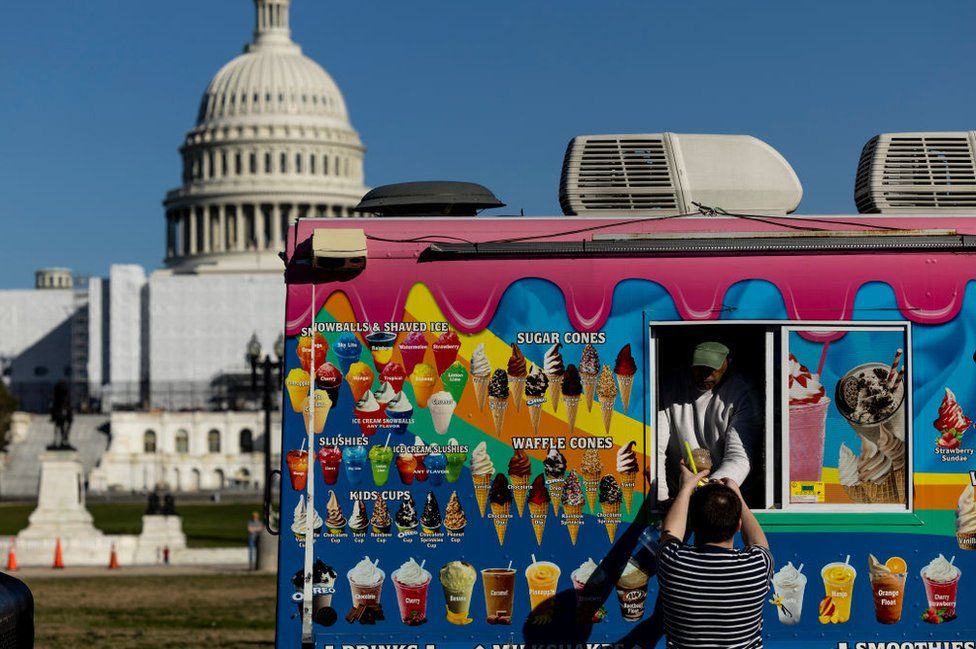 If you are willing to speak with a journalist from the BBC, kindly include a phone number. The following methods are also available for contact: