Thousands of spectators have flocked to Coney Island, New York, to watch the Nathan's Hot Dog Eating Contest.
The competition, which always takes place on July 4th, challenges participants to consume as many frankfurters and buns as they can in less than 10 minutes.
Due to its patriotic origin story, it has come to be associated with US Independence Day.
However, that rumor has been debunked recently.
Even so, the Nathan's Hot Dog Eating Contest continues to be one of the most well-known and adored eating contests in both the US and internationally.
The competition, which has been dubbed the "Olympics of competitive eating," draws spectators from all over the US; on Tuesday, 35,000 people are anticipated to attend live.
Every Fourth of July, it takes place in Coney Island in the Brooklyn neighborhood of New York City, the location of the original Nathan's Famous hot dog stand.
The contest's origins legend, which is still told today despite being refuted in the past, is partly responsible for this connection.
The lore has it that four European immigrants were debating who among them is more American on July 4, 1916, the year Nathan's Famous Hot Dogs was established. A hot dog eating competition was chosen as the method of resolution.
According to the International Federation of Competitive Eating's archives, Irish immigrant Jim Mullen won after consuming 13 hot dogs. The yearly competition was thus established.
However, the Nathan's Famous website claims that the first contest to be officially documented took place more than 50 years later, in 1972, even though the site also includes a description of the contest's origins that it refers to as a "legend.".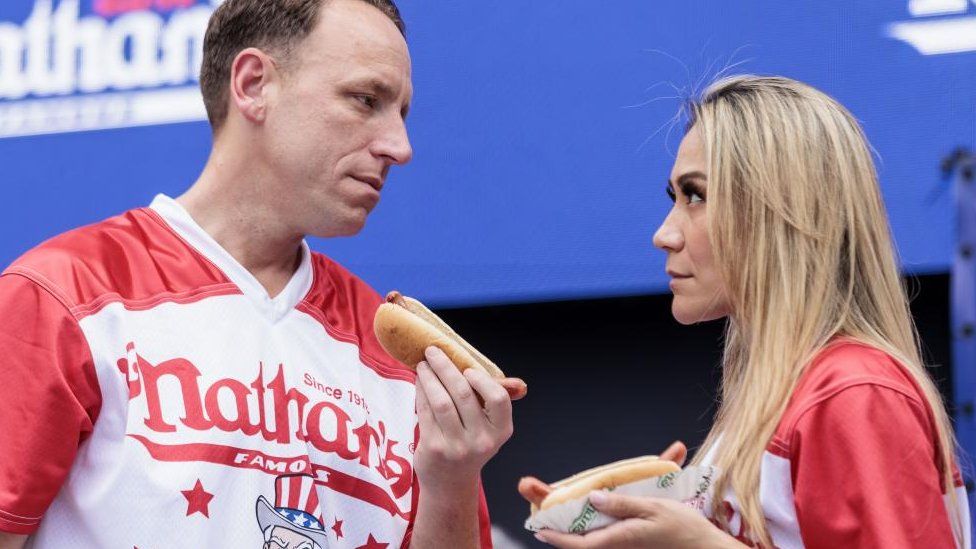 The contest's origin story was fake, a press agent by the name of Mortimer Matz later revealed to the New York Times in 2010.
We made it up, according to Coney Island pitchmen, Mr. Matz said.
He and another member of his public relations team, Max Rosey, made the decision to promote the competition as a classic American tale that began with the establishment of the company.
A Nathan's spokesperson claimed that the business had no proof of the competition prior to Mr. Matz and Mr. Rosey's involvement in the early 1970s when the New York Times enquired about it in 2010.
Even with a murky past, the competition has become much bigger than life.
The impressive (and arguably astonishing) feat of consuming roughly 16 pounds of hot dogs has been accomplished by top competitors. According to various estimates, that translates to about 20,000 calories consumed in just 10 minutes.
With corporate sponsors like Coca-Cola, Netflix, and Heinz, the competition is live-broadcast on ESPN. In 2011, a distinct category for female competitors was added.
The current champion and record holder is Joey "Jaws" Chestnut from Kentucky, who consumed 76 hot dogs. He has won 15 times, each time taking home the coveted, "bejeweled," mustard-yellow belt.
Miki Sudo, a Las Vegas native, is the current female champion and currently holds the 48-hot dog eating record.
On Tuesday, Ms. Sudo and Mr. Chestnut are both competing once more. Ms. Sudo successfully defended her title despite falling short of her record by outpacing the opposition by gobbling down 39 and a half hot dogs.