On social media, there has been an increase in false information about the conflict since the first anniversary of Russia's complete invasion of Ukraine, with some posts receiving millions of likes.
Several prominent US right-wing accounts made a number of unfounded claims that implied the entire Ukraine war might have been a hoax created by Western governments and media.
People who had previously been suspended from Twitter and were now permitted to use it again as a result of Elon Musk's takeover were among those making the most contagious claims.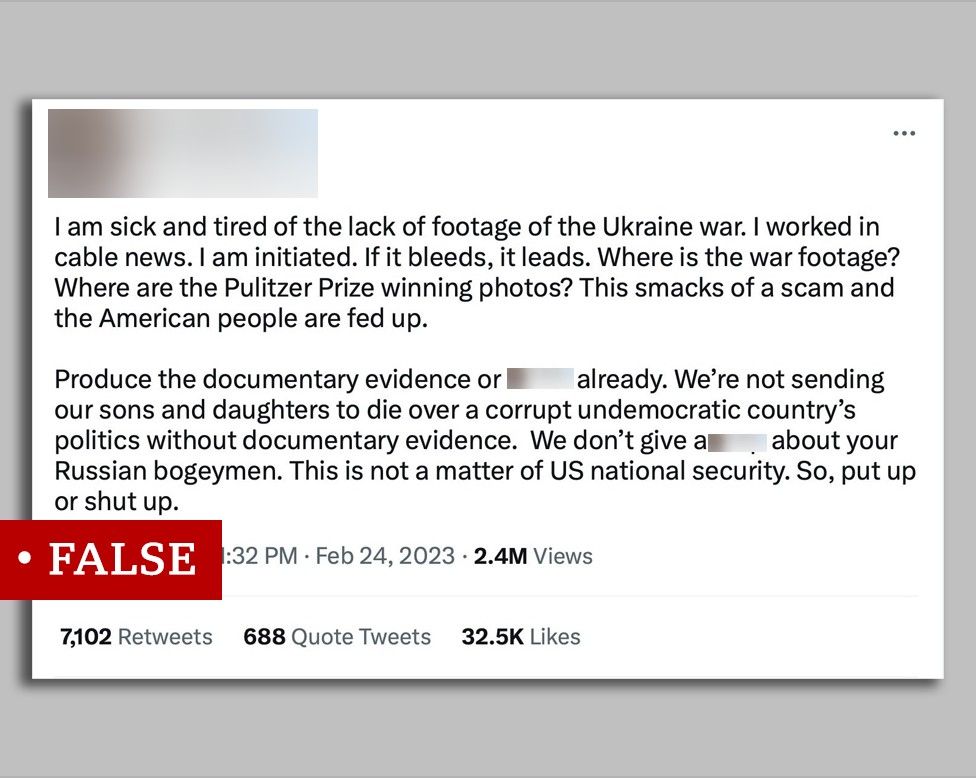 The whole war has allegedly been staged, according to a false claim that has been spreading on Twitter and other social media sites.
The alleged absence of footage from the front line was cited as proof by some well-known right-wing accounts in the US.
In a popular post, a commenter lamented "the lack of war footage," saying it "smacks of a scam.".
There was "no footage" and "no detailed updates," according to a different Twitter influencer with 1.4 million followers.
Later, Michael Flynn, a former US national security adviser, shared that article and added, "I double dare anyone to say he is mistaken. " .
The conflict in Ukraine, however, has received extensive coverage.
Along with eyewitness accounts, there is a wealth of video from the Ukrainian front line that has been produced by the BBC and other international media outlets. These organizations have also looked into exaggerated accounts of some of the conflict's key moments. Additionally, there is proof that the war is real from governments and organizations all over the world. .
Social media has been flooded with videos of the war since it first broke out, many of which journalists have confirmed are authentic.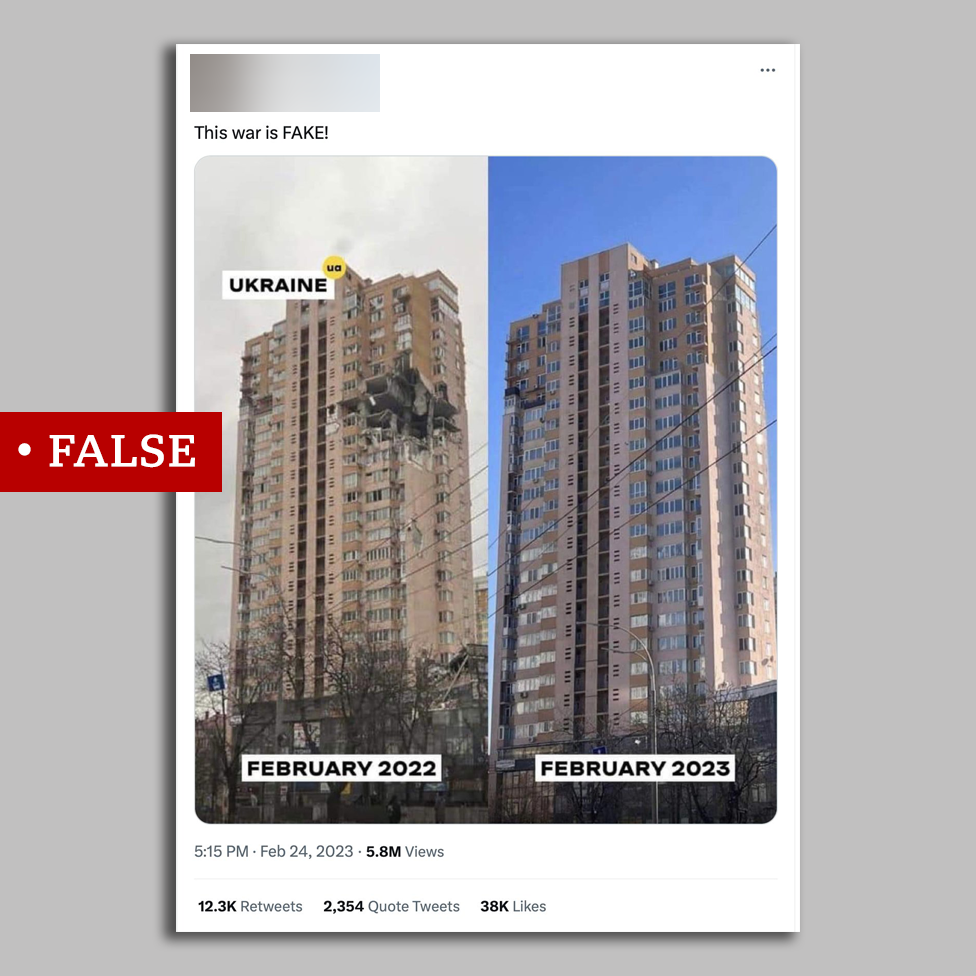 Video of a high-rise apartment building in Kyiv with a massive hole in it after being hit by a missile was widely circulated around the world two days after Russia's invasion. From the scene of the incident, reporters meticulously covered the damage's aftermath.
The block, which has since been repaired and partially rebuilt, has recently become popular once more on social media.
Because it would be impossible to restore a building while a conflict is still in progress, the image gave rise to claims that either the block had never been hit or that the entire war is a hoax.
One of those who shared the claim was a right-wing podcaster and anti-vaccine activist, whose account had previously been suspended but has recently been reinstated by Twitter.
With the exception of routine Russian missile attacks, Kyiv has not been on the front lines of the conflict since late March 2022, when Russian forces withdrew from the city and its environs to concentrate on eastern Ukraine.
Ukrainian media outlets have covered the process of the block's repair and reconstruction in great detail, along with photos of the block being built throughout the summer and fall. The process started in May of last year. .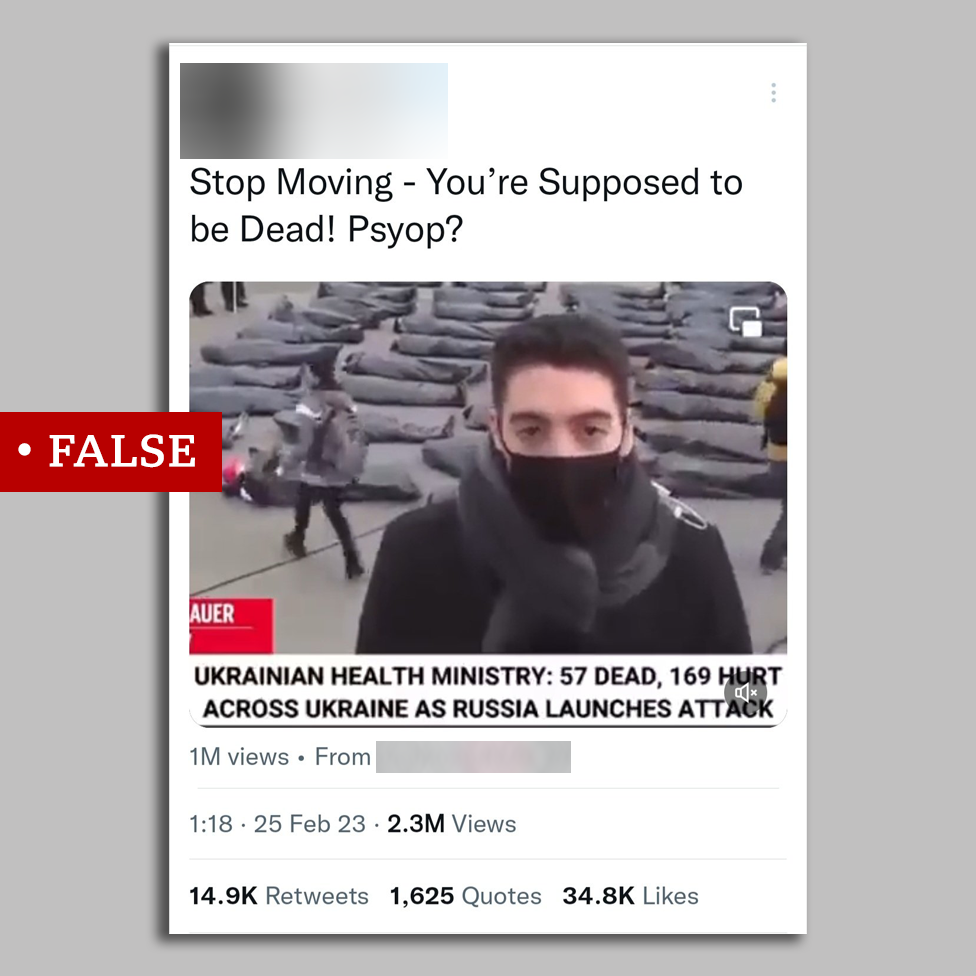 Millions of people have watched a video in the last few days that purports to show a news reporter in Ukraine standing in front of rows of corpses in body bags, with one of the bodies "moving.".
Claims that it was "proof" that actors were being used to portray dead bodies in order to support the Western narrative regarding the Ukraine war resulted from this.
Several people shared a tweet from a right-wing account that read, "Stop moving - you're supposed to be dead! Psyop?".
Several other right-wing influencers posted the video on Facebook and TikTok with similar claims.
The footage was taken from a story in the Austrian newspaper Osterreich about a climate protest that took place in Vienna in early February of last year, before the Russian invasion had even started. At that protest, activists aimed to draw attention to the threat that carbon emissions pose to human life.
Not only is this video false, but it has done so before. The fake Covid deaths had previously been spread as "evidence.". It's not what it says it is, then or now.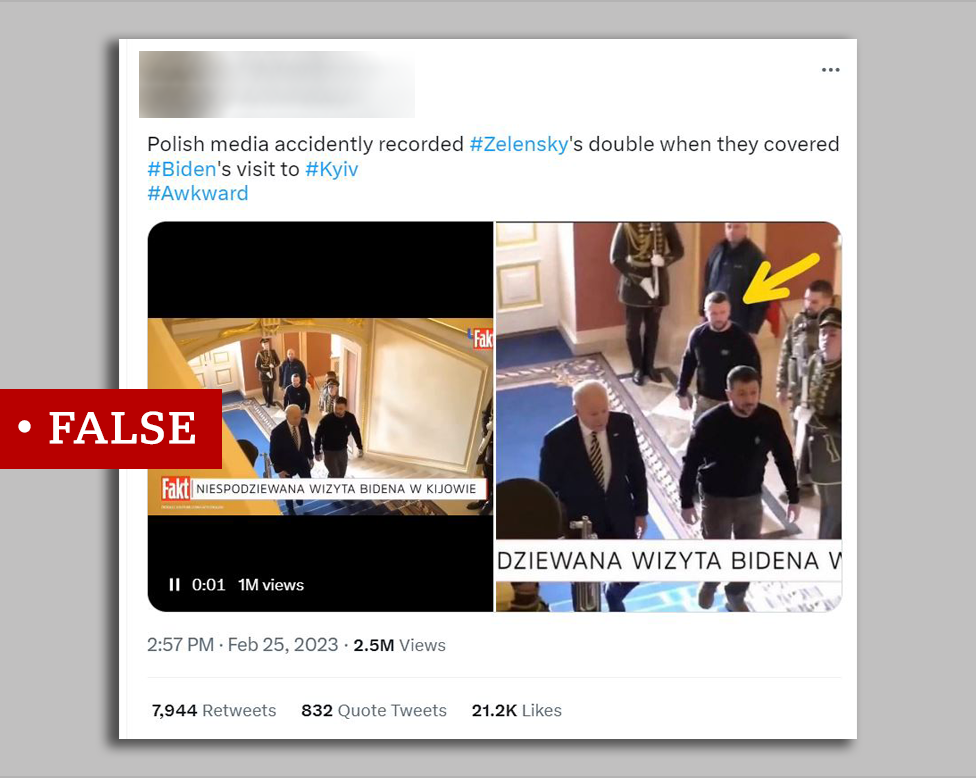 The body double of Ukrainian President Volodymyr Zelensky is allegedly revealed in viral images and a video that have been circulated online.
Millions have seen a claim that the Ukrainian president has a "secret body double" who accidentally showed up in footage aired by Polish television, appearing to be wearing the same attire as the president.
When US Vice President Joe Biden visited Kyiv last week, other posts show the same man in the background.
The man in question is, however, clearly Maksym Donets, Mr. Zelensky's personal bodyguard. Reuters reports that Mr. Donets has served as the president's security team's leader since May 2019.
You can easily find pictures of him online, following the president of Ukraine around in various outfits.
.