As Israel's military operation in the Jenin refugee camp in the occupied West Bank entered its second day, UN agencies expressed concern over its scope.
Since hundreds of Israeli troops with drone support entered the camp on Monday, eleven Palestinians have died.
According to the agencies, there is infrastructure damage and medical personnel are unable to reach all injured people.
In the meantime, militant Palestinian groups claimed that a stabbing and car-ramming attack in Israel was retaliation for the raid.
According to Israeli authorities, a Palestinian man from the West Bank attacked seven people on a busy Tel Aviv shopping street.
Whoever believes that such an attack will stop us from continuing our fight against terrorism is mistaken, according to Israel's Prime Minister Benjamin Netanyahu. ".
Israeli officials are alleged to have launched an "invasion" in Jenin by Palestinian leaders.
On Tuesday, the refugee camp's dark gray smoke still rose from various locations as drones flew overhead almost nonstop.
The UN's humanitarian office expressed its alarm at the scale of air and ground operations taking place in Jenin and continuing today in the West Bank, particularly the air strikes hitting a densely populated refugee camp, during a press conference in Geneva.
She stated that the Palestinian health ministry had confirmed that three children, two boys aged 17 and 16, were among those killed, and she warned that the majority of the camp was now without electricity or running water due to infrastructure damage.
According to the World Health Organization, Palestinian ambulance crews had been denied access to some areas of the camp, making it difficult for them to treat the seriously injured. According to the health ministry, more than 100 Palestinians have been hurt, with 20 of them in critical condition.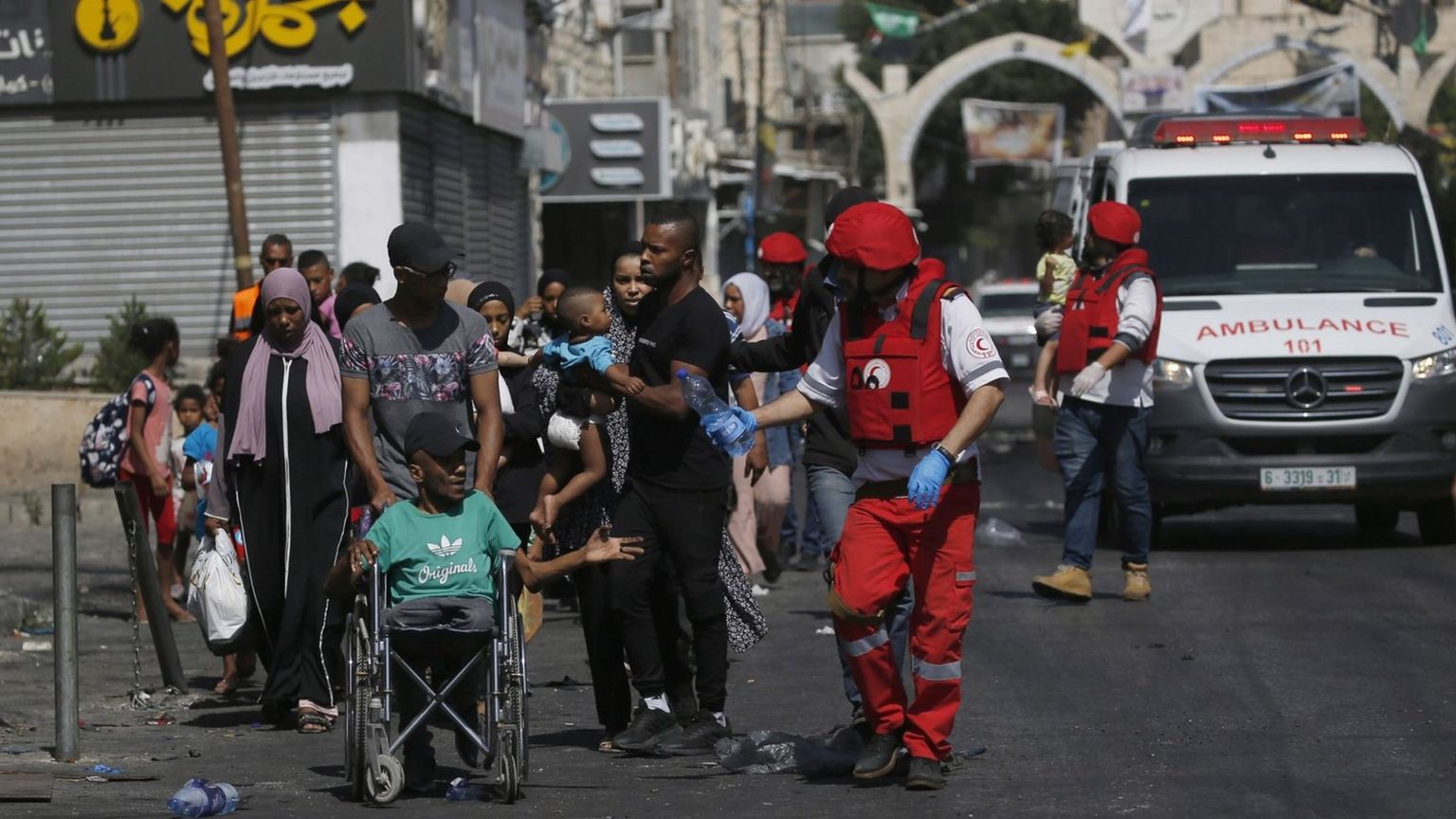 According to a representative of the Palestinian Red Crescent, about 3,000 Palestinians, many of them sick and elderly, were permitted to flee the drone attacks and gunfights between Israeli soldiers and armed Palestinians over the course of one night.
They had been detained in a room by Israeli soldiers, according to a man in a wheelchair who was escorted out of the camp with his family in the morning and told the BBC.
There was a military barricade surrounding us. Israeli troops arrived. We just left right now. The camp was now completely empty. It was just the two of us. ".
It's been a very challenging situation, he continued. We were being shot at by the drone. We just left right now. And we are all worn out. We have not eaten. No alcohol. ".
Palestinian demonstrators threw stones at an Israeli military vehicle outside a hospital in the nearby city center, causing it to retaliate by firing tear gas.
Médecins Sans Frontières, a medical aid organization, expressed displeasure that paramedics had to travel on foot because Israeli military bulldozers had destroyed many roads and removed their tarmac.
According to the Israeli military, access was not restricted for medical personnel unless it endangered their lives.
Additionally, it stated that it had been "acting on precise intelligence to neutralize the explosives" and that militants in the camp had hid explosive devices on the roads. engineering tools are used.
Rear Admiral Daniel Hagari, a military spokesman, stated on Tuesday morning that every Palestinian fatality was a result of the fighting.
He added that after encountering "low resistance" overnight, the forces had 10 more targets left after continuing to seize weapons and explosives from the camp.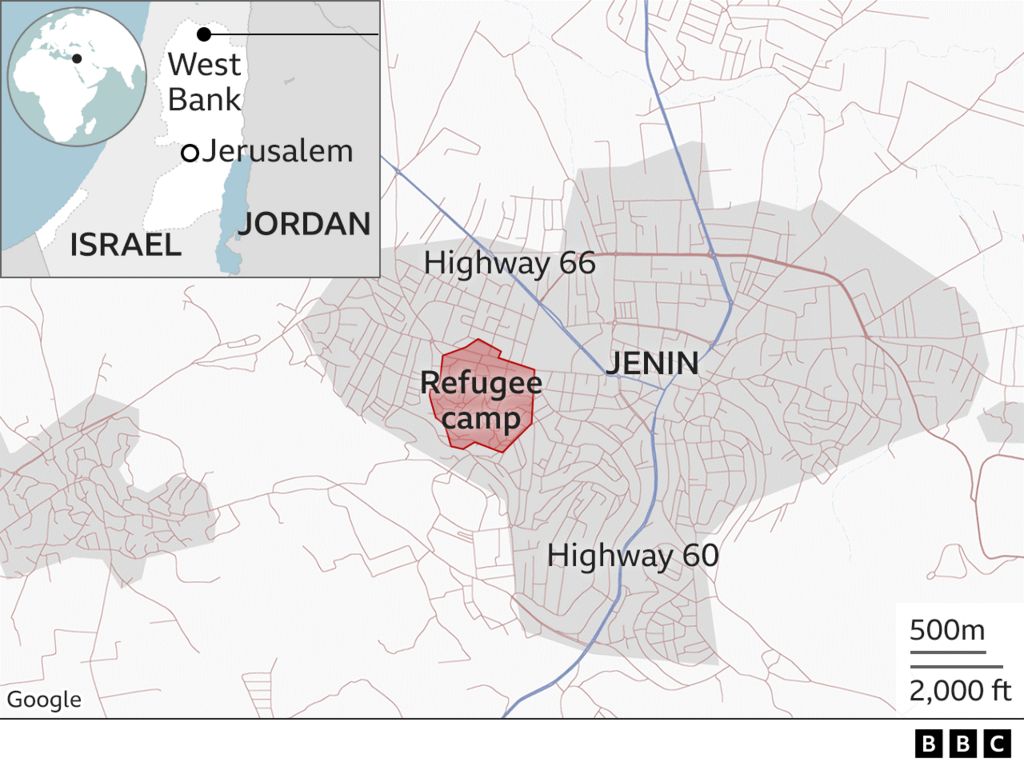 Tuesday afternoon, Mr. Netanyahu said Israeli forces were "completing the mission and I can say that our extensive operation in Jenin is not a one-time action" during a visit to the Salem crossing near Jenin.
"We'll keep working to eradicate terrorism as long as it takes. We won't allow Jenin to once again serve as a haven for terrorists. ".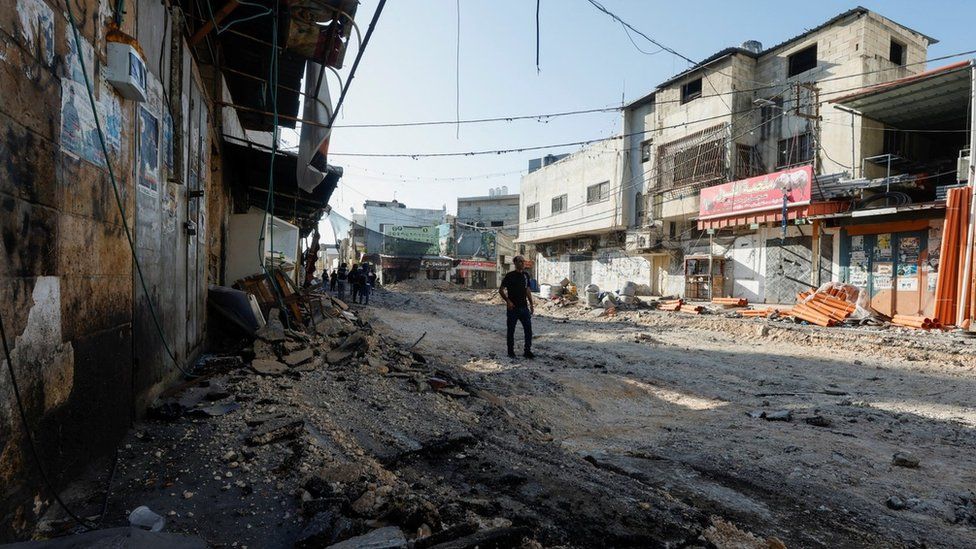 A new generation of Palestinian militants who are deeply disenchanted with the limitations imposed by the Israeli occupation and the aging leadership of the Palestinian Authority based in the West Bank have made Jenin their stronghold.
Israeli military raids on the city have been frequent in recent months due to Palestinian attacks on Israelis that have claimed lives. There are other Palestinian attackers hiding.
Palestinian Prime Minister Mohammed Shtayyeh disagreed with assertions made by other nations that Israel had a right to self-defense.
He tweeted, "Israel is recognized internationally as the occupying power over our land and people. "[It] should be condemned for its use of force to obliterate the infrastructure, buildings, and residences of the camp as well as to kill, detain, and evict innocent people. ".
"The only people who have the right to self-defense are the Palestinians. Such a right does not exist for an occupying power, he continued.