Following the fatal shooting of a 17-year-old on Tuesday by police in the vicinity of Paris during a traffic check, at least 150 people have been detained in France on the second night of widespread unrest.
In the Paris region and other cities, town halls, schools, and police stations have either been burned down or attacked.
President Emmanuel Macron called a crisis meeting of his cabinet and referred to the riots as "unjustifiable.".
As he sped away from police, Nahel M. was fatally shot at point-blank range.
Gérald Darmanin, the interior minister, decried the growing unrest in a social media post, calling it "a night of unbearable violence" in France.
There were reported fights in all of Paris's suburbs, but the teenager was shot dead in Nanterre, the scene of some of the most brutal clashes.
Le Monde reported that the local government was compelled to withdraw partially.
Videos posted to social media on Wednesday in the Paris region showed shops being ransacked and cars being set ablaze.
Rioters also used fireworks to attack a prison overnight in Fresnes, south of the capital, according to AFP.
According to the news agency, videos showed around 20 young men attacking the prison's entrance with fireworks and projectiles. An alarm was audible during the attack, according to videos posted to social media.
Omar Sy, a well-known French actor, posted a picture of Nahel online after the shooting on Tuesday and expressed his "thoughts and prayers go out to the family and loved ones" of the teenager.
When the sun went down, young people began to congregate in the Pablo-Picasso neighborhood, which is where the majority of the violence occurred.
One shouted, "They're backing off! Let's go guys, let's go, death to cops," as various vehicles and trash cans caught fire.
While the protesters mainly targeted that neighborhood, other parts of Paris were also targeted by them, with many of them setting off fireworks into police stations.
Online video captured individuals setting chairs and documents on fire inside the town hall of the Mons-en-Barul neighborhood in Lille, a city in northern France.
The teen was also remembered by about 300 people in the western town of Rennes, some of whom lit fires and had to be dispersed by police.
Nahel's shooting was "unforgivable," according to French President Emmanuel Macron on Tuesday.
Police unions, however, were incensed by his remarks and accused him of judging the involved officers too quickly.
While the rival Unité SGP Police also spoke of political interventions that encouraged "anti-cop hatred," the Alliance Police union called for them to be presumed innocent until proven guilty.
Mr. Darmanin announced that France Police would be the target of legal action after it posted what he called an "unacceptable and abject" tweet that sought to defend the teen's murder.
The now-deleted tweet praised the police for shooting a "young criminal" and attributed the teen's death to his parents, saying they were "unable to educate their son.".
In a video posted on social media, Nahel's mother Mounia expressed her grief over the loss of her son and urged followers to join a march in his honor.
He was a young child. She said, "He needed his mother. "He gave me a kiss good morning and said, 'I love you mom.   .
"An hour later, I learned that my son had been shot. He was my everything; what shall I do? I depended entirely on him. ".
The officer who is accused of killing him, who claimed he opened fire because he thought his life was in danger, is being held on voluntary manslaughter charges.
The second person to be killed by a police shooting during a traffic stop in France this year is Nahel, who a neighbor claims was from a French-Algerian family. 13 people died in this way last year, which is a record.
Rights organizations have criticized a 2017 law change that widened the parameters of when officers may use force.
Le Monde newspaper reported that since the change, the annual number of police shootings at moving vehicles has steadily increased, citing official statistics.
In particular for people of color, campaigner Rokhaya Diallo told BFMTV that more shots fired meant a higher risk of being hit.
According to Reuters, the majority of people shot dead by police during traffic stops since 2017 have been either black or Arab.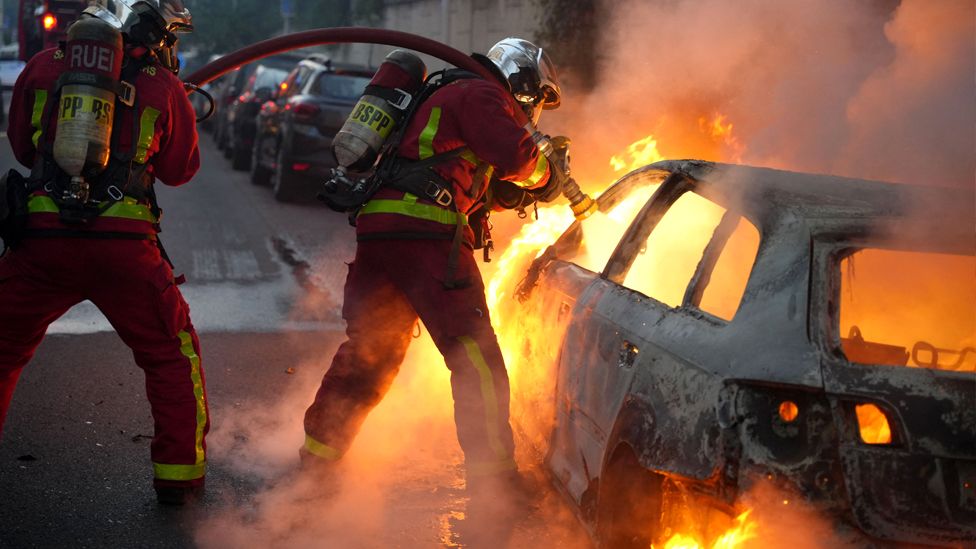 Police initially allegedly claimed that the teen intentionally drove his car toward them with the intent to harm them, according to French media.
However, video that has gone viral and been independently verified by the AFP news agency depicts an officer pointing his weapon at the driver through his window and appearing to fire at point-blank range as the driver tries to flee.
The agency also claims that someone can be heard saying: "You're going to be shot in the head" in the video, although it is not immediately clear who is saying it.
When the shooting occurred, there were two more people in the car. While one fled, police detained and took custody of another who was also a minor.
"Calm for justice to be done," President Macron told reporters in Marseille. "Nothing justifies the death of a young person.".
"I would like to convey the sentiments of the entire nation regarding what has occurred and the passing of young Nahel, as well as to convey to his family our support and that of the country. ".
"A teen was killed, and we have that. It's inexplicable and unpardonable, he continued, adding that the case had been immediately brought before the courts, where he hoped justice would "do its job promptly.".
Following the teen's death, authorities launched two separate investigations: one into a potential official killing, and another into the driver's failure to stop and alleged attempt to kill a police officer.