The railway to Przemysl is a lifeline for people fleeing Russia's invasion of their nation.
Trains have been arriving at Platform 5 every day for almost a year, carrying families from Ukraine to Poland and from war to safety and peace.
The number of refugees arriving has decreased significantly from the first, panic-filled days, but they are still packing the carriages.
This week, many claimed they were motivated by apprehension that Vladimir Putin would order a fresh, deadly offensive to mark the first anniversary of his war.
When the war started, Olga and her family were subject to Russian occupation for one and a half months.
Because she couldn't endure the constant shelling and fear once more, she made the decision to leave northern Ukraine right away.
In March, they were confined to their town and forced to cook what little food they could find over open fires in the streets because they were encircled by fighting.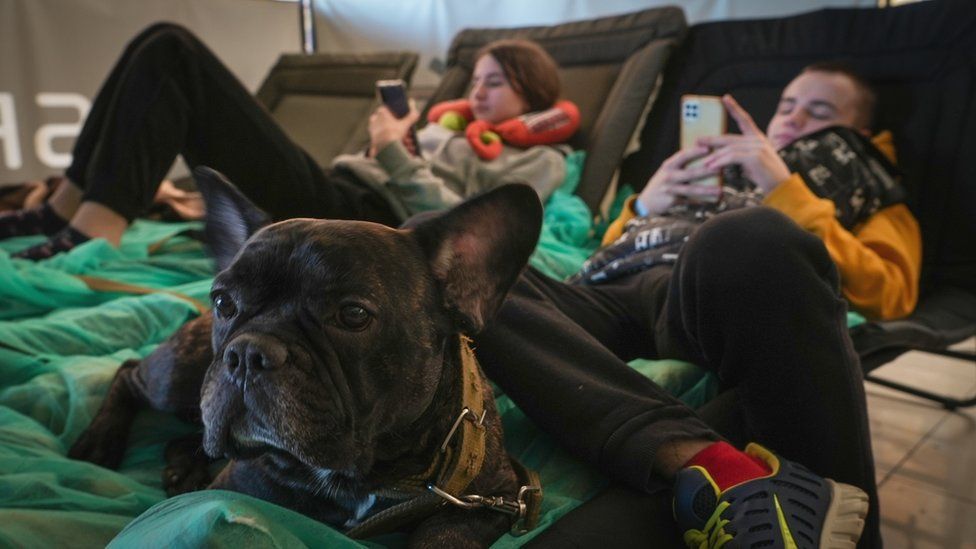 "When it's secure, we'll return. When a missile won't strike while we're sleeping, as is currently the case throughout Ukraine, Olga tells me in a corner of a deserted Tesco store.
Her two teenage children are curled up next to Arnold the dog as they both lie on camp beds nearby, engrossed in their phones.
Several thousand refugees were initially housed in the old mall, fed by volunteers who rushed to the border region to aid, and given support. Now, a maximum of 300 people may stay for two nights before departing.
Olga is therefore taking her kids to Germany, where she hopes to find employment and speaks a little of the language.
People used to plan for the future and think about it, but now they feel lost. The future is completely opaque to us. "That's how she sums up the atmosphere back home in Slavutych, where she talks about attending the funerals of far too many local young men who died in combat.
She had to leave her own eldest son behind because she wanted to get his younger brother out of Ukraine before he turned 18 and was also allowed to fight.
Red Cross volunteer Anna Misniak, who assists in running the Przemysl aid center, is concerned that after their initial profound shock, people living outside of the conflict zone have lost interest in what is happening.
"I believe that people have adjusted to the fact that there is a war and returned to their normal lives. But these people still require assistance. They have heartbreaking stories," Anna says, recalling a woman she met the week before who had crossed the border in flip-flops.
In the first three months of the war, almost four million refugees entered Poland. About a million refugees are currently registered in this nation; some have returned to their home countries, while others have moved on to other nations.
Aid workers, local leaders, and even the Ukrainians themselves concur that despite a 10% increase in population in Przemysl alone, the friendly Polish welcome has not diminished.
According to the mayor of Przemysl, Wojciech Bakun, "the response of the citizens in Przemysl was incredible." He also notes that a year later, up to 70% of the recent Ukrainian immigrants have found employment and are renting apartments.
"They try to lead regular lives. For us as well, that is crucial. They integrate well, which is why I believe Poland is not in a catastrophe right now. ".
These border regions, where long-standing hostility between Poles and Ukrainians exists, are notable for their strong sense of unity and support.
"We are currently creating our own history. Perhaps someone will discover 2022 in 2150 and how friendly the times were, says Mr. Bakun.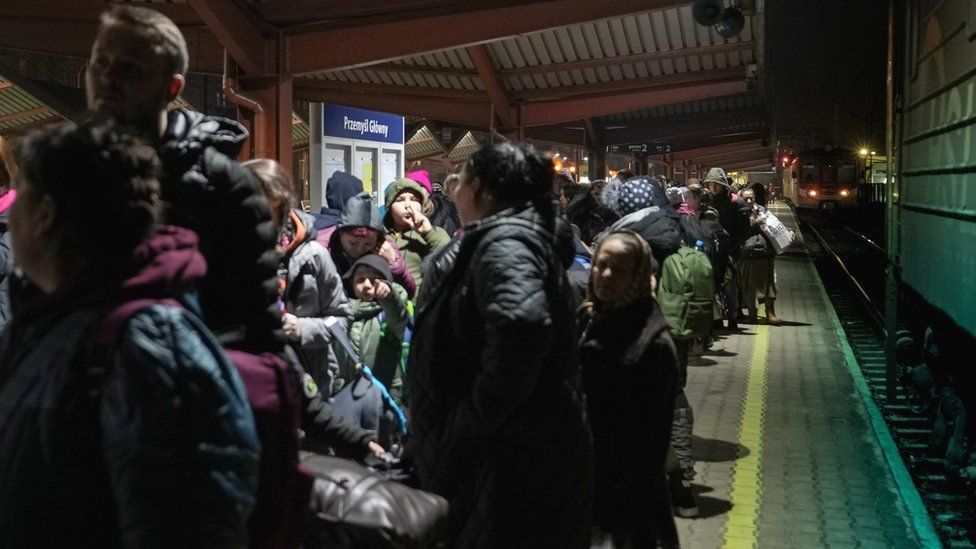 Sofiya, age 11, has found it easier to adjust to life as a refugee because she attends her local Polish school. She enrolls enthusiastically in her classes a year after moving from Kharkiv, which is close to the Russian border.
The local government continues to provide all state benefits, including free healthcare and education, even though it is gradually eliminating some cash assistance.
Sofiya has acquired Polish, which she describes as "a mixture of Russian, Ukrainian, and some funny words," and she exhibits no outward signs of the fear that she acknowledges made her "tremble all over" when her city came under heavy Russian fire.
With her dog, cat, and pet squirrel, she and her mother huddled in the basement at that point.
Sofiya pulls at her watch strap as she says, "They said it was war, but I didn't understand at all.". "On the streets, all you could hear were 'booms. ".
She claims she is concentrating on her schoolwork these days.
"I try not to think too much about Ukraine and how much I wish I could go back there because if I do, I'll start crying. Instead of considering the future, I focus on the here and now. That somewhat reduces my anxiety. " .
The number of Ukrainian students attending Sofiya's school today is only 23, or roughly one-third of the peak enrollment, but staff members continue to keep a close eye on them.
A charity called Pro-Fil supports them and sends child psychologists to even the most remote areas, but it claims that more are needed, particularly Ukrainian speakers.
Tetiana Boiko, a former refugee who now works for Pro-Fil, says she "helps people to live in the here and now and to accept the situation.". That has reportedly also aided her in coping, according to her.
"Yes, a war is going on, and yes, we are here. However, I advise people to make an effort to accept that and find joy in the little things in life, such as the fact that they can see the sun, the snow, and their kids. that they can live a full life right now and are not in a basement fearing death. " .
Poland is merely a transit country for Olga and her kids. They stay in the shopping center shelter for one night before joining the crowd at Przemysl station with free tickets for an evacuation train to Hanover.
On his leash, Arnold the dog whimpers as volunteers shout instructions that few people seem to hear or heed.
One of them is an English woman studying Russian during her year abroad, and another is a Russian man who opposes the war his nation is waging but is unable to demonstrate at home without risking arrest.
Murka, a refugee's pet cat who traveled from Ukraine but escaped her crate during transit, is listed as missing on a wall with a request for assistance.
As Olga gathers the few items the family has brought, she says, "I'm a little scared because I don't know where we'll end up and how it'll be.". "But what's most important is that we're secure. ".
The volunteers then assist the refugees in dragging their luggage across the chilly, dark platform and onto the crowded train as they prepare to embark on another journey into the unknown.
"It still seems impossible that this is actually happening. It's a real stress even though everyone is good and kind. In actuality, we are not at home.
. "