Chinese officials have refuted claims made by US Secretary of State Anthony Blinken that they are considering giving Russia arms and ammunition.
China has grown to be a significant trading partner for Russia, and it's possible that it's already giving military intelligence to Russian troops in Ukraine.
China is now the fourth-largest exporter of weapons in the world after increasing its military manufacturing capacity.
The Stockholm International Peace Research Institute's Siemon Wezeman claims that China's arsenal is currently becoming more sophisticated.
"Russia would be very interested in one of its drones, for instance. ".
The US claims that Chinese companies have already given Russia "non-lethal support" and that it has new information indicating Beijing may do so as well.
Such an escalation would have "serious consequences," according to Washington, for China.
Maria Shagina, a specialist on economic sanctions at the International Institute of Strategic Studies, claims that while China has not openly provided Russia with weapons, it may be quietly selling it high-tech goods that have military applications.
There is. evidence that China is the largest exporter of semiconductors to Russia, frequently via front companies in the UAE and Hong Kong, she claims.
In order to profit from the overlap between military and civilian uses, some Chinese companies also provide drones for civilian use. ".
According to the US-based Center for Advanced Defense Studies, Chinese companies may be sending electronic components for anti-aircraft missile radars to Russia.
Sanctions have also been placed by the US on a Chinese firm that Washington claims supplied satellite imagery to Russian mercenary forces fighting in Ukraine.
Western countries imposed strict sanctions on Russia after it invaded Ukraine a year ago, banning oil imports and hi-tech product exports.
In 2022, many Western companies completely sever their ties with Russia, and its trade with the US, UK, and EU countries fell.
But overall trade between China and Russia reached a record high of $190 billion in 2022, up 30% from the previous year.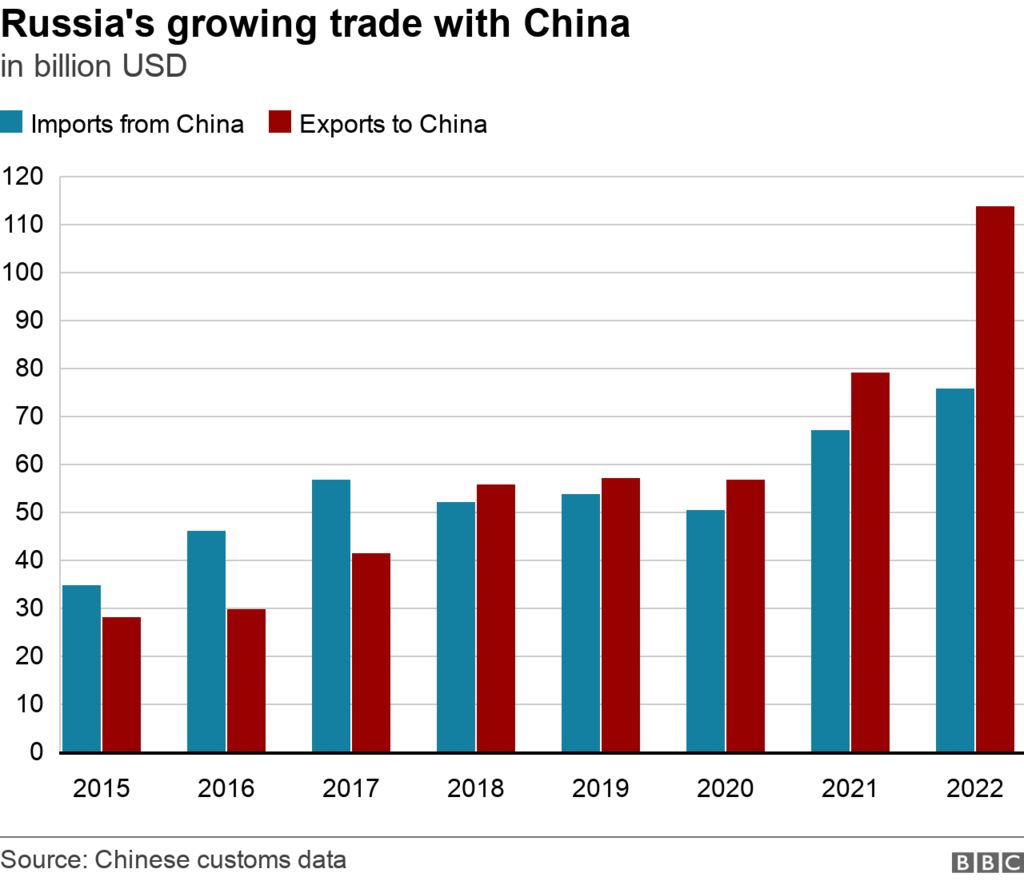 Russia's imports from China rose 13% to $76 billion, while its exports to China rose by 43% to $114 billion.
China overtook Western nations as Russia's trade with them began to decline in 2022, making it the country's top trading partner by a wide margin.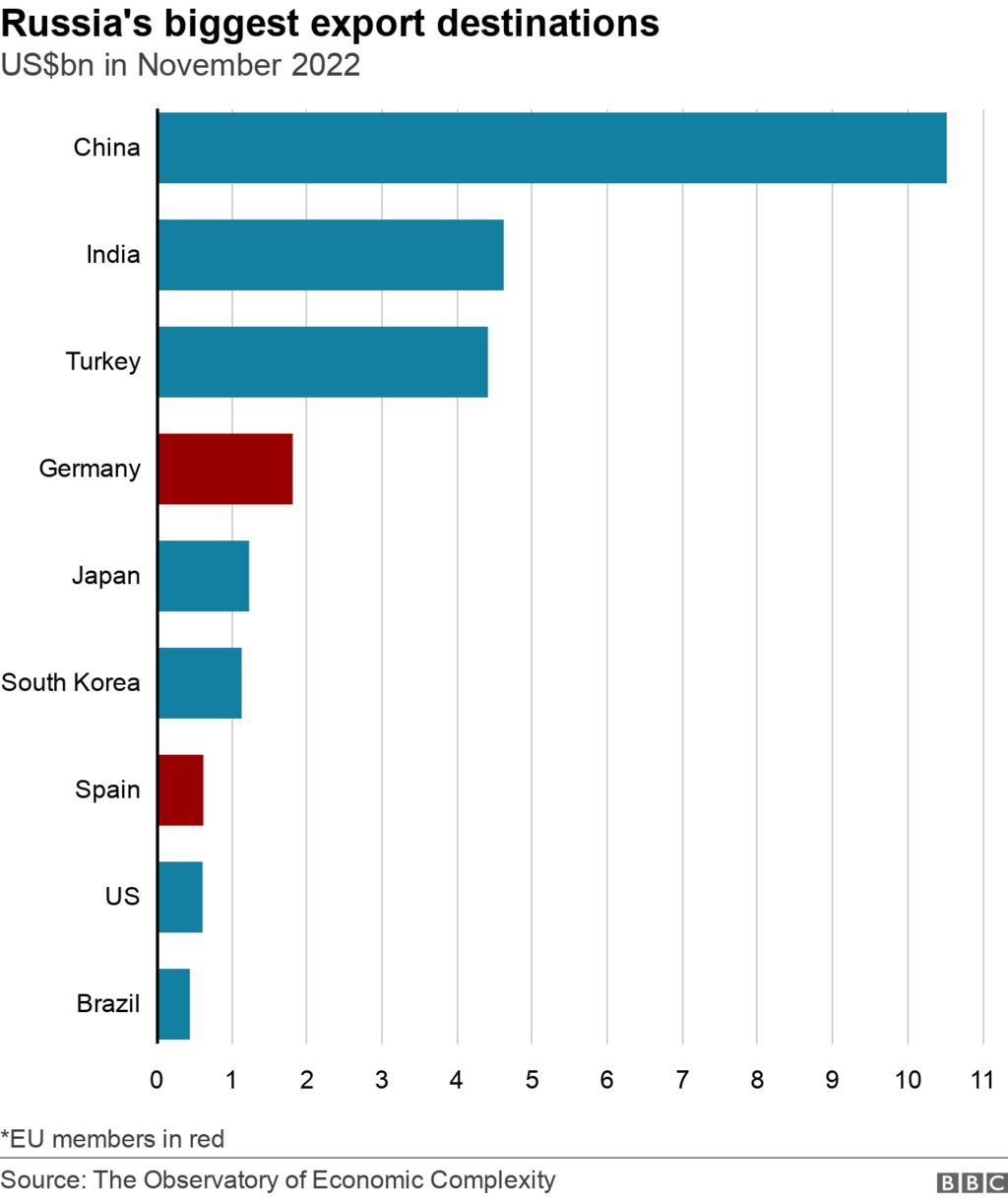 In 2022, Russia exported twice as much liquid petroleum gas (LPG) to China as it did in 2021.
Through the Power of Siberia pipeline, it sent 50 percent more natural gas to China in 2022.
Additionally, compared to 2021, China imported 10% more Russian crude oil.
This partially makes up for the amount of gas and oil sales Russia lost to the EU last year.
In 2021, it provided 40% of the EU's gas imports, but in 2022, it only provided 15%.
Additionally, although down from 26% in 2021, it supplied 14% of EU oil imports in 2022.
Oil and gas sales account for nearly half of all government revenue in Russia each year.
In an effort to limit the amount of money that the Kremlin can spend on the conflict, the G7 group of economically developed nations, the European Union, and Australia set a global cap on the price of Russian oil transported by sea.
China, on the other hand, refuses to adhere to the cap and purchases Russian crude at market rates.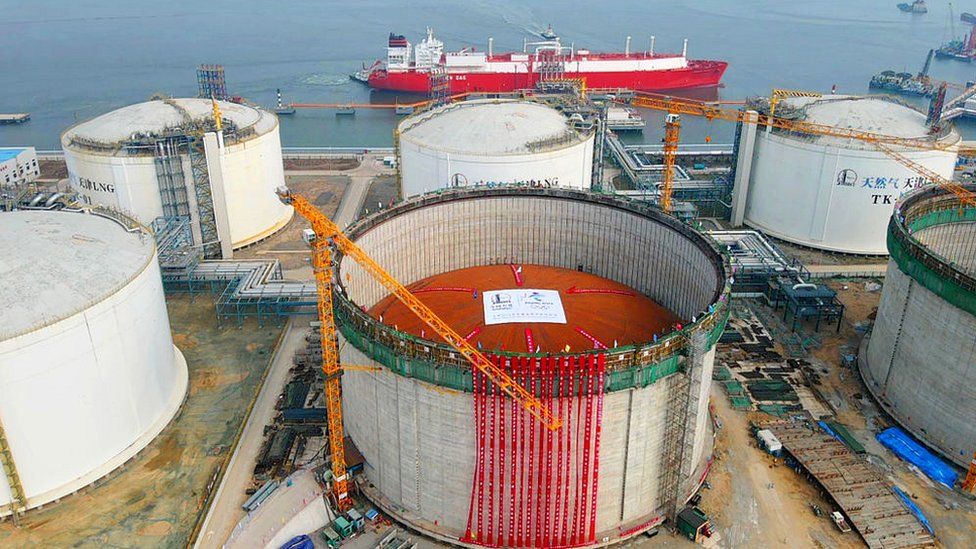 Russian energy exports to China are being increased.
A new gas pipeline (the Power of Siberia 2) will be constructed by the two nations. The current one went into operation in 2019 with a $400 billion, 30-year contract.
When the new gas pipeline from Siberia will start operating, though, is unknown.   .
Check out more of Reality Check.
Send us your inquiries.