According to Russia, Ukraine has recently carried out a number of drone attacks on its territory, including multiple assaults on Moscow, the capital of the aggressor nation.
Following a drone attack on July 4, flights from Moscow's Vnukovo International Airport had to be diverted.
In a purported attack on President Vladimir Putin's residence in the Kremlin on May 3, Russia also charged Ukraine with attempting to kill him.
Ukraine denies being responsible for the attacks.
There have reportedly been more than 120 suspected drone attacks this year in Russia and on territory that is under Russian control in Ukraine, according to Russian media reports that BBC Verify has been following.
The majority of these have occurred in Crimea, which Russia has annexed, as well as the Russian regions of Bryansk and Belgorod, which are close to the north-eastern border with Ukraine.
In recent weeks, there have also been a number of drone attacks in the Moscow region, including a flurry of strikes on May 30 that caused damage to a number of structures. Ukraine has refuted responsibility for these attacks.
Russia reported on July 4 that an attack on targets in the larger region surrounding the capital used five drones.
Targets include airfields, energy infrastructure, and oil facilities.
At least nine reported drone attacks on oil depots have been found. One of these was in Sevastopol, a significant city in Crimea, which was struck on April 29 and had several oil tanks destroyed.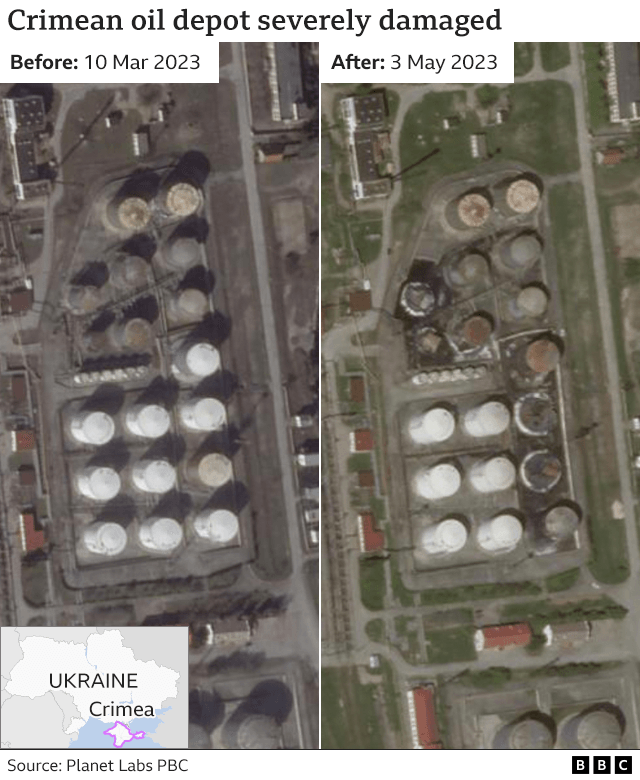 On May 31, an oil refinery in southern Russia's Krasnodar Territory caught fire. This location is about 200 kilometers (124 miles) from the Crimean border. The regional governor claimed that a drone was most likely to blame.
According to Layla Guest, an analyst with the Sibylline security consultancy, "Ukrainian forces will highly likely prioritize targeting oil refineries, as well as rail infrastructure and wider Russian logistics, to cause maximum disruption as part of their strategy ahead of the impending counter-offensive. " .
A drone crashed in February, the local governor claiming it was an attempt to target civilian infrastructure, about 100 km (62 miles) from Moscow.
An image of the wreckage seemed to match a UJ-22 drone, a type of drone made in Ukraine.
In autonomous flight, it has a range of 800 km (497 miles). Its range when flown under direct control is much smaller.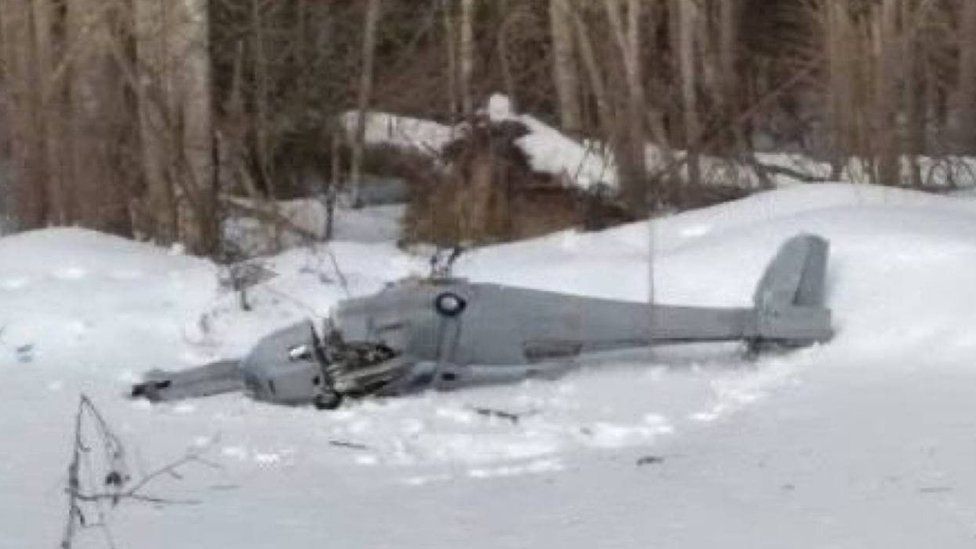 On May 10, local media reported that at least 10 Russian soldiers were hurt by a second suspected drone attack at a military training facility in the Voronezh Region.
And according to the Russian military, a drone attack in December of last year killed three people when it struck an airbase 600 kilometers (372 miles) northeast of the Ukrainian border.
Both sides in the conflict have used drones, with Russia hitting targets in Ukraine with drones made in Iran.
According to Ukraine, production of drones is expanding quickly as demand on the front lines rises.
Drones launched from Ukraine, according to experts, have the range to travel deep into Russian territory and as far as Moscow, which is located about 450 kilometers (280 miles) from the border.
Although Ukraine has not confirmed that its armed forces were responsible for the attacks [on Moscow], David Cenciotti, editor of the Aviationist blog, believes that the pre-emptive raids we saw last year demonstrate that Ukraine has the ability to launch such long-range attacks from within Ukrainian territory.
Steve Wright, a drone expert, added that it was also conceivable for a drone launched from Ukraine to strike the Kremlin.
However, he went on to say: "My guess is that the drone was launched from much closer in than that, as this would prevent it from having to navigate many of Moscow's defenses. ".
Mykhailo Fedorov, the minister of Ukraine's digital transformation, recently boasted that the R18 drone can "fly from Kyiv to Moscow and back.".
He denied, however, that he had called for drone attacks on Moscow.
The Bayraktar TB2 drone emerged as the real star of the air war for Ukraine, inflicting significant losses on Russian forces, some of which were captured on tape and made widely available online, according to Mr. Cenciotti. ".
In recent months, Turkey has sold armed Bayraktar TB2 drones to Ukraine while also donating some of the drones' production to Ukrainian crowd-funding initiatives.
Tural Ahmedzade, Joshua Cheetham, Thomas Spencer, Shayan Sardarizadeh, Paul Brown, and Adam Robinson all contributed additional reporting.
Read more about BBC Verify: Defining the "How" of BBC Verify's Launch.