The Met Office has reported that smoke from Canadian wildfires has been visible in satellite images of the UK.
Smoke particles that had crossed the Atlantic were visible in images taken during Thursday's sunrise.
The forecaster continued, "The smoke has made for some spectacular sunrises and sunsets, but it is not dangerous.".
The worst wildfire season on record is predicted, according to Canadian officials, and there is poor air quality in many cities across North America.
According to the Met Office, the smoke is too high in the atmosphere to pose a health risk.
It was carried across the Atlantic Ocean by the jet stream, an air current that moves quickly through the Earth's atmosphere.
Beginning in June, Norway experienced smoke from the wildfires, and researchers from the Norwegian Climate and Environmental Research Institute (NILU) warned that residents may "see some haze or smell smoke.".
It was discovered in Spain a few days ago, and it's expected to hang around over the UK for the rest of the week.
The start of Canada's wildfire season early on abnormally dry ground has caused it to spread quickly.
According to the EU's Copernicus Atmosphere Monitoring Service, the country has also experienced its highest emissions in 21 years as a result of the thick smoke.
On Wednesday, Environment Canada declared Toronto to have the "worst air quality of any major city in the world" for a time.
In many eastern US cities, smoke and poor air quality have also been reported further south.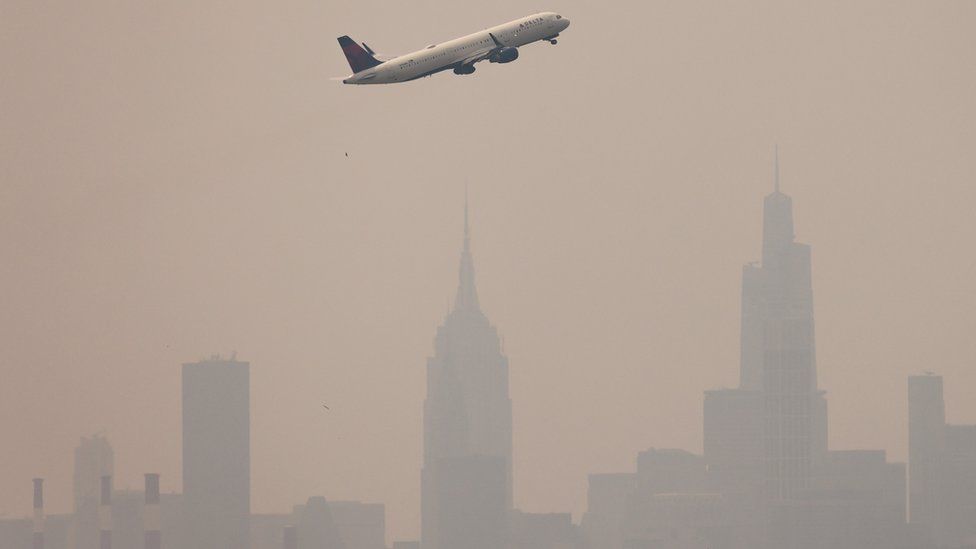 Earlier this month, as smoke from the wildfires headed south, New York's well-known landmarks were barely discernible in the haze.
Numerous sporting and cultural events were canceled due to the city's deteriorating air quality at the time, and British actress Jodie Comer had to leave her Broadway performance because she was having breathing problems.