The Nigerian presidential election on Saturday might be viewed as the occasion when the underclass rebelled against the establishment.
Millions of young people have registered to vote for the first time in the hopes of electing a president from a relatively unknown party to represent them and bring about change, inspired by the 2020 EndSars anti-police brutality demonstrations that evolved into calls for good governance.
Rinu Oduala, 24, one of the protesters who camped for weeks outside the Lagos governor's office two years ago, said, "If Nigeria continues on this downward, it will be disastrous. So yes, it's a defining moment.".
Although the army violently put an end to the protests, it was deemed a success that the Sars police unit, which was notorious for profiling young people, had been disbanded.
Young Nigerians, who have been disenchanted for years by the country's stagnation, insecurity, and high unemployment rate in Africa's most populous nation, appear to have been inspired by this; they are now vying for the top government position.
Peter Obi, a Labour Party candidate who is receiving a lot of support, is 61 years old. He is also not exactly a new face in Nigerian politics, having previously run for vice president of the main opposition Peoples Democratic Party (PDP).
However, he is regarded as an outlier due to his openness, straightforwardness, and track record of fiscal responsibility while governor of the Anambra state.
Ovie Esan, a 25-year-old man in Lagos, said: "There is no money and there are kidnappers everywhere. I should be in the peak of my life right now, balling financially and physically.".
President Muhammadu Buhari, who is leaving office after serving two terms, is charged with mismanaging the economy and presiding over the nation's most unstable time since the civil war of 1967–1970.
Young middle-class Nigerians have suffered under his leadership as record inflation has taken a toll on their financial situation.
A third of them are jobless, lecturers have been striking nonstop, and many of Nigeria's best people are frantically trying to leave the country.
Atop all of this, the International Crisis Group reports that over 10,000 people were killed and over 5,000 were kidnapped by armed groups in just one year.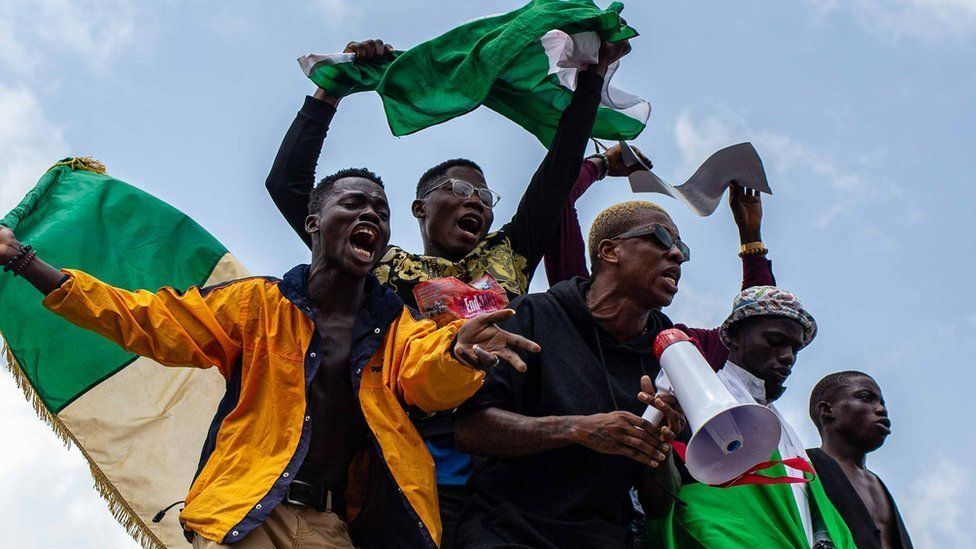 Mr. Obi, who represents the possibility of a new era, is taking on the twin titans of the All Progressives Congress (APC) and the PDP, who have alternated in power since the end of military rule in 1999. In a nation where a third of Nigeria's 210 million citizens are under the age of 35, both of their candidates are in their 70s.
Many voters' choices are influenced by racial and religious considerations as well.
Mr. Obi has the open backing of Nigeria's sizable evangelical Christian movement in the south and can count on the support of Christians who feel persecuted in the region's predominately Muslim north.
The only significant ethnic group in Nigeria that has not yet produced a president is Mr. Obi, an Igbo from the east. While some support the notion that it is their time to be in power, the APC and PDP candidates will have the support of a large portion of voters in their respective home regions, the south-west and north.
Mr. Obi's victory is not assured in any way.
The APC and PDP benefit from widespread name recognition while the Labour Party does not, particularly in the north's rural areas, which are known for their high voter turnout.
Both parties can also rely on tried-and-true political machinery to mobilize voters on election day in villages where residents are swayed by local leaders.
Nigeria has been constrained by pervasive corruption since gaining independence in 1960, despite having enormous oil and gas reserves.
The ruling class—civilian or military—has failed to give the vast young population access to necessities like reliable electricity, piped water, or jobs.
Many people now appear to be fed up with what the head of the electoral commission has referred to as the "election of young people.". Voter registration has reached a record 93 million, 40% of whom are under 35.
Depending on how many people vote, it could mark a turning point in the history of the nation and be an opportunity to start over.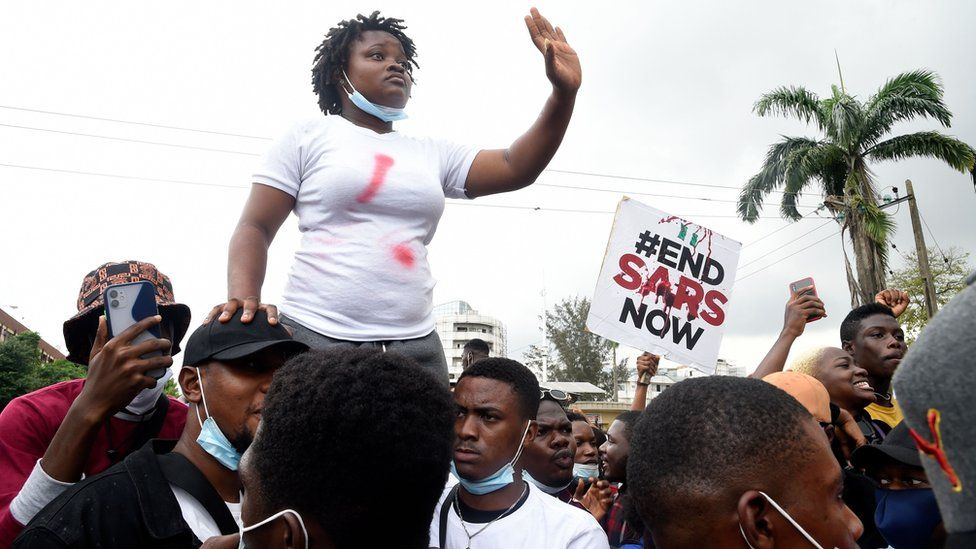 We can only withstand so much before the renowned "Nigerian resilience" breaks down. It cannot be overstated how crucial Nigeria's stability is to the rest of Africa, West Africa, and the entire world, according to Ms. Oduala.
Due to a lack of inspiring candidates and concerns about violence on election day, young, upwardly mobile Nigerians and millions of middle-class people in the south have historically been largely indifferent to elections.
However, Mr. Obi has raised awareness of this election.
In the capital of Anambra, Awka, where the Labour Party candidate enjoys enormous support, Atogu Nneka, vice principal of a state secondary school, said of the candidate, "He believes in human capacity and invested so much in education.".
In addition to surrounding himself with many participants in the EndSars protest, Mr. Obi has claimed that youths are running for office through him.
They consist of Aisha Yesufu, whose photo of her raising her fist taken on the day that young protesters camped outside the police headquarters in Abuja in 2020 ended up serving as something of a mascot for the protesters.
During Mr. Obi's final rally two weeks ago in Lagos, she delivered a stirring speech in which she claimed that "they dared us to go into politics and change the government and that is what everyone is doing.".
However, in an election where the front-runners are from the three main regions of the nation, a winner needs votes outside of his support to be assured of victory, and this presents a greater challenge for Mr. Obi than it does for the other two.
One woman in Bakiyawwa, a rural community in the northern Katsina state, said, "We only recently started hearing of him but nobody knows him in our village.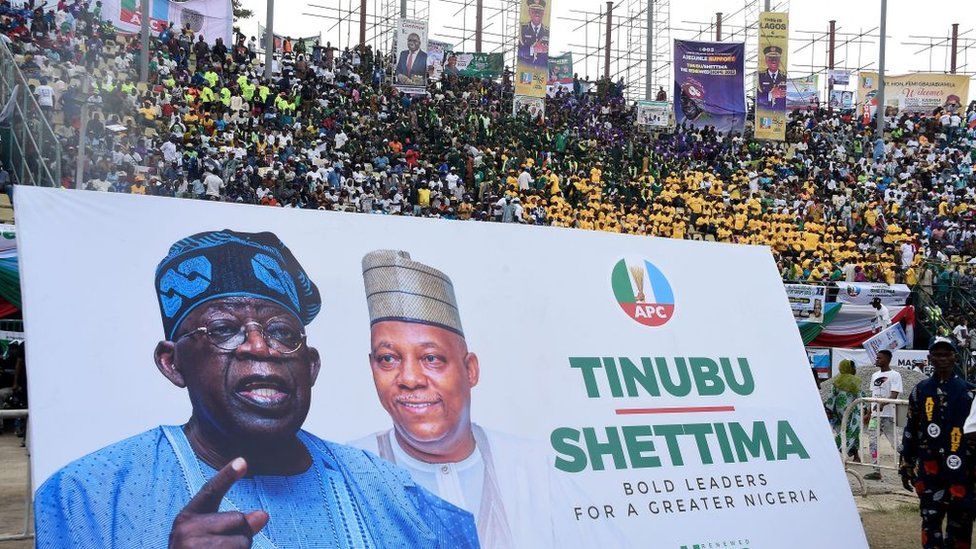 Many see the election as a test of the power of the incumbent party, whose candidate, Bola Tinubu, is widely credited with transforming Lagos' commercial center while serving as governor from 1999 to 2007.
President Buhari was first elected in 2015 thanks in large part to Mr. Tinubu, 70, who has said controversially that he cannot be judged by the accomplishments of the current administration.
But for many, it has been difficult to move past the struggles of the previous eight years, which have been made worse by the commotion that the recent introduction of new banknotes has brought about.
The new naira notes, which are in short supply in a nation where many rely on cash, have many people sleeping outside of ATMs and banks while they wait to get them.
There is a mixed response to the government's redesign, which it claims will help reduce inflation and has blamed the banks for hoarding the money. However, many believe the exercise is directed at politicians who engage in vote-buying on election day.
Many voters will be thinking about it on Saturday because it has caused significant rage and riots in some states.
A taxi driver in the line for a cash machine in Lagos' Victoria Island said, "You would think that the APC is not trying to win this election.".
Given that many are worried about his health, Mr. Tinubu is also having a difficult time persuading young people outside of his home region that he is the right candidate for the job. On campaign grounds, he has been seen needing assistance when standing or climbing stairs, and it can be challenging to understand what he is saying at times.
He is, however, well-liked in the southwest of the nation, where many believe that his legacy in Lagos, where he quadrupled state revenue and improved its infrastructure, is exactly what Nigeria needs.
Rukayat Owolaranfe, a market leader in the Balogun neighborhood of Lagos Island, where Mr. Tinubu has a square named after him, said of Mr. Tinubu, "He has an eye for talent and will surround himself with people who can get things done.".
However, he and the PDP candidate, 76-year-old former vice president Atiku Abubakar, are perceived by many as being a part of the old order that is to blame for Nigeria's problems.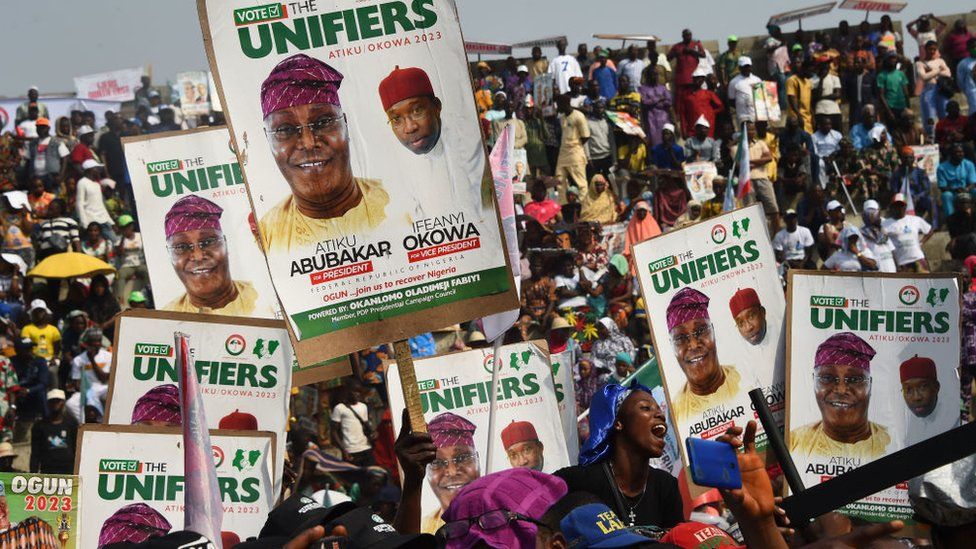 Government revenue was largely increased by oil sales during the PDP's 16 years in power. But accusations of widespread corruption were rampant at the time, some of which involved Mr. Abubakar, who has refuted them.
Since Mr. Abubakar has run for president six times since 1993 and has switched parties multiple times, many young people doubt the originality of his ideas for the position.
But according to his supporters, he is the candidate with the most qualifications. Since he is the only significant candidate from the north, he will have a lot of support there. He has committed to important reforms that will restructure the nation.
Francis Ugwu, a PDP supporter from Rivers state, stated that while Nigerians are searching for a messiah, the institutional problems can only be resolved by addressing fundamental problems.
However, Mr. Obi stands for the optimism that her future depends on for 19-year-old first-time voter Blessing Ememumodak.
"Only those who don't care about this nation's future will let the chance to elect Peter Obi slip by. Eight years, or even four with a bad president, is a considerable amount of time, she asserted.
For Nigeria's future, the election feels like a struggle between an unstoppable force and an immovable object. Regardless of the outcome, it feels like a new era has begun, one in which Nigeria's sizable young population will no longer be ignored.